Views from OKC: Thunder move to 3-0 to Start Season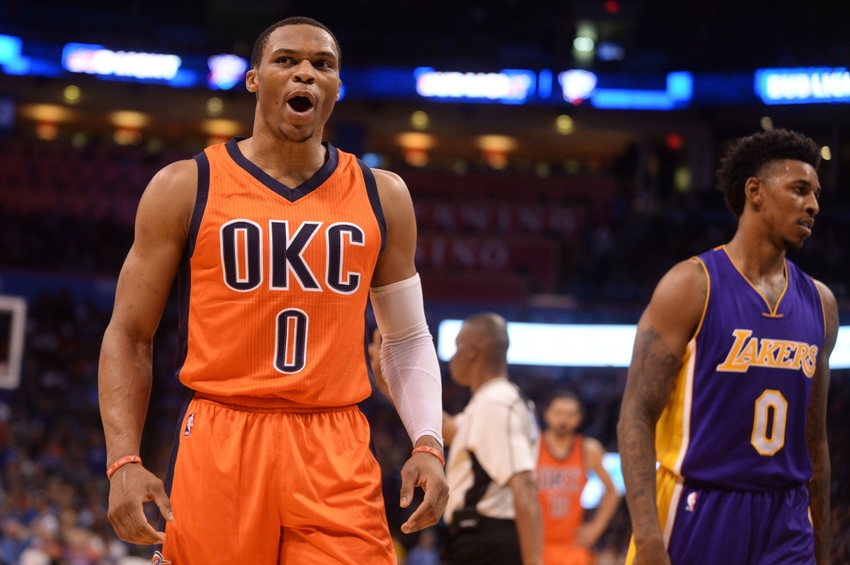 Welcome to Views from OKC, Thunderous Intentions daily roundup of the best Thunder stories across the web.
Welcome to Views from OKC! Glad to have you hear, and I hope you'll make this a daily destination. Well, let's get started!
"The Thunder are 3-0 to end the first week of the season. They get their first real test of the season on Wednesday, heading to the Staples Center to see Chris Paul, Blake Griffin, and the rest of the Clippers, in the first half of the first back-to-back of the season for the Thunder."
Rich Condon is an animal, so check out his game recap for Thunderous Intentions. He's got you covered with everything that happened in t he game, and somehow he gets it to us within 20 minutes of the final horn.
"Westbrook is the fourth player to have two triple-doubles in the first three games, joining Johnson (twice), Jerry Lucas and Oscar Robertson (twice). Through three games, Westbrook is averaging a triple-double with 38.6 points, 12.3 rebounds and 11.6 assists. Robertson is the last player to average a triple-double, in 1961-62."
Want your voice heard? Join the Thunderous Intentions team!
As fun as it sounded, I didn't think Russ had a serious chance at averaging a triple-double. The NBA is much more competitive now than in the early 60s. But Russell may be that good. Through three games Russ averages don't even come close to the 10-mark. I didn't think he would be able to rebound enough, but he's had 12 or more in every game. This is serious people.
More from Thunderous Intentions
"The Oklahoma City Blue added six players on Sunday by selecting guard Charles Mann and forward Karrington Ward in the 2016 NBA D-League Draft, acquiring forward Xavier Henry and center Amir Williams along with the returning player rights to guards Bryce Cotton and Will Cummings through three separate trades, the team announced today."
The beautiful thing about the organization is how well-rounded it is. The OKC Blue has talented guys like Dakari Johnson and Kaleb Tarczewski lurking for roster spots, and these additions only bolster that depth. Watch out for Bryce Cotton specifically, who is a really talented scorer and has NBA experience.
This article originally appeared on