Views from OKC: Thunder Looks to Bounce Back against LA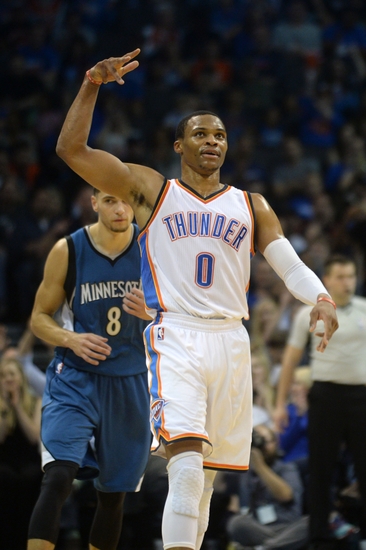 Welcome to Views from OKC, Thunderous Intentions daily roundup of the best Thunder stories across the web.
New to Views from OKC? Glad to have you here, and I hope you'll make this a daily destination. Well, let's get started!
"The first battle between the two teams occurred a little over a week ago. Both teams struggled mightily offensively, as only three players in total scored in double figures. However, it shouldn't be a shock that offense production was limited in the first matchup between the two teams. Currently, the Clippers lead the NBA in opponents points per game (88.3), while the Thunder (99.6) are ranked ninth in the category."
Shoutout to new TI writer Nick Delahanty for his awesome preview of tonight's game. The big concern tonight is that the Raptors showed the NBA how to stop the Thunder on offense. If that's the case, I'm sure Doc Rivers is salivating about tonight's game. I'm worried.
Want your voice heard? Join the Thunderous Intentions team!
"The five-time All-Star was born and raised in Oklahoma City and attended Oklahoma for two years, where he was the national college player of the year in 2009. Griffin was drafted first overall in 2009 by the Clippers and has spent his entire NBA career in Los Angeles. The former OU star had his college jersey retired during the 2015-16 season, and he affirmed before this season that he had not considered the prospects of free agency."
Blake would be the perfect superstar to fit in OKC's heavy transition-non shooting system. But Blake isn't coming home anytime soon. Griffin is too high-profile nowadays to even want to come back to Oklahoma. He loves the spotlight of LA, plus the money the Clippers will be able to pay him.
"In our One Team, One Stat series to preview the season, the Thunder edition was about their lack of ball movement. Here's an update on that…According to SportVU, the Thunder have averaged 2.78 passes per possession, a rate which ranks 28th in the league and is up from 2.67 last season. It's a slight increase, but not exactly a full embrace of the power of the pass."
If you need confirmation on how bad OKC's offense is (I think you do) than check out John Schuhmann's "One Team, Three Stats" column. The Thunder are reallyyyyyyyy bad with Westbrook off the court; it looks worse when you see the stats in front of you.
More from Thunderous Intentions
This article originally appeared on