Views from OKC: Thunder Fall to Pacers and Look Mediocre Again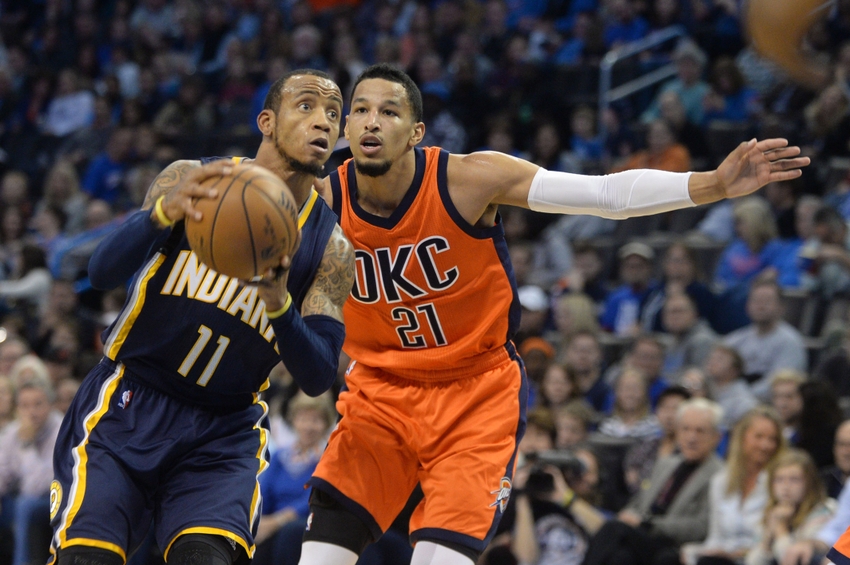 Welcome to Views from OKC, Thunderous Intentions daily roundup of the best Thunder stories across the web.
New to Views from OKC? Glad to have you here, and I hope you'll make this a daily destination. Well, let's get started!
"But through three quarters, Adams had almost as many fouls (three) as rebounds (five). The Pacers were the aggressors, leading the rebound battle 35-31, including a two-handed putback dunk by Glenn Robinson III in the third quarter. Filling in for All-Star Paul George, Robinson cut in front of Adams from the baseline without a Thunder player putting a body on him."
Adams' inactivity last night was not a good luck for the team or himself. His biggest advantage on the court is his immense size and the Big Kiwi should have been able to take advantage of a smaller Myles Turner down low. His 8 points and 8 rebounds just aren't enough for somebody who just received a $100 million contract.
"In today's NBA there are second-generation stars like Golden State's Stephen Curry and Klay Thompson. There are young up-and-comers whose fathers played in the league, like Phoenix guard Devin Booker. There are role players like Rivers and the Grant brothers, Jerami and Jerian, a guard with the Chicago Bulls."
Want your voice heard? Join the Thunderous Intentions team!
What isn't there to like about this kid? Grant has done nothing but come to Oklahoma CIty and work his butt off. His jump shot is coming along rather nicely (7-13 from deep in 11 games) and his defensive effort has already placed him in lineups with the starters. It's nice to see how Grant has a good head on his shoulders with a solid foundation helping him along the way. The downside is that he could be an Andre Roberson replacement one day…
More from Thunderous Intentions
"Recording a league-leading fifth triple-double of the season, Westbrook nearly led the Thunder to a victory but Oklahoma City lost 115-111 in overtime to the Pacers. Westbrook though had a sensational game, finishing with 31 points, 11 rebounds and 15 assists. He even hit a clutch three-pointer near the end of regulation that sent the game into overtime."
Impressive. Sensational. Below-average. The first two words were used to describe Westbrook's game last night by CBS Sports writer Ananth Pandian. The last word is how I would describe Russ' performance last night. Pandian found it "impressive" that Russ got a triple-double without a rebound in the first half. All that tells me is Westbrook wasn't giving maximum effort in the first half. Check out my player grades from last night for a more detailed explanation.
This article originally appeared on