Views from OKC: Thunder Beginning to Reveal True Colors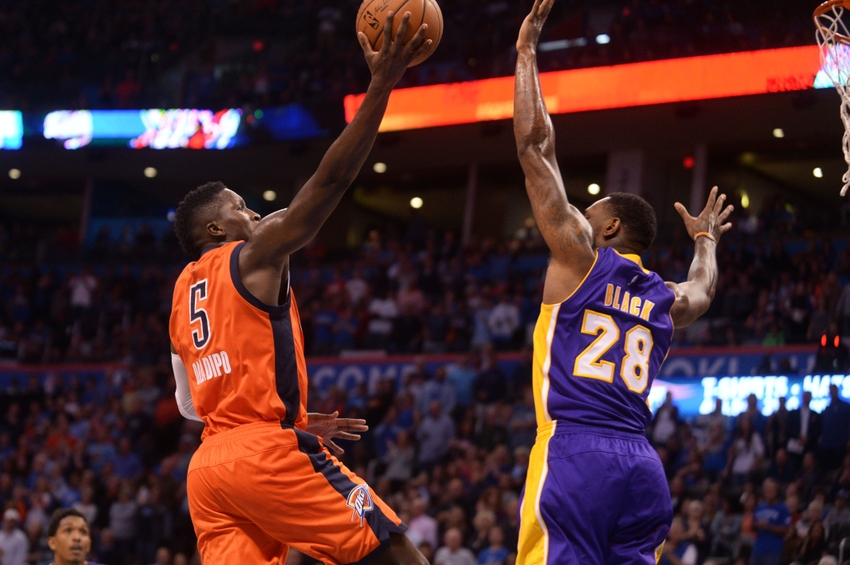 Welcome to Views from OKC, Thunderous Intentions daily roundup of the best Thunder stories across the web.
New to Views from OKC? Glad to have you here, and I hope you'll make this a daily destination. Well, let's get started!
"Following a rough first quarter, the Thunder struggled to contain Los Angeles' efficient outside shooting. Overall, the home-standing Lakers connected on 14-of-29 three-point attempts. The Lakers' bench also outscored Oklahoma City's by a sizable 55-33 margin."
There seems to be a thing with the Thunder playing teams without their best player. The Lakers were without D'Angelo Russell and if anything it helped LA. Russell Westbrook played no type of defense on Nick Young all night and the energy wasn't there from the rest of the team. I just don't get it.
"The second-year Thunder guard was only taking set shots, but what was crucial was it was without the walking boot that he's worn since suffering a second fracture to his right foot Sept. 27. There was no sharp movement or jogging from Payne, just walking and shooting."
More from Thunderous Intentions
This is the biggest news of the season. The bench unit has been awful all season because they don't have a true playmaker to run the point. Payne provides a new dynamic to the bench: a smart, efficient guard. Semaj Christon has done a good job, but his skillset is more of a combo guard instead of a point guard.
"'We got behind the play and right when the play started we had an opportunity to switch, and we didn't switch correctly,' Thunder coach Billy Donovan said. 'We had two guys go to one and try to come back and then Jerami (Grant) got shot faked, the guy drove the ball and made an extra pass, so we got behind the play.'"
The worry with that last play is that Victor Oladipo seemed to be taking shots after the game was over at Russ:
Here's the play:
There's no question who Vic is mad at. This team can't implode this early in the season or the playoffs may be out of the question.
This article originally appeared on