Views from OKC: They Surely Can't Lose Five Straight…Right?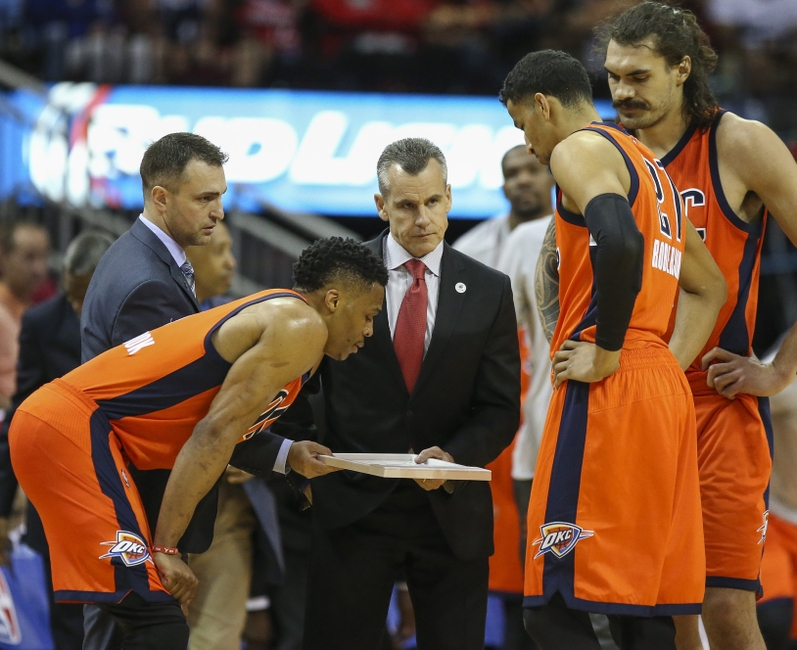 Welcome to Views from OKC, Thunderous Intentions daily roundup of the best Thunder stories across the web.
New to Views from OKC? Glad to have you here, and I hope you'll make this a daily destination. Well, let's get started!
"Russell Westbrook, the Oklahoma City Thunder point guard, charges toward the rim at a sprite-like pace and shoots 3-pointers with a menacing look. James Harden, the Houston Rockets point guard, easily splits defenders, casually hits 3s and discovers cutting teammates for buckets."
This is going to be a fantastic spectacle tonight. We have two of the four highest usage ratings in the league; Harden and Westbrook are also the only two players to average 30 points and 10 assists through the first 10 games since Oscar Robertson. Factor in that Houston has won 3 of the last 4 while OKC has dropped their last four and I'd say were in for a treat tonight.
Want your voice heard? Join the Thunderous Intentions team!
"His importance to the Thunder has never been more obvious. The Thunder are nearly 26 points worse per 100 possessions when Westbrook is off the court, per Basketball-Reference.com. Combined with a lack of shooting or additional playmaking, defending this Oklahoma City team is straightforward."
Poor Russ has to be frustrated with these last four games. He's putting up monstrous stats but the wins aren't adding up; it's time for him to integrate his teammates more. Russ' 42% usage rate is 5% higher than the next man: Joel Embiid. The offense needs more ball movement and less isolation a la the LA Lakers this season.
More from Thunderous Intentions
"Together, Cousins, George, Wall and Davis—all former lottery picks under 27—embody the pitfalls of a league where success is driven by the concentration of talent. As Cleveland and Golden State seek to become the first pair of teams to face off in three straight Finals, these four franchise players opened the season fighting like hell to push past mediocrity."
Personally I am not a proponent for trading for one of these guys. A trade for a superstar means an already depleted bench gets even worse. The Thunder have traded away three draft picks since August 30th and losing more picks would make it even harder for Sam Presti to retool in the draft. And what if the superstar doesn't resign in OKC? It's just not worth it.
This article originally appeared on