Views from OKC: THE THUNDER ARE BACK…Hopefully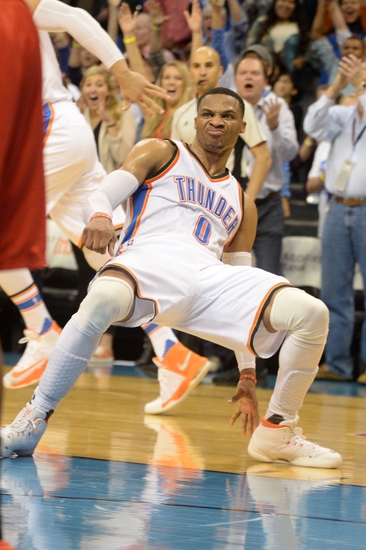 Welcome to Views from OKC, Thunderous Intentions daily roundup of the best Thunder stories across the web.
New to Views from OKC? Glad to have you here, and I hope you'll make this a daily destination. Well, let's get started!
"With his reputation — and OKC's wavering psyche — in the balance, Oladipo stormed forth in a proactive mission to involve his fellow Thunder. During this well executed secondary break, Oladipo draws three Rocket defenders to him by driving hard, which enables the former Indiana Hoosier to skip a pass to the wide-open Steven Adams for an uncontested floater."
More from Thunderous Intentions
Oladipo was the MVP for the Thunder last night. He was actively looking to get his teammates involved while also scoring at the highest rate we've seen all season. Oladipo was making all the right decisions on offense; he passed when someone else had a better shot but attacked when there was a hole. We need that Dipo nightly now.
"Donovan and Westbrook have to establish the post early and often. There is no excuse for Adams taking three shots a game against Detroit without Drummond. Adams shot 70 percent from the floor in the San Antonio Spurs series last season and averaged 11 points a game."
Going into last night the Thunder had been abysmal from behind the arc. Naturally that changed last night when OKC shot 12-25 from three. As awesome as that sounds, inconsistency is going to be a problem for them all season. The shots are going to be there all season because teams are more focused on protecting the paint against this team. It's just a matter of the Thunder's non-shooters (especially Jerami Grant) to continue practicing daily.
The daily Russell Westbrook highlight
AHHHHHHHHHHHHHHHHHHHH! That's the sound I made as the play happened. And that's still the sound I make every time I watch it. Honestly the best part of this is Russ' angry stomping/sneering/bumping Alex Abrines. What a guy.
This article originally appeared on