Views from OKC: The Thunder Are Back Atop the West!!!!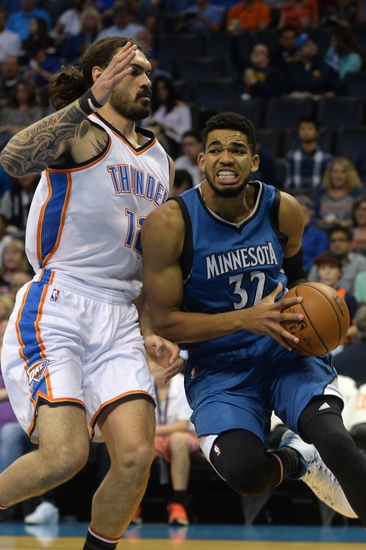 Welcome to Views from OKC, Thunderous Intentions daily roundup of the best Thunder stories across the web.
New to Views from OKC? Glad to have you here, and I hope you'll make this a daily destination. Well, let's get started!
"A 4:30 a.m. arrival on Friday morning after a three-hour flight from Oakland could get just about anyone out of sync, let alone with an early 5:00 p.m. Saturday tip-off on the horizon. The Thunder didn't let that faze it, kicking off a five-game home stand with a 122-92 victory over the Minnesota Timberwolves."
I'm gonna correct the wonderful Nick Gallo; the score was 112-91. It's all good the 1 and 2 are pretty close on a normal Qwerty keyboard.
WOW did they look good last night. The Thunder were able to keep a huge Karl-Anthony Towns outburst relatively small and hold Minnesota under 100 points. OKC's athleticism was just too much for the Timberwolves; the Thunder had 17 points on fastbreaks`and 70 points in the paint. Pure domination.
Oklahoma City is home to halfcourt shot specialists
THIS IS THE TENTH TIME AN OKC FAN HAS HIT THIS SHOT! What are you putting in the water Mayor Cornett? Whatever it is I want some.
Now this fan is getting flack for his form, but we gotta stop this madness. His form got him $20,000 that you and I don't have (unless you're rich well than good for you and give me some). Now if he could just teach the rest of the team how to shoot that'd be lovely.
More from Thunderous Intentions
"It seems like Kanter is still in his feelings about KD being like Anakin Skywalker in Revenge of the Sith and going over to the Dark Side. Now that Durant is a sworn enemy that Kanter speaks in honor of the Thunder as The Alliance, Westbrook is exalted by Kanter as their Jedi leader that he's loyal to defend The Republic against the Warriors' Death Star fleet."
Look, I thought Kanter was being an idiot when he was talking to KD during the game. Then I heard what he said. If Enes didn't say anything last night we would have known he was afraid of Durant and the Warriors. I don't like fear in my players. Good job Enes.
This article originally appeared on