Views from OKC: Reliving last night's events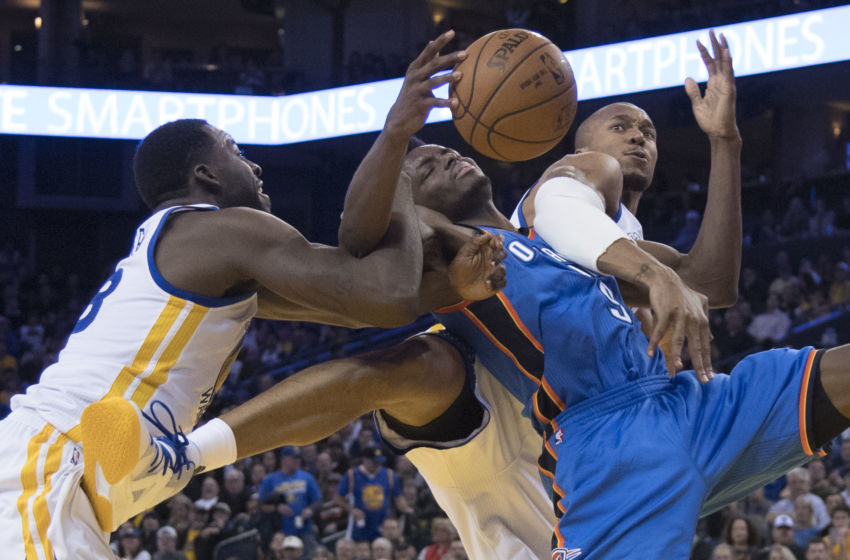 Welcome to Views from OKC, Thunderous Intentions' daily roundup of the best OKC Thunder stories across the web.
New to Views from OKC? Glad to have you here, and I hope you'll make this a daily destination. Well, let's get started!
Warriors Wednesday…through tweets
I went into last night expecting to cry for 48 minutes. Luckily that was cut short to around 22. The first half was incredible television as Russell Westbrook and his D-Leaguers were able to keep the score tied 56-56. But the fun started way before gametime.
The staredown that started it all. I love this. Russ genuinely dislikes Kevin Durant. I know that sounds obvious, but it really isn't. Deep down I think people believe Westbrook is only putting on a front-that he's acting this way for the glamor. But that's just not the case. Unlike KD, Westbrook is a competitor in the true sense of the word.
Kevin Durant just tried to visit the OKC locker room but Russell Westbrook shouted, "we only allow men in here". Wow.

— Joe (@SportTaIkJoe) January 19, 2017
Okay so maybe that's a joke. I don't care. Couldn't you see Russ doing this? I mean that doesn't sound all that surprising when you see the one interaction between the two.
Russ won't even make eye contact with KD…
If I was Westbrook I would be acting the exact same way. He's allowed to be as petty as his heart desires because Durant has been petty through this whole situation. Remember when KD took the "selfish" shots at OKC? It was unwarranted. Or how he didn't even text Russ to let him know his decision? KD doesn't deserve any love for Westbrook, and I will support him no matter how far he takes the pettiness.
Want your voice heard? Join the Thunderous Intentions team!
Once the game started, we had to turn our attention to basketball. The first half was amazing in every sense of the word, until this.
I have a few thoughts about this one.
Zaza Pachulia fits in perfectly with the Warriors. He's a punk. hit my Twitter DM's if you want me to tell you how I really feel.
I'm just very confused by what the Thunder/Russell Westbrook did to Golden State. I saw a Twitter bio from a GSW fan the other day that said "The Thunder blew a 3-1 lead in the Western Conference Finals" or something along those lines. I pray that that person is reading this because homie, you are so lame. The Warriors/their fans hate OKC because of what? We got upset that you stole our best player? Is that not viable?
So #2 didn't necessarily match with the play, but the fans act just like the players. What did Russ do to Zaza? He wasn't even on the team last year.
The Thunder should be embarassed that they didn't even get in Zaza's face. WTF are you doing Enes?!?! They needed Steven Adams so bad that game, and not just for his stellar defense.
I hate the Warriors.
As soon as this play/the staredown afterwards happened, I knew Russ would not take it lightly. Zaza basically tried to call Russ with his son with the staredown. The thing is, Westbrook is son to no man. Look what he had to say. Be careful if there are kids in the room.
More from Thunderous Intentions
I need to find out who tried to say what's up to KD. Because I can't cheer for them anymore. It's cool to be friends with Durant still, but that's so soft to dap him up after he and his team tried to disrespect you on the court. The Warriors wanted blood last night. Literally and figuratively. They didn't need Klay Thompson to win that game, but he left his incredibly-ill grandfather to play in this game. He chose playing in an inconsequential basketball game over being with his family; Golden State was out to embarrass the Thunder.
It's gross how the Warriors and their fans have adopted the Thunder as their biggest rival. It's soft too (just like their small forward). Pick on someone your own size.
By the way. When Oklahoma City boos you KD, PLEASE don't go crying to the media. Please don't act like a saint. In eight seasons I saw you talk less trash than you did in two games against OKC. Don't worry, you'll get yours February 11th.
This article originally appeared on