Views from OKC: Another Three-Day Vacation Never Hurt Anybody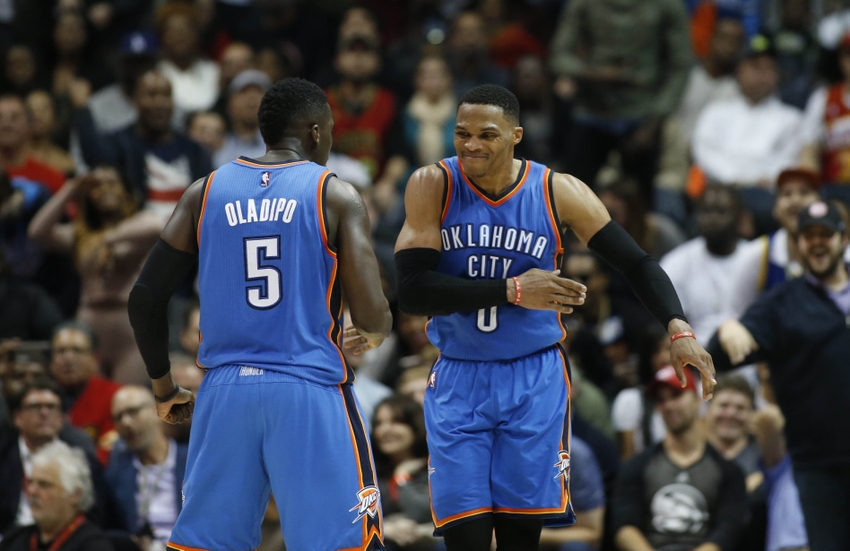 Welcome to Views from OKC, Thunderous Intentions daily roundup of the best Thunder stories across the web.
New to Views from OKC? Glad to have you here, and I hope you'll make this a daily destination. Well, let's get started!
"This smooth recent ride is about more than Westbrook. But he's the man behind the wheel. Over the six-game winning streak, he's averaging 29.2 points, 14.2 rebounds and 13.5 assists, and though his shooting percentage has been low (39.2 percent) and his turnovers high (6.3 per game) over the past six games, he's dominating play."
Russell Westbrook gets all the acclaim, but the Thunder wouldn't be able to do this without the likes of Victor Oladipo, Enes Kanter and Anthony Morrow. Kanter and Morrow are leading a bench unit that has outscored opponents by over five points a game during this six-game win streak. Keep in mind that the bench was a reason for the Thunder's mediocre play to start the season.
"No longer tasked with carrying an entire offense, Oladipo is able to focus less on creating and more on taking advantage of a defense focused elsewhere. He's still shooting just as many times this season as he was in Orlando, but there's more of a purpose to it. It doesn't feel like pointless chucking anymore."
More from Thunderous Intentions
Oladipo is quickly becoming my favorite player on the Thunder. Dipo has all the tools you want in a basketball player: great defense, a solid jumpshot, elite athleticism and a mentality to get better everyday. He was never destined to be a superstar in this league despite what Orlando believed, but he's found his perfect role as the second-fiddle to Russell Westbrook. I can't wait to see where this pairing goes.
"James Harden has been doing more than ever for the Rockets this season, posting a career-high usage rate and leading the league in assists, so it's only natural that he served as the hype man and bouncer at his own invite-only sneaker party."
HAHAHAHAHAHAHAHAHA yeah right. Russ is the MVP.
This article originally appeared on