Views from OKC: Adams and Oladipo are Locked Up!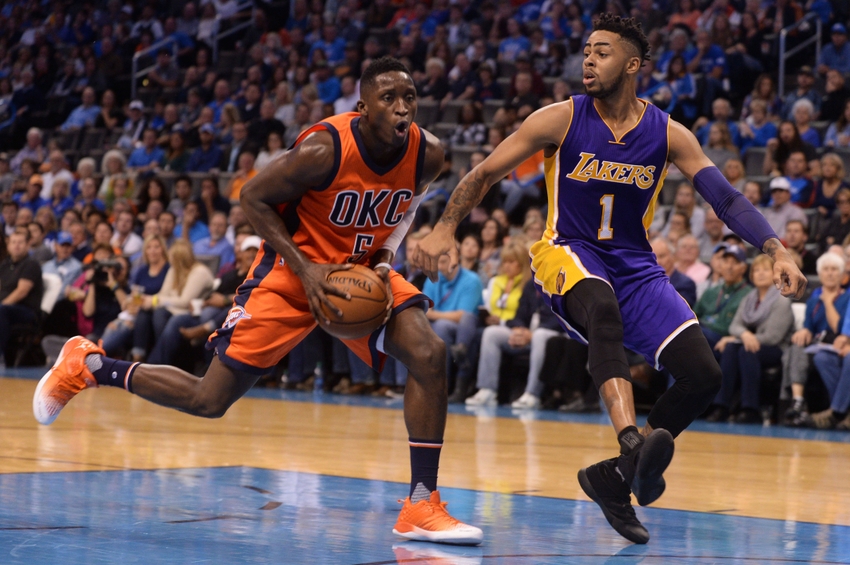 Welcome to Views from OKC, Thunderous Intentions daily roundup of the best Thunder stories across the web.
Welcome to Views from OKC! Glad to have you hear, and I hope you'll make this a daily destination. Well, let's get started!
"For Oklahoma City, this seems like a home run. If Oladipo plays as well as the front office hopes he will, he could have commanded a maximum contract next summer. That would have been bad news for the Thunder, who are also reportedly close to a four-year, $100 million deal with center Steven Adams and want to preserve at least a little bit of flexibility going forward."
Yesterday was a beautiful day for Thunder fans. With Adams and Oladipo locked up, Oklahoma City is primed to be contenders for at least the next five years. Remember, Oladipo and Adams haven't even entered in the prime of their careers. It feels nice to have players that want to stay in Oklahoma (that's right shots fired at YOU KD.)
"The Thunder are undefeated and Westbrook may never run out of energy this season, but an offense based on endless dribbling isn't viable in the long term. We've witnessed the brilliance that a fully liberated Westbrook is capable of, but the Thunder's next seven games will paint a clearer picture of how good this team actually is."
Kevin O'Connor is one of the better basketball writers out there, but I can't agree with him on his conjectures with this team. The passing was porous in the Suns game, yes, but the OKC played beautiful offense in the win against LA. He's right on about knowing how good he is, but to think Russ can't sustain his output is only going to fuel Westbrook even more.
More from Thunderous Intentions
"The 3-0 Thunder — whose wins have come against teams that went a combined 50-196 last season — have back-to-back road games looming this week against the Los Angeles Clippers and Golden State Warriors."
I think the Thunder are going to beat Golden State. There, I said it. IF Russ and Co. can pull off even one win on Wednesday or Thursday, they legitimize themselves to the rest of the NBA. The only thing they can't do, however, is get blown out in both games. A good performance on this mini road trip is imperative for the confidence of this team moving forward.
This article originally appeared on