Video Rewind: Kevin Durant's huge and-one dunk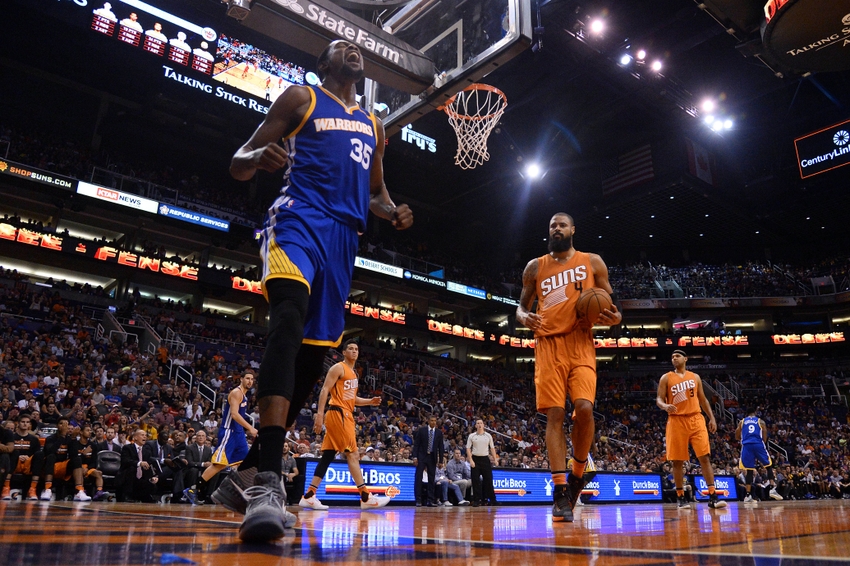 Based on how every non-Steph Curry Warriors has played through three games, Golden State would be 0-3 without Kevin Durant. He's been spectacular thus far. He's done it on both ends of the floor, proving that his game wasn't going to suffer.
One of the most important aspects of Durant's game that Golden State desperately needed is his ability to get to the free throw line. It's nice to have a small forward who isn't afraid of putting the ball on the floor and driving aggressively to the basket. He showcased along with his exceptional athleticism towards the end of the first half against the Phoenix Suns.
That was amazing. Durant caught the ball a little bit past the half court line and took one dribble before getting ready for liftoff. He took off from just inside the free throw line and rose up for the huge slam.
The Suns didn't know what to do so they committed a silly foul. The contact wasn't enough to derail Durant from slamming the ball down with authority. It was a huge play for momentum as the Warriors were struggling once again. Phoenix came down and hit another three before the half so Durant's and-one kept it at a five point game instead of eight.
Durant showed exactly why he's one of the most special players in the entire league.
More from Blue Man Hoop
This article originally appeared on