Video Rewind: Kevin Durant doesn't even watch three go in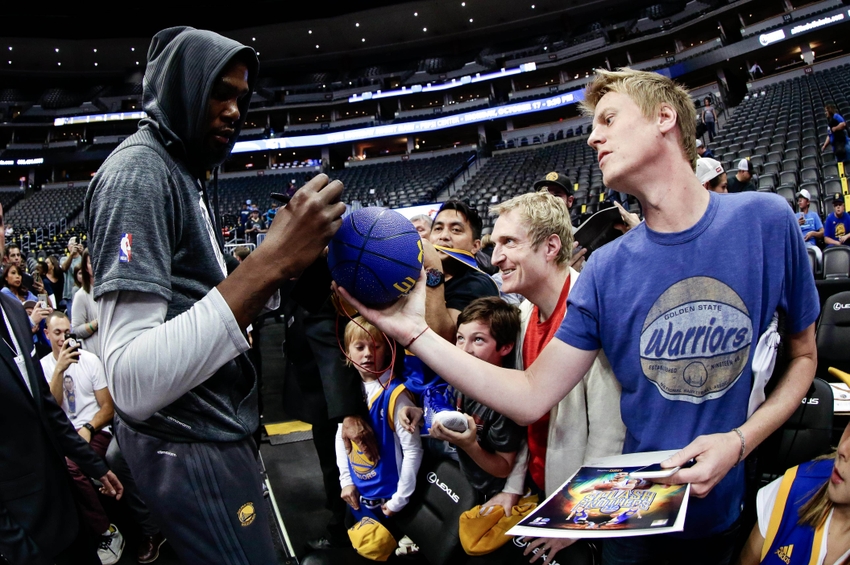 Kevin Durant turns and runs back on defense before his three-pointer goes in.
After much speculation and doubt, Kevin Durant is fitting in just fine with the Golden State Warriors. He's really started to adjust to their offensive system and he's flourishing. It turns out that he's also picking up their mannerisms.
He hasn't been with the Warriors for long, but he's already taken a page out of Stephen Curry's book. Durant, often characterized as a humble, easy-going guy, is now embracing the arrogant nature of this team. And it's such an awesome development.
Take a look at this really great play during the Warriors' spectacular first half against the Los Angeles Lakers.
Durant had to hoist up a three with the shot clock winding down. He received the pass from Shaun Livingston and made his move. He dribbled left and stepped back in order to gain separation from the long rookie Brandon Ingram.
He launched the three and, before it went in, turned around. He started to run back on defense without ever actually seeing the ball go in. Sound familiar?
Curry did that quite a bit last year. Atlanta Hawks fans were mad when he shot a three in front of their bench and turned to look at his friend and former teammate, Kent Bazemore. Of course, the shot went in.
It's truly the mark of a great shooter. It's so nice to see that Durant is really embracing his role on the Warriors and his role as a villain.
More from Blue Man Hoop
This article originally appeared on