Victor Oladipo's extension does not change stakes of Serge Ibaka trade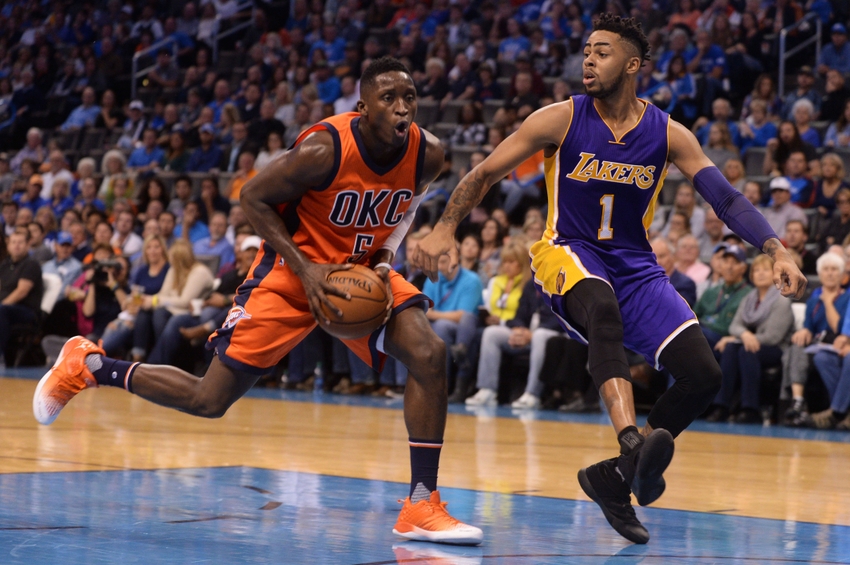 Victor Oladipo signed a team-friendly extension with the Oklahoma City Thunder. That reality does not change the stakes for the Magic and Serge Ibaka.
The Orlando Magic are not going to escape the comparisons between the principle actors of their biggest deal this summer. At least not for this season.
Rob Hennigan made the first big lateral move of his tenure as general manager in trading Victor Oladipo, the draft rights to Domantas Sabonis and Ersan Ilyasova (and his non-guaranteed contract) for Serge Ibaka. This was the first time Hennigan was not trading a veteran for a promising young asset or more cap flexibility.
This was Hennigan cashing in a young, promising asset for a veteran for the first time.
And with the pressure mounting this season to make the Playoffs, the results of the Ibaka-Oladipo trade may very well determine Hennigan's future, not to mention the team's future.
A new element then was added to this analysis and this equation Monday. Just before the deadline for extensions off rookie contracts, Oladipo inked an $84-million, four-year extension with the Oklahoma City Thunder. His salary breakdown will go like this, according to Danny Leroux of RealGM and The Sporting News:
That seems like a pretty reasonable and team-friendly deal for Oladipo. Certainly one to make the Magic rethink what he could have gotten on the market. Perhaps it would have changed some of the Magic's calculus in deciding to deal Oladipo or not.
There are a couple ways to look at this deal now through this lens.
First, there is the straight comparison of what Oladipo and Ibaka provide to their teams. Who is the better player and who gives the team more of what it needs?
Second, there is the financial comparison. Is Oladipo at this price a better value than Ibaka at the price he will fetch this summer?
And third, there is the question of maximizing assets. Did the Magic get the most for what they gave up?
The direct comparison
It is still too early in the season to answer the first question. But for the sake of this article and early comparisons here are their numbers through three games:
Per Game Stats 2016-17

| Player | G | MP | FG | FGA | FG% | 3P% | eFG% | FT% | TRB | AST | BLK | TOV | PTS |
| --- | --- | --- | --- | --- | --- | --- | --- | --- | --- | --- | --- | --- | --- |
| Serge Ibaka | 3 | 28.7 | 5.0 | 11.7 | .429 | .500 | .457 | .714 | 5.7 | 0.3 | 0.7 | 0.7 | 12.3 |
| Victor Oladipo | 3 | 36.0 | 6.0 | 17.7 | .340 | .250 | .377 | .846 | 3.7 | 2.3 | 0.7 | 3.3 | 17.0 |
Advanced Stats 2016-17

| Player | G | PER | TS% | USG% | OWS | DWS | WS | WS/48 | OBPM | DBPM | BPM | VORP |
| --- | --- | --- | --- | --- | --- | --- | --- | --- | --- | --- | --- | --- |
| Serge Ibaka | 3 | 12.3 | .486 | 19.9 | 0.1 | 0.0 | 0.1 | .030 | 0.8 | -3.3 | -2.5 | 0.0 |
| Victor Oladipo | 3 | 8.0 | .434 | 25.4 | -0.2 | 0.2 | 0.0 | .014 | -5.8 | -2.8 | -8.6 | -0.2 |
Those are incredibly small sample sizes for both players. Oladipo is again averaging around 16-17 points per game as he did in Orlando. But he is nowhere near as efficient as he was in Orlando. And his defense seems to have taken a nose dive.
Then again (noting it is a small sample size once again), Ibaka has not exactly delivered on his end either. His scoring has not increased with the increased usage — a 19.9 percent usage rate would be the highest of his career. And more alarmingly, his defensive impact numbers are way down. Ibaka is giving up 62.5 percent field goal shooting at the rim.
Through three games, it is safe to say the Magic are not getting what they want from Ibaka. Perhaps moreso than what the Thunder want from Oladipo.
The financial decision
That leads to the financial decision Oladipo had to make.
Almost certainly if he had stayed with the Magic, he would have remained the featured player and demanded a max salary that would have started at $25.5 million with 7.5 percent raises for the next three season. Oladipo's max extension would have been an estimated $114.1 million over four years. Even at a little bit less, Oladipo would have a starting salary north of $20 million, not just south of $19 million.
Oladipo left a lot of money on the table if he truly could get a full max contract.
This almost certainly was one of the Magic's fears and one of the reasons Oladipo was available. Evan Fournier was a much cheaper option and someone who fit a role better perhaps than Oladipo who needed the ball in his hands more often.
Then again, if the Magic are prepared to give Ibaka a max contract, he could make much more. Whereas Oladipo can only get 25 percent of the salary cap because of his years of experience, Ibaka is eligible to make 30 percent of the cap.
For the Magic this summer, the potential defense Ibaka could bring was worth more than waiting on Oladipo to develop into that superstar they needed. Betting Oladipo would not turn into a star seemed pretty safe after the first two years and how this season has started.
Ibaka's defensive fall off so far this season has been the most surprising thing. Unless Ibaka turns things around on that end, the Magic will almost certainly be losers of this deal.
Fortunately, they will not be long-term losers. If Ibaka disappoints, it is fairly easy to let him walk and then have a $20 million salary hole to fill. The question is then does that mean the Magic were OK losing Oladipo essentially for nothing.
Maximizing the asset
Here, it is hard to say whether the Magic could have gotten Oladipo on this deal. Orlando had a history of low-balling their restricted free agents. Only Nikola Vucevic bit on the extension offer. But with both Tobias Harris and Evan Fournier, Hennigan negotiated team-friendly deals.
So that leaves the final question for the Magic and Hennigan when they ultimately can look back at this deal. Did the Magic maximize their asset in trading for Oladipo or could they have waited?
That is the part no one may ever know outside of the Magic's front office. There is no telling what the Magic could have gotten for Oladipo at any point. There were rumors at one point about Jeff Teague. Other reports threw Jimmy Butler's name around.
The Magic though got and took the call from the Thunder for Ibaka. It filled a need for the team. A desperate need for the team in terms of rim protection. The move made sense from a roster standpoint (at least at the time).
With the Magic needing to win now, perhaps that need overtook waiting for the right deal or trying to leverage Oladipo into more. Perhaps Ibaka was all they could get. There was no reason then to believe Ibaka would not provide the same kind of defense and rim protection.
There is still no reason not to believe Ibaka can deliver. It is just three games after all.
The equation remains the same
Oladipo's smaller-than-expected extension certainly could make Magic fans think perhaps they could have kept Oladipo (and Fournier, deciding what to do with the two wings at another time).
The Magic's needs are still the same though. They needed the rim protection and defensive interior toughness. And entering the season, at least they got that.
Oladipo's extension may give Magic fans some pause. It may give the Magic front office some pause as they re-evaluate what they did.
It does not change much for how the Magic will evaluate this trade. Ultimately, the Magic's trade for Ibaka is successful if he delivers defensively and gets the Magic into the Playoffs.
How the Magic move forward is dependent on Ibaka and the team delivering on these goals.
More from Orlando Magic Daily
This article originally appeared on