Utah Jazz Week Seven Outlook, Predictions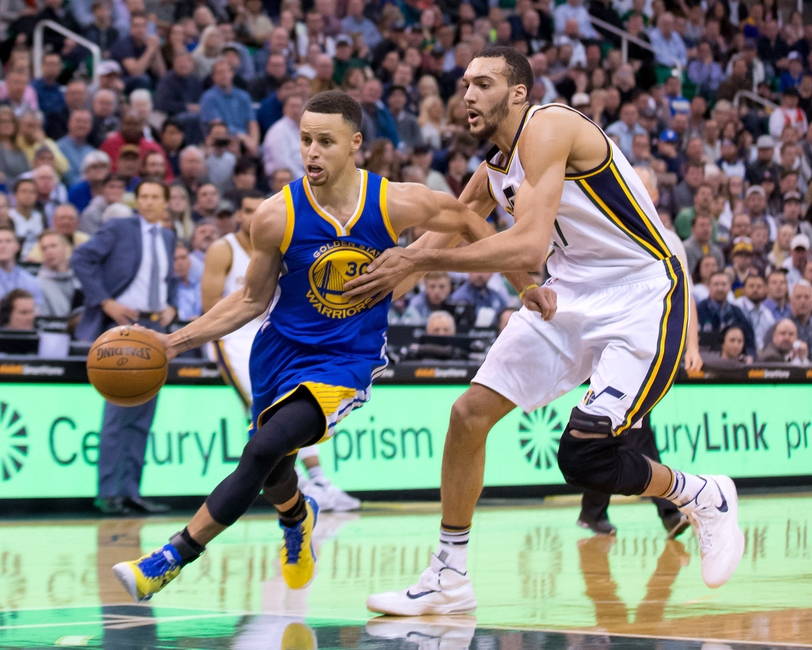 The only home match-up of the year against the Golden State Warriors is the highlight of week seven of Utah Jazz action as they play three of four at home.
In a week that the Utah Jazz very well could have gone 4-0, especially considering the way they manhandled the visiting Houston Rockets on Tuesday, Utah ended up coming up one game short last week. Unfortunately the injury bug once again reared its ugly head and the Jazz were without the much-needed services of George Hill for the final pair of games, which they split, losing to the Heat then defeating the Nuggets.
Ending the week in that way put the Jazz at 3-1 last week, meaning they improved their record but certainly not quite as well as they could have. Utah now currently sits at 12-9 on the year. While last week I correctly picked the Jazz to go 3-1, I had them losing to the Rockets and beating the Heat, meaning that I went 2-2 in my selections, moving me to 9-12 on the year.
As long as the Jazz's record keeps improving, I'm completely fine with my record staying behind them throughout the year.
As Utah heads into their seventh week of NBA action, they'll have the good fortune of playing three of the week's four contests at home. One of those games, however, will be against the league-leading Golden State Warriors.
While it would be incredible for the Jazz to step up and come away with a big victory over Golden State, it's most likely that if Utah hopes to once again go 3-1 and continue to improve their record, they'll need to take care of business against the Lakers, Suns and Kings.
Each of those three games is very winnable and depending on how healthy the Jazz are come Thursday (George Hill's return would seem to be a necessity) they may be able to at least compete against the reigning Western Conference champions.
12/5 Utah at Los Angeles Lakers
8:30 pm MT – Root Sports/League Pass
Opponent record: 10-12
Season series: Jazz lead 1-0
The Los Angeles Lakers have looked much improved this year as they currently find themselves just 1.5 games out of the playoff mix in this early season. Time will tell if the young LA team can sustain the respectable level of play that they've started out with this season, but there's no doubt that they're a tougher match-up since new head coach Luke Walton took over.
I've already discussed in detail what the Jazz will be up against in this contest, so be sure to check out my keys to the game for Monday's contest.
Essentially, Utah will be forced to deal with an elite bench and some young but talented players in this scrappy Lakers squad. Although Utah won the first time around, that victory came largely thanks to a monster game from George Hill, who unfortunately will be out for a third straight game during Monday's contest.
The Jazz will have Gordon Hayward this time and for them to have any chance, they'll need him to keep up the exceptional level of play that he has displayed over the last seven games.
However, given how much Utah's bench unit has struggled, especially with all the injuries, and how great the Lakers bench has been, I'm a bit worried about Utah's chances. They had a hard time slowing down a mediocre Heat team last week and without George Hill in play, I wouldn't be surprised to see similar struggles against a Lakers team that the Jazz would likely beat otherwise.
Thus, unfortunately and with no small bit of hesitation, I'm going to pick the Lakers to come away with a narrow win on their home court where they have played quite well this season.
My Prediction: Lakers Win
Final Score: Los Angeles 104, Utah 102
12/6 Utah vs. Phoenix
7:00 pm MT – Root Sports/League Pass
Opponent record: 6-14
Season series: Tied 0-0
The Phoenix Suns could be roped into a similar category with the likes of the Denver Nuggets, Los Angeles Lakers and Minnesota Timberwolves. While the Nuggets and Lakers are both a few steps ahead of the Suns, they're makeup of young talent and potential make each of these four teams quite comparable.
Minnesota and Phoenix both have identical records through the first 20 games and these two teams are on about the exact same level as they struggle to get their young players going, much like the 2014-15 Jazz.
The Suns have been paced by a prolific backcourt of Eric Bledsoe and Devin Booker who are averaging 19.3 and 19.2 points per game respectively.  However, their superb efforts haven't been quite enough to get the whole team going. The Suns have been competitive in a handful of games, but for the most part they've had a very tough time keeping up with teams with winning records.
Thus, even though the Utah Jazz will be coming into this game on the second night of a back-to-back, their talent well outmatches that of a young and struggling Suns team which means Utah should very well come away with a win.
My Prediction: Jazz Win
Final Score: Utah 106, Phoenix 91
12/8 Utah vs. Golden State
7:00 pm MT – Root Sports/League Pass
Opponent record: 17-3
Season series: Tied 0-0
This game will be the realization of one of the most highly anticipated match-ups of the year for Jazz fans. Though Utah was never able to seal the deal and defeat Golden State last season, both times the Warriors played in Salt Lake City the games came down to the wire and were among the biggest scares any team gave Golden State last year.
Thus you can expect Vivint Smart Home Arena to be rocking when Steph Curry, Kevin Durant and the rest of the gang are in town. This is Golden State's only trip to Salt Lake on the season, so it will be a huge game for the Jazz as they prove their mettle against the current top team in the league, a squad that they very well could see again in the first or second round of the playoffs.
Based on what we've seen out of the Jazz so far this season, it's nearly a guarantee that their only shot for winning this game will be to have George Hill on the floor. It's possible that he could return as early as Tuesday, so his chances of being active for Thursday seem relatively high.
However, without Derrick Favors this Jazz team truly isn't able to be quite the force that they would need to be to take down the Warriors. Golden State amazingly has three players (Steph Curry, Kevin Durant and Klay Thompson) who are all averaging over 20 points per game. They also play at the third fastest pace in the NBA and have the most efficient offense at 114.8 points per 100 possessions.
They're also top in the league at scoring, averaging 119.1 points per game. To put that in a little perspective, that's 19.6 more points per game than the Utah Jazz.
In other words, all that spewing of stats was a round-about way of saying what we all already knew: this Warriors squad is an incredibly good team.
They have slipped somewhat on the defensive end so far this season, so if the Jazz are able to get the hot hand (and perhaps a healthy dose of luck) on offense while maintaining their stellar defense, they may be able to find a way to frustrate this Warriors squad.
The Jazz's size was a bit of an irritant for them last year and with Golden State parting ways with the likes of big men Andrew Bogut and Festus Ezeli over the offseason, this may become an even bigger problem for the Warriors.
Nevertheless, the Jazz just haven't been healthy or consistent enough this season for me to believe that they'll be able to defeat the top team in the league at this point of the season. Perhaps once Derrick Favors and Alec Burks are back in action such will be the case, but for this week I'm going to go ahead and give the win to the visiting Warriors.
My Prediction: Warriors Win
Final Score: Golden State 107, Utah 99
12/10 Utah vs. Sacramento
7:00 pm MT – Root Sports/League Pass
Opponent record: 7-13
Season series: Tied 0-0
Of the three California teams that the Jazz will face this week, the Sacramento Kings are likely the weakest and certainly the most dysfunctional. It seems to be the same story every year for the Kings as they struggle to find a way to be relevant despite veteran talent and a dominant All-Star in DeMarcus Cousins.
Cousins is once again having a monster year as he's posting a career-high 29.1 points per game to go along with 10.5 rebounds. His key running mate, Rudy Gay, is also having a great season as he's averaging 19.4 points per game at an efficient shooting clip.
Yet, nevertheless, new head coach Dave Joerger hasn't been able to get this team to produce real results. With a 7-13 record, Sacramento hasn't exactly impressed this year, but interestingly enough they have defeated the Toronto Raptors twice and also have a big win against the Oklahoma City Thunder.
So Utah will need to be careful and they'll have to get a monster game out of Rudy Gobert to contain Cousins, but as long as Utah sticks to their usual game plan and comes in prepared and focused, they should be able to log a victory in this contest.
My Prediction: Jazz Win
Final Score: Utah 91, Kings 84
More from Purple and Blues
So as injuries still loom and the Jazz have yet to prove whether they're an elite squad, a middle of the pack team or a fringe playoff contender, I'm pinning the Jazz to go 2-2 for the week. They could very well defeat the Lakers on Monday to go 3-1, but I have a hard time seeing them coming away with a win over the Warriors.
They've surprised me before, though, with a big road win at San Antonio and an impressive victory over the Houston Rockets last week, so it's definitely not outside the realm of possibilities. However, by projecting a very manageable 2-2 record, the Jazz will likely only be able to exceed my expectations.
Considering all the obstacles they've faced so far this season, their current record of 12-9 isn't bad by any means and still has them in a great position to move up into the playoff pack if they continue to weather the injury storm and can get fully healthy come late December or early January.
All stats courtesy of NBA.com and ESPN.com
This article originally appeared on