Utah Jazz Week Four Outlook, Predictions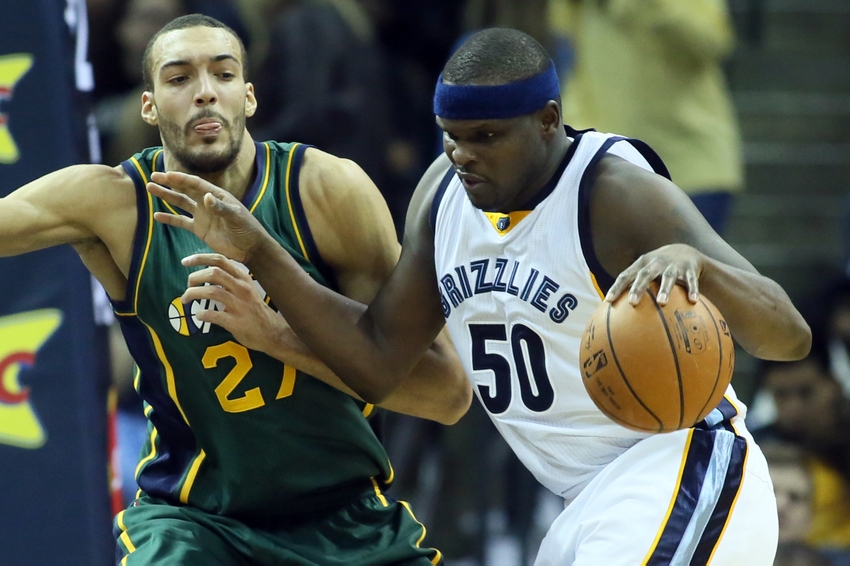 After a solid 4-1 record on their five-game road trip, the Utah Jazz have a great opportunity to prove their mettle against four very beatable teams this week.
Well, the Utah Jazz's first eastern road trip is now in the books. Particularly when considering all the obstacles they had to face – injuries to George Hill and Derrick Favors and two back-to-backs – Jazz fans have to be ecstatic with the 4-1 record over five games.
Yes, the very winnable loss to the Hornets hurts as the Jazz were one quarter away from sweeping the trip with a perfect 5-0 record, but given that it was a narrow loss to a tough Charlotte team while George Hill was sidelined, fans still have to be happy with the Jazz's overall performance.
In last week's predictions, I was correct in pinning the Jazz at 3-1 (4-1 for the whole trip). However, I had projected that they would beat the Hornets then drop the one at Miami thinking that by that fifth game the Heat would have the advantage over a fatigued Jazz team.
Yet the Jazz didn't look fatigued in the least as they were able to run away with a convincing 102-91 victory. Since I wrongly picked those two games, my record for the week was 2-2, putting my record for the year at 6-5, one whole game back of the Jazz's impressive 7-4 record.
Frankly, I wouldn't mind one bit if I kept missing on my predictions if it meant the Jazz kept increasing that lead.
Utah will have a pair of games at home on Monday and Thursday to start out the week, allowing them a nice chance to get back in the swing of things following the long trip. Thursday's match-up will be a nationally televised game against the Chicago Bulls, so it will be good for Utah to have those extra two days off before they take the national stage for that contest.
But the home stint won't last long as Utah will turn around and have a back-to-back on the road on Saturday and Sunday at Houston and at Denver.
While Utah doesn't have any games this week against elite opponents, they also don't face any pushovers. Even the 3-7 Nuggets have given some teams real issues so far this year. Therefore, if they're to continue to increase their win percentage, they'll need a solid week in the days ahead.
11/14 Utah vs. Memphis
7:00 pm MT – Root Sports/League Pass
Opponent record: 4-5
Season series: Tied 0-0
While the Memphis Grizzlies have been long considered a staple playoff team, 2016-17 has seen them get off to a rough start. Under the leadership of new head coach David Fizdale, the Grizzlies hoped to improve beyond their reputation as just a tough, grind-it-out squad to a formidable Western Conference force.
So far, however, that hasn't quite been the case.
Memphis' schedule has been relatively easy overall so far, nevertheless they hold just a 4-5 record to start out the year. They've lost to the likes of the New York Knicks, Minnesota Timberwolves and the decent but not spectacular Milwaukee Bucks. They also have yet to beat a team with a winning record, with their four wins coming over the Wolves, Wizards, Pelicans and Nuggets.
And that most recent win over the Nuggets came in miraculous fashion as Marc Gasol was able to tip in the winner with 0.7 seconds left on the clock.
Needless to say, by looking at the two teams' results so far, the Jazz should hold the edge in this match-up. The Grizzlies rank in the bottom ten in the league in points per game (27th), rebounds per game (28th) and assists per game (22nd) and haven't been the defensive force that NBA fans have grown accustomed to so far this year, ranking just 14th in opponent points per game.
Unsurprisingly, the Grizzlies have been led by point guard Mike Conley and center Marc Gasol who are averaging 18.8 and 18.1 points per game, respectively. As those two go, typically so do the Grizzlies.
If Utah is able to keep that dynamic duo in check, then a win over Memphis shouldn't be too tough to come by. Unfortunately, George Hill and Derrick Favors, two of the key pieces for slowing them down, are both questionable for Monday's bout. Hill has now missed four straight games with a sprained thumb and Favors left Saturday's contest against the Heat with knee soreness.
With the status of both of those key players currently up in the air, it's really going make this whole predicting business tricky, but nevertheless given the Grizzlies' slow start in adjusting to a new coach and style of play, I feel confident that their difficulty against teams with winning records will continue and that the 7-4 Jazz will be able to take care of business on their home court.
While it will be tough if Hill and Favors are not on the floor, regardless of who plays this will likely be a slow-paced, methodical and low-scoring game in which the Jazz ought to be able to come out on top.
My Prediction: Jazz Win
Final Score: Utah 88, Memphis 81
11/17 Utah vs. Chicago
8:30 pm MT – TNT
Opponent record: 6-4
Season series: Tied 0-0
There's just nothing quite like those late Thursday night games on TNT especially when the Jazz get to play at home against a long-time nemesis, the Chicago Bulls.
Long gone are the days of old when Michael Jordan and Co. broke the heart of nearly every person in the state of Utah, but matching up with the Bulls still leaves a bit of a bad taste in the mouths of Jazz fans every time.
This year's Chicago squad boasts a revamped lineup that includes newcomers Dwyane Wade and Rajon Rondo alongside All-Star Jimmy Butler to whom many believe this team now belongs.
He's certainly put up the argument that such ought to be the case as he has led the Bulls in scoring at 24.3 points per game while also logging 5.5 rebounds, 4.2 assists and converting on over 43 percent of his three-point attempts.
But the real story for this Chicago team has been Dwyane Wade. Though many questioned how the aging Wade would perform in his return home to join this Chicago Bulls roster, he has been phenomenal so far, putting up 17 points per game and providing a steady and clutch demeanor for this Chicago team.
While there were real concerns regarding this squad's ability to space the floor and hit threes and whether they'd be able to overcome those issues to produce wins, so far the Bulls have exceeded expectations as they hold a winning record through the first ten games of the seasons.
However, like the Grizzlies, their wins haven't been over that great of teams and some of their losses have been doozies. Their lone win over a team that currently holds a winning record was in their first contest of the year in Wade's Chicago debut against the Celtics.
And while the three-point woes haven't been as dire as many thought they would be, with the Bulls ranking 14th in the league in three-point percentage at 35.5 percent, they do rank at just 24th in the league in three-pointers made at 7.5 per game.
While Chicago has some guys who can effectively attack the rim and cause trouble in the paint, with two ferocious rim protectors in Rudy Gobert and Derrick Favors (assuming he plays) and given Chicago's less than reliable three-point attack, I truly think Utah's defense and home court advantage will prove to be too much for this new-look Bulls team.
Of course, once again the status of both Hill and Favors will definitely affect the outcome of this game, but with the Bulls' style providing what I consider a favorable match-up for the Jazz, I predict Utah will defend home court and come away with a solid victory against a likely playoff team in the East.
My Prediction: Jazz Win
Final Score: Utah 95, Chicago 90
11/19 Utah at Houston
3:00 pm MT – Root Sports/League Pass
Opponent record: 5-4
Season series: Tied 0-0 
After a short two-game home stint, the Jazz will be back on the road to take on the Houston Rockets. It may be a little much to call this a rivalry, but this was THE match-up to watch last year for the Jazz as two of their most exciting wins of the year came in closely contested bouts against Houston.
And of course it was the Rockets that ended up narrowly beating out the Jazz for that final playoff spot in the West last season, so we should expect a Utah team that is ready to exact some revenge and come away with a big road win.
However, it won't be easy. Say what you want about James Harden and the Rockets but they can be a scary team and I believe they're better than their current record indicates. While we all know their defense as laughable, their up-tempo style of play directed by new head coach Mike D'Antoni can allow them to build a big lead and take a team over in a hurry if the opponent isn't careful.
And unlike the Grizzlies and Bulls, the Rockets do have a convincing win this season as they were able to down the Spurs in San Antonio by a score of 101-99 last Wednesday. The Spurs were able to bounce back and hand the Rockets a loss in Houston in their subsequent contest (much like they did to the Jazz) but it was a nail-biter as well and a testament to Houston potentially boasting a better team this year than last.
But of course the heart and soul for the Rockets has been none other than James Harden. And so far this year, he isn't just having a good season, he's having a historical season.
Harden has relished in his move to the point guard position as he is not only averaging a stalwart 30 points per game but also 13 assists per contest as well. He's currently the league leader in that category by a wide margin as the player with the second best assist numbers, Russell Westbrook, is averaging just over nine per game.
To give Jazz fans a little relatable context, John Stockton averaged 10.5 assists over his career and from 1987-1992, he put up per-game assist numbers of 13.8, 13.6, 14.5, 14.2, and 13.7.
So while Harden isn't quite putting up prime Stockton averages, he's pretty darn close and especially in today's NBA, that's dang impressive. On the season, he has logged four 15-assist games and one 17-assist game. If he's able to continue to score and distribute the ball like he has, this will likely be the Jazz's toughest contest of the week.
However, fortunately Harden's most glaring weakness also happens to be the Jazz's biggest strength. Defense.
If Utah can be nailed down on the defensive end and slow Harden, there's no reason why they shouldn't be able to beat this team that was such a nuisance throughout last season. Aside from Harden, there are a handful of talented players on the team, but none has been all that consistent or should cause much problem for the Jazz.
So maybe I'm going out on a limb on this one, but I'm feeling good about Utah's chances. They'll need to play tough D and be able to answer Houston's high-octane offense with some scoring punch of their own, but especially after they showed their ability to keep their composure on the road last week, I'm optimistic that they'll come away with a big win.
My Prediction: Jazz Win
Final Score: Utah 108, Houston 101
11/20 Utah at Denver
7:00 pm MT – Root Sports/League Pass
Opponent record: 3-7
Season series: Tied 0-0
The 2016-17 Denver Nuggets have reminded me so much of last year's Jazz team. That is partly because they have a lot of young talent and some nice up-and-comers, but more than anything watching them gives me flashbacks to last season's Jazz squad because they've already dropped so many heartbreaking losses in winnable games.
Their first loss of the year came in overtime against a tough Blazers team thanks to a Damian Lillard dagger in the final seconds. They also lost an extremely hard-fought battle to the Raptors in Toronto by a narrow three point margin.
And in their most recent heartbreaker, they were defeated by the Grizzlies in the aforementioned stunning fashion as Gasol converted on a last second tip off the inbounds play.
In my Northwest Division comparison from earlier in the month, I pinned the Nuggets as the kind of team that can compete and potentially beat any team in the league but as one lacking the experience and closing ability to actually do so consistently. So far that analysis has held up.
So while this is a game the Jazz should win, it's also one where they'll have to be careful. It's not easy to play any team on the second night of a back-to-back, but particularly not against a fast-paced Nuggets team on their home court, the highest elevation-wise in the league.
And while the Nuggets don't boast one single star that has to be contained, their well-balanced attack is a unique strength that they possess that in many ways is also similar to the Jazz.
Will Barton and veteran Danilo Gallinari are the team's leading scorers, but Emmanuel Mudiay and Wilson Chandler aren't far behind and up-and-comers Jusuf Nurkic and Gary Harris are capable of putting up big nights as well.
And while this year's Nuggets team does slightly resemble last year's Jazz squad, when it comes to overall depth, experience and talent, the Nuggets are still a step behind the 2016-17 edition of the Utah Jazz. The fact that this is on the second night of a back-to-back against a fast-paced team does make me a little nervous, but I'm still going to go with the Jazz on this one.
They've won both of their back ends of back-to-backs so far and haven't shown any signs of fatigue or laziness in those contests. It'll be a tough game but it's certainly one a Jazz team that is hoping to join the ranks of the elite in the West should win.
My Prediction: Jazz Win
Final Score: Utah 110, Nuggets 97
More from Purple and Blues
Well, I might be crazy, but yes you did just read correctly, I'm picking the Jazz to go 4-0 this week. After a formidable 4-1 road trip and four contests against teams that all have considerable weaknesses that the Jazz can expose, I'm feeling quite confident in this rising Utah squad.
Of course health will play a huge factor as Utah's probability of emerging victorious in these games rises dramatically if both George Hill and Derrick Favors are present. Nevertheless, even in their absences this Jazz team has shown a resiliency that seems to indicate their ability to win even when the chips are against them.
And while you may consider me delusional for predicting such a successful week, that determination and never-say-die play we've seen so far is a big reason why I'm optimistic about their chances to win four straight.
How do you think the Jazz will do this week? Hit me up on Twitter or in the comments below.
This article originally appeared on