Utah Jazz Week Five Outlook, Predictions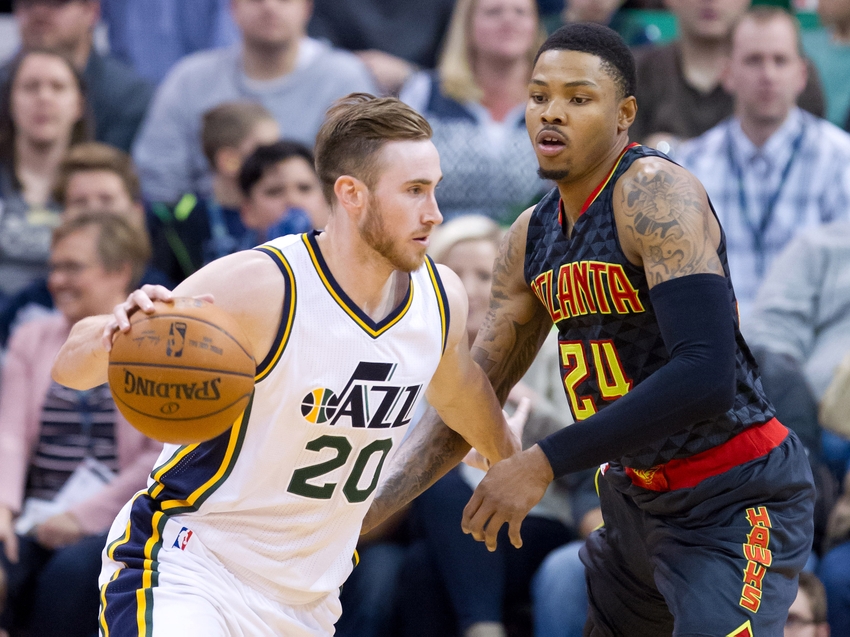 After a brutal start to the season, the Utah Jazz will have a bit of a rest in week five as they play just two games in seven days.
Well…week four certainly did not go as well as Utah Jazz fans had hoped.
After coming in winning four of five contests on their eastern road trip, the Utah Jazz were sitting at a respectable 7-4 record as they finally made their return to Vivint Smart Home Arena. Despite the onslaught of injuries, the Utah Jazz had played well and found a way to weather the storm. Everything seemed to be going well.
Yet fatigue, injuries and a struggling offense all piled up for the Jazz last week as they dropped four games straight, two at home and two on the road, to fall to 7-8 on the year.
I displayed some newfound (and apparently foolish) optimism in my selections last week as Utah's impressive road performances led me to throw caution to the wind and project them at going 4-0 this week.
Thus it turns out that both the Jazz and my weekly predictions went 0-4, dropping me to 6-9 on the year to remain one game behind the Jazz. In other words, it's been a rough week for all parties involved.
Nevertheless, with two days off before their next contest and only two games in this fifth week of NBA action, the Jazz should have some time to rest their legs and hopefully get a little healthier. It has seemed like George Hill has been sidelined for an eternity and the mere impact of his return to action could provide a huge lift for Utah.
"No one cares about that stuff. No one cares." – Quin Snyder on Jazz injuries and tough early schedule
Yet regardless of the reasonable excuses the Jazz have to attribute their losses to, Quin Snyder put it best when he simply said that "No one cares about that stuff. No one cares."  This team came into the year with high expectations and they have a lot of work to do to elevate their game to what they're truly capable of.
And given their recent struggles, as the Jazz prepare to host the Denver Nuggets in a rematch of Sunday's contest and then take on a formidable Atlanta team, this Utah squad will be hard-pressed to finish the week back above .500.
11/23 Utah vs. Denver
7:00 pm MT – Root Sports/League Pass
Opponent record: 5-8
Season series: Nuggets lead 1-0
For those of you who have followed me closely on Purple and Blues, you've heard me say it time and time again: The Nuggets are a team capable of competing with and beating any team, but not skilled enough to do it consistently.
They surely showed the former of that statement in Sunday's runaway win against the Jazz.
In yet another game in which Utah made some runs but never made it feel like they were actually going to come back, Denver posted a convincing 105-91 win over the Jazz. Utah got off to a slow start as they trailed 24-14 after the first quarter and the team was unable to recover from there.
Gordon Hayward was the man of the night as he posted 25 points on 42.9 percent shooting and looked somewhat improved from the three-point line as he converted on two of five attempts. Yet the Jazz as a whole shot poorly against a less than dominant defense, finishing just 38.8 percent from the field and 26.9 percent from deep as the offense continued to struggle.
Denver, on the other hand, used a balanced attack that saw six players finish in double figures to take down the Jazz. The Nuggets have been solid all year at playing as a team and getting major contributions from a handful of players. That, along with their fast-paced offense, has allowed them to be in a lot of close games so far this season and was key in their victory over Utah.
However, in Wednesday's upcoming contest, the Jazz will find themselves in a bit of a revenge-type situation. While they were the ones playing in the second night of a back-to-back in Denver on Sunday, the Nuggets will find themselves in that very same situation when they take on the Jazz in Salt Lake City.
After hosting the Chicago Bulls at home on Tuesday, the Nuggets will have to make the quick trip over to SLC to take on the Jazz who will be the beneficiaries of two days of rest leading up to the game.
And I think this will give the Jazz a considerable advantage over a young and developing Nuggets team. I've said many times that it feels like George Hill could make his return at any time and it still hasn't happened, but even without throwing him into the equation, I'm confident that the Jazz will bounce back, get this win and end their four-game slump.
They'll have to do as good of a job on the boards as they did in Sunday's contest, but take better care of the ball and execute much better on the offensive end. They also can't let the run-and-gun Nuggets get off to a quick start like they did in the previous match-up. As long as they take care of each of these elements, they should be able to come away with the win.
My Prediction: Jazz Win
Final Score: Utah 101, Denver 91
11/25 Utah vs. Atlanta
6:00 pm MT – Root Sports/League Pass
Opponent record: 9-4
Season series: Tied 0-0
Fortunately for the Jazz, they'll have a day off (as does the rest of the NBA for Thanksgiving) after facing the Nuggets to prepare to take on the Atlanta Hawks.
Atlanta has been one of the more surprising teams of the NBA so far this season as they got off to a red hot 9-2 start through their first 11 games which included big wins over the Rockets, Bulls and most notably the Cavs. They've seemingly cooled off a little since then having dropped two straight on the road to the Hornets and Knicks.
And when they come to face Utah, it will be the second game of a brutal five-game road stretch that begins against Indiana, then after playing the Jazz features contests against the Lakers, Warriors, and Suns.
Though the Hawks will come into the game with an equal amount of rest, hopefully the Jazz will be able to catch them off guard and somewhat fatigued in the middle of their travel-heavy slate of games surrounding the Thanksgiving holiday.
To do so, Utah will need an incredible game, particularly defensively, from their bigs. The Hawks boast a daunting frontcourt that features former Jazzman Paul Millsap and newcomer Dwight Howard who recently joined the Hawks during the offseason. Not surprisingly, these two are Atlanta's leading scorers at 17.5 and 14.7 points per game, respectively.
But the Hawks strength hasn't lied solely in the ability of just one or two players, but rather in the power of the team as a whole. The Hawks have five players that are averaging double figures on the season and Kyle Korver and Mike Muscala are close, putting up 9.6 and 9.5 points per game, respectively.
They are also a phenomenal ball-movement team and currently sit second in the NBA in assists per game. Defensively, they've been solid as well, which should come as no surprise given the personnel they boast of Millsap and Howard in the post as well as wing stoppers such as Kent Bazemore and Thabo Sefolosha on the perimeter.
Despite the recent two-game losing streak, Atlanta's impressive 9-4 overall record is evidence in itself that this is a tough and well-rounded basketball team.
And given Utah's recent struggles against mediocre to good teams, it wouldn't be surprising to see them struggle against a squad that to this point has been stellar. With a healthy Derrick Favors (who was phenomenal in his lone game against Atlanta last year) around to challenge Millsap and Howard, I might say the Jazz would have an edge in this one, especially at home.
But with Favors sidelined, given the way both teams have been playing of late and considering Atlanta's impressive depth, I'm going to have to go with the Hawks sealing the deal on this one.
My Prediction: Hawks Win
Final Score: Atlanta 107, Jazz 101
More from Purple and Blues
So there you have it. With the crazy number of games the Jazz have been playing so far, we've grown quite accustomed to watching them play four times per week. But with just two contests in week five, hopefully Utah will look more rested, get a little healthier and come out with significantly more energy.
While I think we'll almost certainly see an improved Jazz team from last week in both contests this time around, with such a tough Hawks team coming into town, I don't believe the Jazz will finish better than 1-1.
They'll be back to their busy four-game week in week six, so hopefully Utah can find some time this week to right the ship and get back to playing the brand of basketball that they did in their Eastern Conference road trip.
All stats courtesy of NBA.com
This article originally appeared on