Utah Jazz Week Eight Outlook, Predictions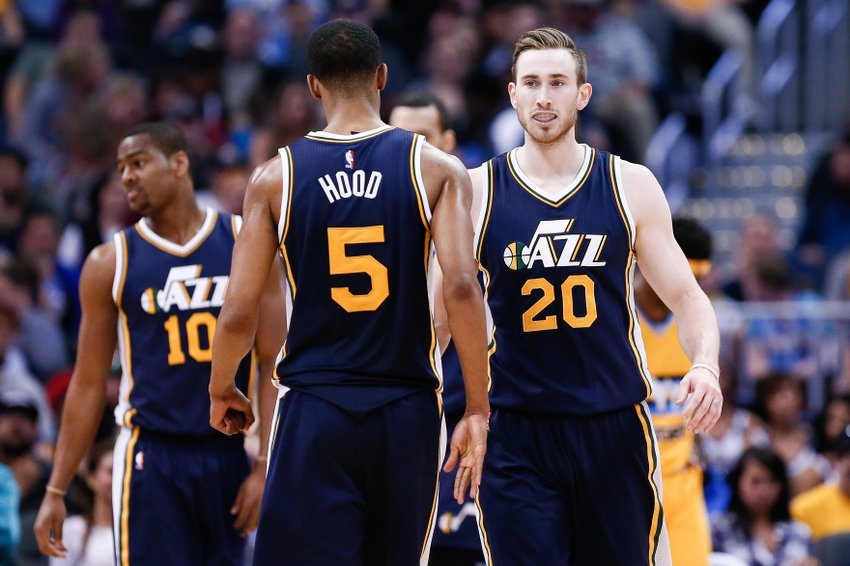 The Utah Jazz have a real chance to prove themselves this week as they'll be taking on two Western Conference playoff contenders.
Is it just me or is this NBA season flying by so far? It's crazy to think that we're already over a fourth of the way through the season, but with the Jazz sitting at 15-10 through their first 25 games, it's certainly been a fun ride.
Utah got to that 15-10 record by going 3-1 last week, defeating the Lakers, Suns and Kings but falling short against the mighty Golden State Warriors in what was a respectable game given the fact that the Jazz lost by just seven points despite being down four starters.
In my predictions for last week, I correctly picked the outcome of all but one of the games, meaning I went a respectable 3-1 as well. For those of you keeping track at home, that now has me at a 12-13 record. Watch out, I'm closing in on that .500 mark!
But getting back to more important matters, the Jazz have an extremely exciting slate of games this week and plenty of rest to prepare for them. They'll finish off their five-game home slate by playing the Oklahoma City Thunder on Wednesday and the Dallas Mavericks on Friday.
Then it's back on the road to take on a Memphis Grizzlies team that has been red hot of late, winning six straight including a blowout 110-89 victory over the full-strength Golden State Warriors. Both OKC and Memphis figure to be tough playoff contenders come April, so the Jazz have a real shot to prove themselves and show that they belong in that conversation as well.
With three days of rest going into the game against the Thunder, there has to be high hopes that the Jazz can get a little healthier than what they've been of late. Having George Hill back to hold Russell Westbrook in check will be critical if the Jazz hope to come away with the win. Utah is currently just a half-game behind the Thunder for sixth place in the West so this game is critical now and could have huge implications for playoff positioning later down the road.
So while this week has one less game than last, it will likely be one of the more important stretches of the season so far as Utah will be tested against two comparable opponents in contests that could very well determine just where they stand in the West.
12/14 Utah vs. Oklahoma City
7:00 pm MT – Root Sports/League Pass
Opponent record: 15-9
Season series: Tied 0-0
The Oklahoma City Thunder are a team that has given the Jazz trouble over the years. Utah was swept by OKC last season, despite putting up a couple of good fights.
However, now Kevin Durant is a member of the Golden State Warriors and while Russell Westbrook is having an incredible year individually, naturally the Thunder have dropped off a bit after losing their co-star.
Yet the Thunder have still been impressive this season as they come in with a 15-9 record and have won several big games against strong opponents. However, they've also been about as streaky as they come. While OKC is currently on a streak of winning seven of their last eight, they've also posted both a three-game and four-game losing streak on separate occasions this season.
Of course a lot of that streakiness is due to their lead man himself, Russell Westbrook. While Westbrook has been on an absolute tear this season, averaging a triple-double of 31.1 points, 10.9 rebounds and 11 assists, he's also had some struggles and inconsistencies in other areas.
His shooting numbers aren't fantastic as he's averaging 42.8 percent from the field and 31.9 percent from deep and he's also turning the ball over 5.8 times per game, the highest of any player in the league. With his high assist numbers, that's still almost a 2:1 assist-to-turnover ratio, which isn't bad in and of itself, but still, nearly six turnovers per game is pretty rough.
And it's certainly something that will be exploitable for the Jazz. In a league so stocked-full of talent, it's a bit presumptive to say that one player will flat-out determine the outcome for a team, but for the most part that has held true for the Thunder.
If Utah can force him into poor shots and multiple turnovers, so long as they don't allow any of his teammates to get a rare hot hand, the Jazz should be able to win this one. However, the opposite could very well be true as well. If Westbrook has one of his special nights, there's always the possibility that there will be nothing the Jazz can do to stop him.
I hate to be wishy-washy, so I'll go ahead and just pick the Jazz as the winners in this one outright, but I must say that if George Hill and Rodney Hood aren't back in action for this game, it could very well end up in the Thunder's favor.
However, with three days of rest going into the game, I'm going to err on the side of optimism and predict that they'll both be back and a restored Jazz team will come away with a big, but narrow win.
My Prediction: Jazz Win
Final Score: Utah 102, Thunder 99
12/16 Utah vs. Dallas
8:30 pm MT – ESPN
Opponent record: 5-18
Season series: Jazz lead 1-0
Remember early in the season when the Jazz came into Salt Lake City on the back-end of a back-to-back after having beaten the Spurs in San Antonio and simply crushed the Mavericks? Wasn't that awesome?
Well, it truly was a good win, but now in hindsight given that the once mighty Dallas Mavericks now boast the league's worst record of 5-18, it wasn't quite as impressive of a victory. Nevertheless, this is a savvy veteran squad with a top-tier coach that Utah will have to be prepared against.
Like the Jazz, the Mavericks have struggled with injuries this season as they have just two players who have appeared in all 23 games. What's worse is Mavs star Dirk Nowitzki has only played in five games while Deron Williams has missed eight contests. They're certainly below Utah in overall talent even when they're healthy, so the fact that they've missed so many key guys has been devastating.
Along with the injuries, taking a look at some of their key stats, it's pretty clear why Dallas' record is what it is. They're currently dead last in the league in points and rebounds per game and second to last in assists.
In other words, it's been an ugly season for Dallas.
The lone bright point has been newcomer Harrison Barnes who is averaging a team high 20.6 points, but then again, if the inconsistent and oft underwhelming Barnes is the team's best player, that's a whole other problem in and of itself.
All things considered, I expect Utah to come away with another big home win over the Mavericks on national TV and improve their record in the season series to 2-0.
My Prediction: Jazz Win
Final Score: Utah 108, Dallas 92
12/18 Utah at Memphis
4:00 pm MT – Root Sports/League Pass
Opponent record: 17-8
Season series: Grizzlies lead 1-0
While Memphis had a bit of a rough go to start out the season, they've gotten the ship righted in a big way. As I mentioned before, they've won six in a row and recently made mince meat out of the league-leading Golden State Warriors. What's perhaps more impressive is that they're doing it with out point man Mike Conley who has been out since November 28th with fractures in his vertebrae.
Utah hung with this tough Memphis team in their first bout, but ultimately could not finish as the Grizzlies came away with a win in Salt Lake. Of course George Hill was not active in that contest, so the Jazz will have to hope that he'll be back around as he would provide an enormous advantage, particularly with Conley sidelined.
The Grizzlies were a team that many were unsure of coming into this year, but they're proving once again that they are a tried and true playoff contender in the West, who can grind with the best of them. Their record currently has them just a half-game out of third place in the West, an accomplishment that would be momentous for them if they were to accomplish it.
Of course Marc Gasol has led the way for the Grizzlies this year and continues to prove that he is one of the best all-around centers in the league despite flying under the radar at times.
The Jazz may have lost to the Grizzlies at home, but fortunately they've been just about as effective on the road, so hopefully they can come in focused and notch a big win over a team that has looked like a serious player in the Western Conference up to this point.
Nevertheless, as much as I'd like to pick the Jazz to go undefeated this week, there's too much in question in regards to injuries, consistency and Utah's ability to beat top-tier teams so far. If Utah can scrape out a road win against the Grizzlies, it may put some of those doubts to rest, but until they actually prove themselves able to do so, I'm going to give Memphis a slight edge in this one.
My Prediction: Grizzlies Win
Final Score: Memphis 88, Utah 82
So while I feel very confident that the Jazz will come away with a win against Dallas, the other two games are a little bit scarier as they'll be taking on two of the toughest teams they've faced this year. Both the game against the Thunder and the Grizzlies could go either way, but if the Jazz were able to win both, it would make a huge statement about just how formidable this team is.
It sure would be nice to see the Jazz roll out a healthy lineup this week, but even if they still have some key guys sidelined, based on their play of late, I feel comfortable predicting them to go at least 2-1. If they do so, they'll continue their ascent above .500 and finish the week at 17-11.
So buckle up for a fun week, Jazz fans. We've been treated to some great basketball of late as Utah has won eight of their last ten. And if they can keep that level of play up this week against two formidable squads, things should only continue to go up from here.
All stats courtesy of NBA.com
This article originally appeared on