Utah Jazz: Wacky George Hill Trade Rumors Hit the Net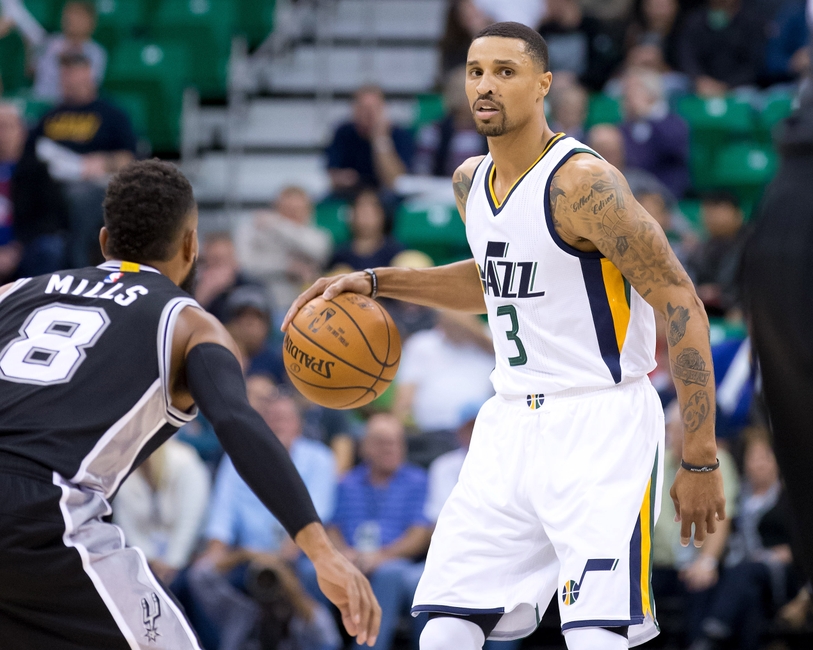 NBA trade rumor season is in full swing and George Hill's name is being floated around. What should Utah Jazz fans take from it?
It's that magical time of year where teams across the league are forced to respond to trade rumors. Everyone is taking the ESPN trade machine for a spin to figure out how to get player X onto team Y.
A lot of this back and forth is mostly fan noise. Basically, if you are an above average NBA player, fans will circulate theories about how their favorite team can (or will) acquire your services. If you are under-performing, rumors will circulate on how to get you off their team. Cough, cough, Evan Turner, cough.
SB Nation recently did a fantastic article on how fake rumors get going and how damaging they can sometimes be. In this case, Brian Scalabrine went on national radio saying he had heard a rumor about a potential Klay Thompson to the Boston Celtics trade. People naturally assumed it was coming from an actual source.
Steve Kerr on Brian Scalabrine floating a Klay Thompson to Celtics rumor: "Brian hasn't called me yet"
Ethan Sherwood Strauss, ESPN Staff Writer
As it turned out, Scal's source was a click-bait website that took the "trade rumor" from another website that allows users to submit their own "trade rumor" and it gets posted. Basically, the  Warriors were forced to meet with Klay and reassure him of his position on the team because of reports without any basis of truth. Essentially, NBA trade rumors become middle school girl gossip.
With that background I address the notion floating around that George Hill is on his way to the New York Knicks. Or that the Knicks are finally resolving their point guard issues. Or here George Hill is joining forces with Derrick Rose.
I think it's safe for me to assume that anyone reading the Purple & Blues is a Jazz fan. We all are acutely aware that the only game this year that started the lineup of Hill, Rodney Hood, Gordon Hayward, Derrick Favors and Rudy Gobert was against the Knicks. Hill's impact on the surrounding roster was not missed by the New York media and fans.
You are also probably aware that the Utah Jazz front office has long coveted Hill. There has been nothing outside of unanimous praise about Hill's play, leadership and example for this young team.
In fact its being reported by Marc Stein with ESPN that the Jazz are prioritizing Hill's extension over stud power forward Derrick Favors. Which would give Hill 13 million dollar raise this year to extend in Utah.
To comfort fans even more, Hill addressed the extension talks himself.
More from Purple and Blues
"I'm not the type of guy that likes to move around and go from team to team, I really like it here. My family likes it here. I've got some friends here. The city's been great for me so far, and it's a nice place to raise a family, so hopefully I get an opportunity to re-sign here if they would love me to be here."
The moral of the story here is to not let the facts get in the way of a good story. With George Hill potentially returning against the Denver Nuggets on Wednesday, hopefully we get a glance at the back court we've been teased with since New York.
This article originally appeared on