Utah Jazz vs. Phoenix Suns: Keys to the Game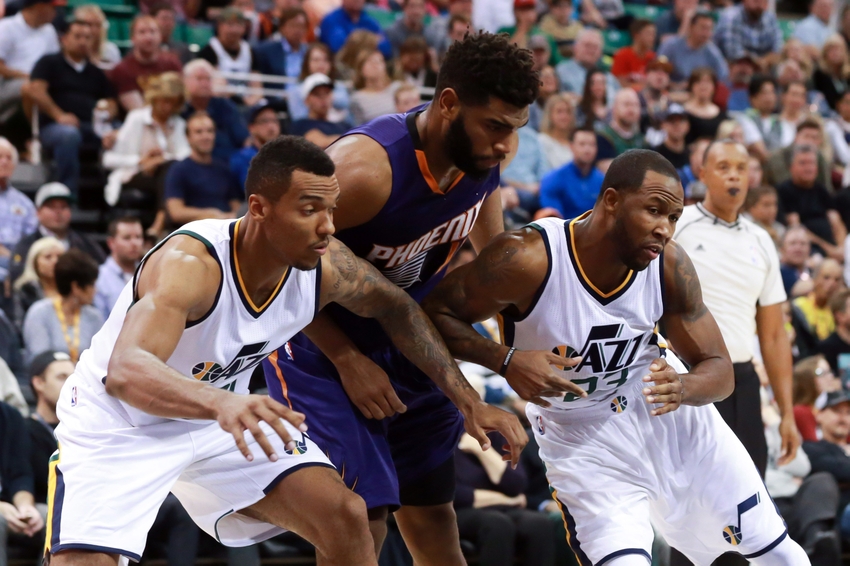 In a return to their home court, the Utah Jazz shouldn't have too much trouble against a young and struggling Phoenix Suns team.
Coming off a solid win over the Los Angeles Lakers on the road last night, the Utah Jazz will return home to take on the Phoenix Suns in tonight's contest. While Monday's game in LA was a bit scary in the fourth quarter, the Jazz were able to hold on to earn a 107-101 win, their sixth win in seven games.
Despite the fact that they'll be playing in the second night of a back-to-back, they should have a great shot to make it seven of eight as they take on a young and struggling Suns team tonight.
Phoenix is quite similar to three of the teams that Utah has faced very recently, the Timberwolves, Nuggets and Lakers, in that they have some young talent and tremendous athletes but thus far don't appear to be anywhere near contention in the Western Conference.
Still, the Suns are an up-tempo and high-scoring team, so Utah will need to have their legs beneath them and be prepared to cover in transition to avoid falling victim to fatigue against a subpar opponent. While the Suns have managed to put up 106.4 points per game, they've done it on mediocre shooting and a dismal defense that ranks second to last in the league, giving up 113.2 points per game.
Thus as long as the Jazz come in focused and put an emphasis on the following key aspects, they will likely be able to come away with the win.
Key Match-up – Rodney Hood and Devin Booker
Devin Booker will likely always be connected to the Utah Jazz given that many predicted Utah to select him with their twelfth pick in the NBA Draft, but instead they went with his Kentucky teammate, power forward Trey Lyles. Booker then was selected immediately after by the Phoenix Suns.
Time will tell which player was the better pick and while Lyles certainly makes a case for being a better fit on the wing-heavy Jazz and would produce more if he were given the kind of starter minutes that Booker receives on a thin roster, so far the Sun's guard has certainly looked like an incredible steal at the 13th pick in the draft.
Booker has started at shooting guard in every game that he's played this year for the Suns and is averaging 19.2 points per game on 41.8 percent field goal shooting and 33.3 percent from deep. He was brought into this league to be a sharpshooter and while his percentages still leave a little to be desired, he can certainly fill it up when he gets going.
The points per game tell the story as he's able to find a way to produce even if his shot isn't falling. He's currently second on the team in scoring only to Eric Bledsoe who holds a narrow 0.1 points per game advantage over the second-year guard.
But while Booker is certainly an up-and-coming star, the guy he'll be matched up against, Rodney Hood, has the advantage of an extra year of experience under his belt and, at least to this point, a better shooting touch. Hood has converted on 35.8 percent of his threes this year and has been a key cog to this Jazz offense.
While he doesn't average as many points per game as Booker (16.1 on the season) he also is on a team with more depth and more talent as the likes of Gordon Hayward and George Hill often tend to handle the lion's share of scoring.
Hood is also a long and tough defender, so he could very well make life miserable for the young Booker in tonight's contest. With Booker being one of the Suns' top scoring options, Hood will need to do a good job of forcing him into tough shots since he has struggled to convert from the field at times this year.
As long as Rodney can stay near his season average on offense while throwing Booker out of his rhythm, the Jazz could very well have the advantage in this match-up.
Key Stat – Three-Point Percentage
Although the Suns boast a number of shooters that demand respect beyond the arc such as the aforementioned Booker and Bledsoe as well as Jared Dudley and Brandon Knight, they haven't been that great of a three-point shooting team this year as they rank just 24th in the league at 33.1 percent.
However, in their six wins this season, they've been much improved from deep, going 37.4 percent. For a bit of comparison, that average percentage would put them in a tie for the sixth best three-point shooting clip in the league. Therefore, the Suns are certainly capable of filling it up if they aren't contained and are allowed to get the hot hand.
The Jazz on the other hand come in at tenth in the league shooting 36 percent from three. However, what's scary is that so far this season while Utah has a formidable overall defense, they actually rank in the bottom third in the league in opponent three-point percentage, allowing opposing teams to convert on 36.2 percent of their deep balls.
Thus Utah will need to be buttoned up on the perimeter against a streaky Suns team whose truly only chance of winning against a stalwart Jazz squad is to catch fire from behind the arc as they have in their handful of wins. If Utah can prevent Phoenix from building any momentum from the game's onset and continue their own consistent three-point shooting, it will be hard for the Suns to produce in enough other areas to win the game.
Key Performer – Rudy Gobert
The Phoenix Suns have an old defensive veteran down low in Tyson Chandler who has built a reputation as a hard-nosed guy who's tough to beat. Nevertheless, the key word in that previous sentence was the word "old."
Chandler's glory days are long behind him as he now has 15 years of experience in the league. As such, I expect Rudy Gobert to have a hay day. Particularly when Chandler is on the bench, the Suns have a very thin front line with young and developing Alex Len as the back-up center and three power forwards whose lack of size and/or experience simply won't be able to keep up with Rudy.
This is especially true given that the Stifle Tower has been on fire lately. He's put up double-doubles in five of his last seven games and is coming off a monster 14-point, 17-rebound and 5-block night against the Lakers in Monday's contest.
If the Rudy Gobert that is able to produce like that on both ends of the court is the one that shows up tonight, the Suns will have a hard time finding any kind of answer for him in the paint.
Prediction – Jazz 106, Suns 91
For good measure, I'll go ahead and stick with the same prediction that I made in my preview of this week and pin the Jazz to come away with a 15-point win.
However, given the way that the Jazz have seemingly run out of gas in the fourth quarter of the past two games and that this game is on the second night of a back-to-back against a fresh and fast-paced Phoenix team, I could very well see the score ending up closer than this. In fact, Utah's recent fourth-quarter performances have made me a little nervous.
The Lakers outscored the Jazz by nine in the final period last night and in the previous game, Denver posted a monstrous 35-23 advantage in the fourth that almost saw them finish the game with an incredible comeback.
More from Purple and Blues
With the Suns playing a similar up-tempo style as these other two squads, Utah will need to be locked in for all 48 minutes, especially due to the fact that they'll likely be facing some fatigue. Nevertheless, Utah is head and shoulders above Phoenix talent-wise so they'll naturally have a big advantage in this contest.
In other words, this is the Jazz's game to lose since as long as they play up to their normal level, they shouldn't have too much trouble outmatching this young Phoenix squad.
All stats courtesy of NBA.com and ESPN.com.
This article originally appeared on