Utah Jazz vs. Houston Rockets: Keys to the Game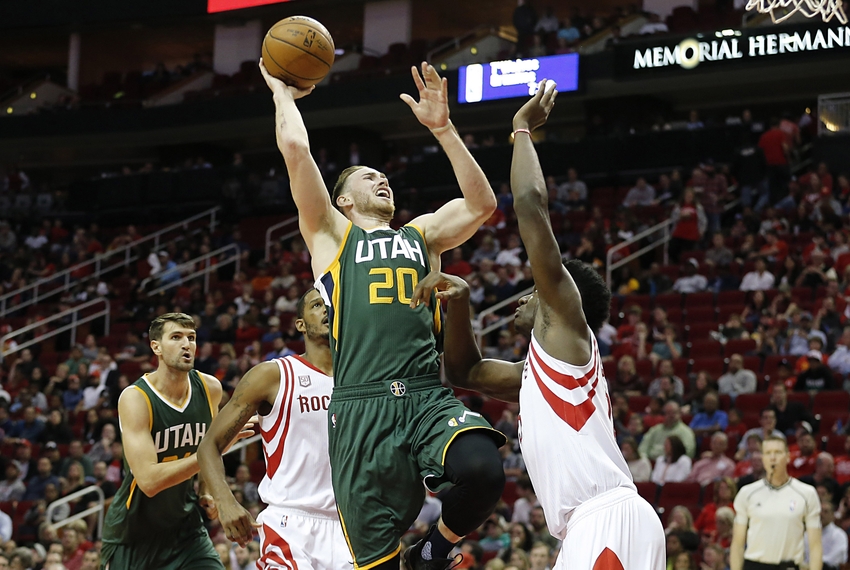 The Utah Jazz will have their work cut out for them as they look to avenge their earlier loss to the Houston Rockets. However, this time around George Hill will be back in action to provide a much needed boost.
The first time that the Utah Jazz and Houston Rockets met this season, Utah was in the midst of what would become a four-game slump and their struggles during that stretch were certainly visible in that contest. The Jazz made a couple of mini-runs throughout the game but could never get enough momentum going to make a significant impact.
Overall, the Jazz looked sluggish and failed to compete against a Rockets team that, despite what many had presumed, has looked much improved so far this season under head coach Mike D'Antoni.
They come into Tuesday's contest with an 11-6 record and the third-highest scoring offense in the league, averaging 109.8 points per game. The Rockets have won five of their last six and are coming off a huge statement win at Portland where they won 130-114.
And of course Rockets point man James Harden has continued his formidable play as he comes in at fourth in the league in scoring at 28.9 points per game and first in assists at 12.2. In other words, Houston is playing well right now and while the Jazz will have the fortune of playing on their home court, they'll have to be at the top of their game if the hope to come away with a win.
Key Match-up – George Hill and James Harden
Last time the Jazz were gearing up to play the Rockets, I got a little too optimistic and slated this same match-up as the game's "key match-up" in hopes that George Hill would indeed make his return for the game. Unfortunately such was not the case as Hill would ultimately need a few days longer to recover from a sprained thumb.
But with George Hill back in action this time around and playing well since his return, we'll finally be treated to this exciting match-up. Harden's move to the point guard position has worked wonders for his game and for the team so far, but he'll be faced with a much harder task with Hill laying in wait to defend him.
Harden's biggest downfall has been his tendency to turn the ball over as he currently averages a painful 5.7 rebounds per game. The last time Utah played Houston, however, Harden didn't turn the ball over a single time. Expect that to change drastically with a savvy defender like Hill in the game.
Hill looked great once again in Utah's win on Monday night against the Timberwolves as he finished the game with a team-high (tied with Hayward) 24 points. He has been an absolute force for the Jazz in every game he's played this season and will be the key game-changer this time around as Utah prepares to face the Rockets.
Key Stat – Turnovers
I've already mentioned this statistic a little bit with Harden and it was my key last time these two teams met, but the Jazz lost the turnover battle by a large margin which contributed significantly to their loss.
Surprisingly, Utah shot a better percentage from both the field and behind the arc than Houston in the contest, but the Jazz turned the ball over 12 times while the Rockets only committed four turnovers. This was the biggest difference maker in Utah's nine-point loss.
With Hill taking over the majority of the ball-handling and putting extra pressure on James Harden, Utah should have a better night in the turnover category this time around. Utah is currently tied for fifth in the league with just 12.1 turnovers per game, so it is an area where they have done relatively well this season.
Houston, meanwhile, comes in at fourth-worst in the league at 15.8 per game. Thus, these two teams' last match-up was most definitely an anomaly in terms of turnover numbers. If Utah can simply return to the disciplined and focused style of play they've exhibited of late, it shouldn't be too difficult for them to come out on top in this category.
Key Performer – Gordon Hayward
Last time these two teams met, I slotted Rodney Hood as the key performer and he certainly did not disappoint as he led the Jazz in scoring with 25 points on 61.5 percent shooting from the field. Gordon Hayward, however, had a very forgettable night with just nine points on 4-of-13 shooting.
Yet, since George Hill's return from injury, Hayward has been much more effective in each of his last three contests. And given his disappointing performance when the Jazz and Rockets met previously, he'll more than likely be looking to have a significant bounce-back game.
He's averaged over 23 points in his last three games and has been exceptional at attacking the rim and getting to the line, something that he'll need to do very well against Houston to counter Harden's prolific offensive style.
Hood should be able to have another good game due to Houston's lack of defensive personnel at the shooting guard position and Hill has been unbelievably steady all year. So if Hayward is able to do his part and have a big game of his own, it could very well be the final piece Utah needs to come away with a victory this time around.
Prediction – Rockets 115, Jazz 109
While I think the Jazz are more than capable of keeping up with this tough Houston team, the fact that Utah will be playing on the second night of a back-to-back and are still missing Favors who was a key player in both of Utah's wins over the Rockets last year, I'm going to stick with my prediction from earlier in the week and give the Rockets a slight 115 to 109 edge in this one.
I have my fingers crossed that I'm wrong, but considering how poorly the Jazz played against Houston the last time around and the fact that they'll be coming in on tired legs, I'm concerned that this high-tempo Rockets team will show up with high confidence and be able to outgun Utah down the stretch.
More from Purple and Blues
If the Jazz are able to win the turnover battle, get a big game out of Gordon Hayward and perhaps most importantly, slow down James Harden, they could very well get revenge on their home court, much like they did last week in their second contest against the Nuggets.
After last week's victory over the Atlanta Hawks in which a stingy Jazz defense held the visiting team to just 68 points, I called it the first statement win at home for Utah this season. However, if they're able to prove my prediction wrong and log a victory against a hot Houston team that has plagued them the last few seasons, it will likely become the biggest and most important home win of the year so far.
All stats courtesy of NBA.com
This article originally appeared on