Utah Jazz vs. Dallas Mavericks: Keys to the Game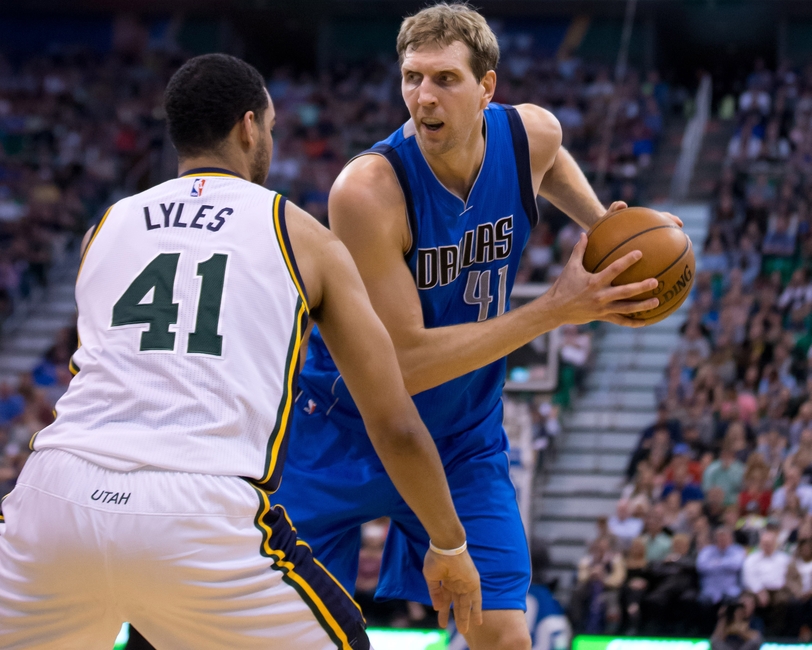 In their first back-to-back of the season, the Utah Jazz will have to make these keys a real focus if they hope to slow down the experienced Dallas Mavericks who will be hungry for their first win.
After logging an incredible 106-91 win on the road last night against the San Antonio Spurs, the Utah Jazz will have little time to celebrate as they'll immediately turn around and play the Dallas Mavericks within the friendly confines of Vivint Smart Home Arena in tonight's contest.
While the Jazz will be playing on little rest, the Mavs have had two full days since their last game (a heartbreaking 93-92 loss to the Rockets) to let the realization of their 0-3 record sink in. It's practically a guarantee that this slow start hasn't sat well with Coach Rick Carlisle and the Mavs, so expect a hungry Dallas team to look to take advantage of a tired Jazz squad to log their first victory of 2016-17.
While this discrepancy in days off will certainly create a challenge for the Jazz, if they're able to play at all similar to how they did in Tuesday's win, they should be able to come away with a win. Dallas is still a good team with some talented veterans, but they aren't quite the daunting force that they've been in recent years.
The Jazz may also be the beneficiaries of a significant lucky break as Dirk Nowitzki's status for the game is still questionable. While he is reportedly hoping to play, Coach Carlisle is being cautious with his aging star and hasn't suggested that he will definitely be active for tonight's contest.
Dirk is a tough match-up for any team and seemingly always has success against the Jazz. If he ends up unable to play, it will definitely be a stroke of luck for what will likely be a fatigued Jazz team.
Nowitzki's status aside, especially considering that Utah is back at home, this should be a very winnable game for them. Nevertheless, to come out on top, they'll need to avoid too big of a "hangover" from Tuesday's impressive win and focus on these key aspects of the upcoming game.
Key Match-up –- George Hill/Dante Exum and Deron Williams/J.J. Barea
Knowing that Dirk Nowitzki may not be active for this game, the match-up that will likely demand the most attention will be at the point guard position. In starter Deron Williams and reserve J.J. Barea, the Mavs have two formidable players that are off to good starts so far this season. Williams is currently averaging 17 points and 4.7 assists while Barea is putting up 16.7 points and 5.3 dimes per game.
While George Hill will have the larger share of minutes at the point, he along with reserve Dante Exum and likely Shelvin Mack as well, will be tasked with keeping these two prolific guards in check.
Both are crafty and experienced players that are as capable at attacking the rim as they are at hitting a big three. While George Hill has been impressive for the Jazz so far this season, he'll have his hands full as the Mavs will be able to throw two solid guards his way regardless of whether the first or second unit is on the floor.
Thus it's likely that to be successful, Exum will also need to elevate his game, particularly on defense to help stop this duo. On the opposite end of the floor, Hill currently has a higher scoring average than both Williams and Barea and Utah will need him to keep up that trend to offset their offensive attack.
Key Stat -– Assists
The Utah Jazz were largely able to take care of business against the Spurs because they were active and efficient on offense. Rather than allow one player to try to do too much and cause the offense to go stagnant, the Jazz did a superb job of being proactive and moving the ball.
This led to Utah putting up 22 assists in Tuesday's victory, which was three more than the Spurs. This is particularly impressive considering San Antonio is a team that is well-known for their ability to share the basketball to create easy scoring opportunities.
For the Jazz to enjoy success against the Mavericks and to avoid any sort of offensive slump, they'll need to produce similar results in terms of assists. If Utah is able to finish with 20 or more in tonight's contest, it will mean they are effectively moving the ball and will put them in a great position to win the game.
Key Performer -– Rudy Gobert
Despite the Mavs boasting a solid rim protector in Andrew Bogut, it seems like the center position is the area where Utah has the most marked advantage in this match-up. Gobert will also be looking to bounce back against Dallas given that he put up just six points on 1-of-4 shooting in last night's contest against the Spurs.
He has also now gone two straight games without posting a double-double and will likely want to rectify that in tonight's game.
Particularly if Nowitzki is inactive, Gobert will be able to find ample opportunities to convert in the paint. On defense, Andrew Bogut isn't a major scoring threat, so Rudy should find significant success by shifting his focus to playing great help defense and protecting the rim against the Mavericks' more dangerous scorers.
Also, since Dallas has two solid perimeter defenders in Harrison Barnes and Wesley Matthews, Utah will need be able to look inside and get some easy baskets from Gobert in a game where guys like Rodney Hood and Joe Johnson will be faced with tough match-ups.
Prediction -– Jazz 92, Mavericks 87
In my predictions earlier in the week, I had the Jazz winning this game by a score of 92-87. I hate to be boring, but considering all the factors, I still feel like this is a pretty solid projection. While the Jazz did just beat a much better Spurs team by 15 points, they will be playing their second game in as many nights, which always makes a win harder to come by.
Also, while the Mavericks are typically a tough match-up for the Jazz, since Nowitzki is questionable and Matthews and Barea are dealing with some minor injuries of their own, in the end I think the Jazz depth will prove to be too much for this ailing Mavs team.
More from Purple and Blues
If the Jazz are able to match their performance from Tuesday night, this should be an easy win, particularly on their home court. Nevertheless, it will be hard to duplicate the hot shooting they put up in the first and fourth quarters against San Antonio, so I expect this one to be more of a down to the wire affair.
George Hill has been the instrumental closer in both of Utah's wins this season and they may need a similar finish out of him if they are to emerge victorious again this time around.
All stats courtesy of NBA.com
This article originally appeared on