Utah Jazz vs. Chicago Bulls: Keys to the Game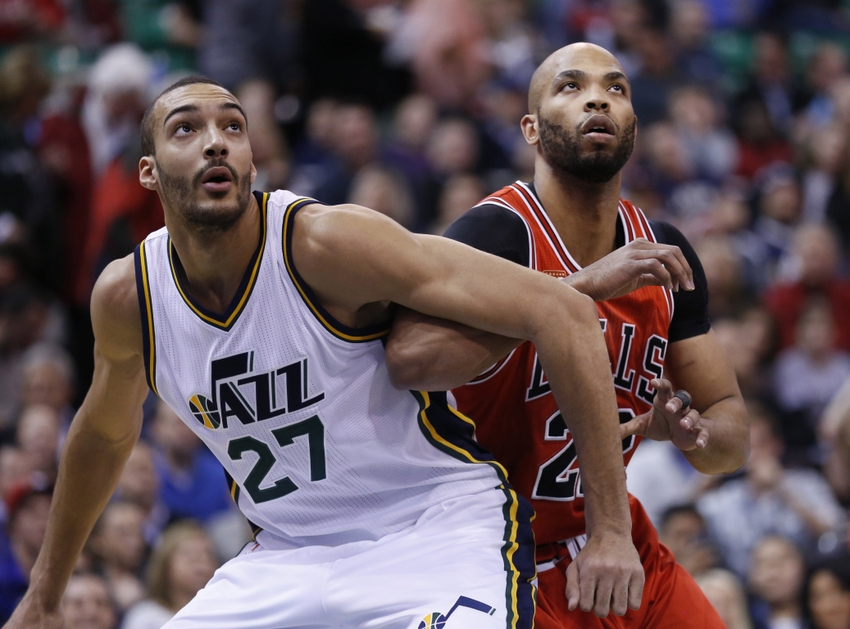 If the Utah Jazz hope to defeat the Chicago Bulls in tonight's nationally televised match-up on TNT, they'll need to focus on these key areas.
After a tough stretch to start out the season that included playing five games on the road in seven days, the Utah Jazz were finally able to take a little bit of a break this week. After a frustrating loss at home to the Memphis Grizzlies on Monday, Utah had two days to rest up and hopefully get a little healthier as they prepare to host the Chicago Bulls on Thursday,
This match-up will provide a tremendous bounce-back opportunity as the Jazz will look to defend home court against a Bulls team that has gotten off to a somewhat surprising start. With the additions of Dwyane Wade and Rajon Rondo over the offseason, many wondered if Chicago would have sufficient spacing on offense to be a true threat in the East.
Nevertheless, Chicago is off to a solid 7-4 start and has actually put up some good stats and logged some relatively impressive wins.
They're currently first in the league in rebounding, tenth in points per game and have managed to roll out a formidable defense that currently ranks seventh in the league in opponent points per game.
And heading into Thursday's contest against the Jazz, they're riding a three-game winning streak that most recently saw them manhandle a solid Trail Blazer team on the road by a score of 113-88. The Bulls starting lineup was incredible in that game as each of them scored at least 20 points except Dwyane Wade who still put up an impressive 19.
While the Bulls will be playing their second game in as many nights and Utah will be coming in with fresh legs, Chicago didn't look phased in the least in their latest road match against Portland. Thus Utah will need to come out with energy and quickly suck the life out of a potentially weary Bulls team rather than just assume that their opponent will be sluggish.
And with Thursday's game being nationally televised on TNT, it will be an incredible opportunity for the Jazz to show to the entire league and NBA fans across the country that they are the real deal and aren't to be taken lightly this year.
If they're to do that and come away with a much needed win after Monday's disheartening loss, there's a handful of areas where they'll have to be at the top of their game.
Key Match-up – Gordon Hayward and Jimmy Butler
While Dwyane Wade certainly carries the most clout of any player currently on the Bulls roster, it's Jimmy Butler who is the rising star of the bunch and the one who has had the most impressive season so far.
Aside from leading the team in scoring at 24.5 points per game, he's also averaging a solid 6.1 rebounds, 4.3 assists and shooting 48.8 percent from the field and 44.7 percent from deep. Butler is among the best two-way players in the league and he is having a career year so far this season.
So his opponent at the small forward position, Gordon Hayward, will surely have his work cut out for him if he hopes to contain and outplay the Bulls star. Hayward has posted similar stats to Butler so far this season, coming in at 22.5 points, seven rebounds and four assists. However, Gordon has struggled significantly from deep shooting just 24.3 percent on the season and isn't quite the defender that Jimmy Butler is.
In Monday's loss to Memphis, Hayward posted his worst game of the season as he finished with just 13 points on 4-of-14 (28.6 percent) shooting. He had been exceptional up to that point, scoring at least 20 points in each of his previous five contests, so look for Gordon to bounce back in a big way in tonight's contest.
The Jazz will certainly need him to do so as his offensive efficiency often leads directly to the team's overall success. With George Hill still questionable and Derrick Favors ruled out for the contest, it's likely that Hayward will have to shoulder a huge load to not only push his own performance above that of Butler's, but also to will his team to a win.
Key Stat – Rebounds
For the second straight game, rebounding has to be the focus. Utah didn't take care of the boards against the Grizzlies and they paid for it big time. Memphis posted a 44-29 rebound advantage and in fact had more offensive rebounds in the final period than the Jazz had defensive rebounds. Ouch.
In the 4th quarter, the Grizzlies got more offensive rebounds than the Jazz got defensive ones. Oops.

— dan clayton (@danclayt0n) November 15, 2016
While the Jazz were undoubtedly playing on tired legs and there was some controversy about Rudy Gobert riding the bench during the final period, this type of beating on the boards is completely unacceptable.
And considering that the Grizzlies are 27th in the league in rebounding while the Bulls come into this game as the top rebounding team in the league, the Jazz will certainly have their work cut out for them. It may come as a surprise, but Utah currently ranks dead last in the league in rebounds per game.
Fortunately, even with their poor rebounding performance in Monday's loss, Utah still holds on to a slightly positive rebound differential of +0.4, a strange phenomenon considering how few rebounds they pull down in comparison to the rest of the league.
Nevertheless, if Utah hopes to avoid a repeat of what happened against Memphis as they gave up point after easy point due to their lack of energy on the boards, they'll have to do a much better job against the Bulls. If Chicago is able to keep up their rebounding dominance against the Jazz, they could very well come away with their fourth straight win.
The absence of Favors will certainly hurt, but it simply means that the rest of the Jazz, particularly Rudy Gobert, will have to step up their game on the boards.
Key Performer – Rodney Hood
While Dwyane Wade is still without a doubt a phenomenal player, there's also no questioning that he has become a few steps slower than he used to be. With this being the case, I expect the player he'll be matched up against, Rodney Hood, to have an excellent game.
Prior to missing the game against Memphis due to illness, Hood was coming off two mediocre shooting performances in the wins over the Heat and Magic. Thus the stage is set for him to have a major bounce-back game in which he returns to form.
Hood has been an offensive juggernaut for the Jazz so far this season and he continues to shoot better than 40 percent from deep. As Utah gets set to take on a solid Bulls team that has overachieved on both ends of the court in this young season, they'll need Rodney Hood to supply a major scoring punch while also utilizing his length to slow down Dwyane Wade.
And while it will be interesting to see how he returns coming off of illness, I fully believe that Hood will prove capable of turning in a big night to help lead the Jazz to victory.
Prediction – Jazz 95, Bulls 90
In my predictions and outlook for week four of the NBA season, I had the Jazz coming away with a narrow 95-90 victory. While Monday's lackluster performance and the seemingly endless onslaught of injuries have me nervous, I'm still feeling confident that Utah will be able to pull this one off, so I'll stick with the same projection.
Utah should be fresh headed into this game while Chicago will likely be feeling fatigued as they play on the second night of a back-to-back. Chicago has played just two back-to-backs this year and in their first one they were blown out by the Indiana Pacers and in their second they barely prevailed over a dismal Miami Heat team.
Furthermore, I think that this Bulls team provides a favorable match-up for the Jazz. Although they've been playing well, they aren't the kind of team that lights its opponents up with threes as they currently rank 27th in three-point attempts per game.
More from Purple and Blues
With a stalwart defense such as Utah's clogging the paint and protecting the mid-range game well, Chicago may very well find themselves having a hard time scoring.
While this will likely be a hard-fought bout, with Utah's advantages of playing on their home court, coming off two days rest and having a defense that is well-equipped for this Bulls team, I feel confident in my prediction that they'll find a way to win.
All stats courtesy of NBA.com
This article originally appeared on