Utah Jazz vs. Charlotte Hornets: Keys to the Game
Jared Woodcox/FanSided via Purple and Blues

Fansided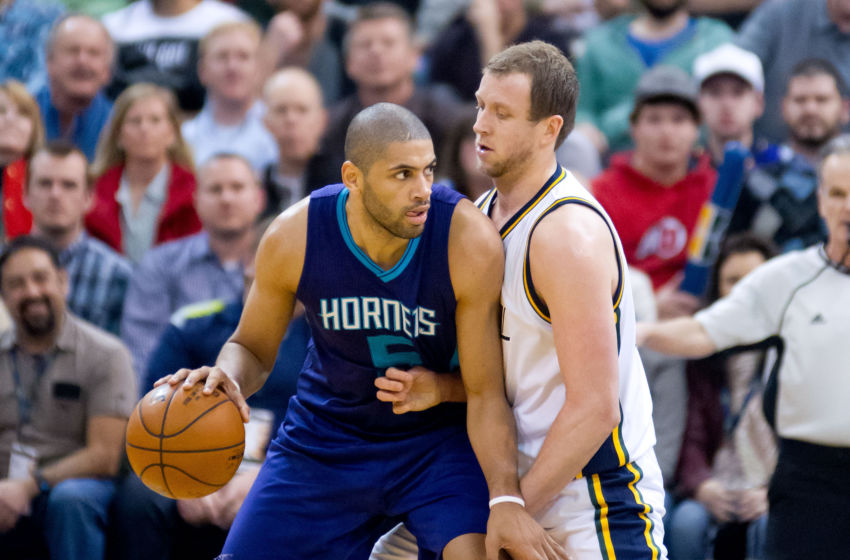 The Utah Jazz will look to avenge their earlier loss to the Charlotte Hornets when the teams face off tonight in Salt Lake City.
In just their second game in seven days, the Utah Jazz will host the Charlotte Hornets tonight as they go head-to-head for the second and final time of the season. The first time these two teams met, the Jazz were thoroughly outmatched in the fourth quarter by Charlotte point guard Kemba Walker and ultimately fell 104-98.
In the contest in which George Hill was absent, the Hornets' recently named first-time All-Star proved to be too much for the Jazz to handle. However, this time around, it's possible that there will be a complete switch in the script. While Hill is of course expected to play, reports surfaced yesterday that Walker missed Friday's practice and is questionable for tonight's contest.
Kemba Walker missed practice today with an illness. Questionable for Jazz game

— Rick Bonnell (@rick_bonnell) February 3, 2017
While his absence would drastically increase Utah's chances of winning considering how important of a player Kemba is to his team and how well he's played against the Jazz of late, it would honestly be a bit disappointing to have to miss out on a Hill-Walker battle once again.
Nevertheless, with or without Kemba Walker, the Hornets possess an array of talented players including the likes of Nicolas Batum and Marvin Williams, so the Jazz will have to be alert and ready to play a solid game.
Yet while the Hornets got off to an incredible start this season, they have definitely struggled since and will be coming into tonight's game on a six-game losing streak. Thus the puttering Charlotte team will most certainly be hungry for a win and ready to push the Jazz to the limit.
Therefore, if the Jazz hope to avoid a similar result as the last time they played against the Hornets, they will have to be much more buttoned up and play a dominant game just like they did against Milwaukee on Wednesday.
Key Match-up – Gordon Hayward and Nicolas Batum
Make no mistake about it, if Kemba Walker was definitely going to be healthy and play in this game, then the contest between he and George Hill would be the key match-up. Kemba has shouldered the load to lead the Hornets to several victories and, as I mentioned before, has played exceptionally well against the Jazz.
Just last season, he dropped a career-high 52 points against Utah and has continually given them problems in several contests.
Yet, due to the fact that he is questionable to play tonight, I'm going to go with what would be the second most important match-up anyway as the key battle in the game – Gordon Hayward and Nicolas Batum.
Batum is the Hornets' second-leading scorer at 14.9 points per game and is also putting up 7.3 rebounds and a career-high six assists per contest. While he's often heralded as a knockdown shooter, Batum is actually shooting just 40.3 percent from the field and 35.1 percent from deep, both of which leave quite a lot to be desired.
Nevertheless, he's more than capable of catching fire and going off at any time, so Gordon Hayward will have to be on his game against Batum. While Hayward may very well be matched up against forward Michael Kidd-Gilchrist for a significant portion of the game, it's probable that Gordon will be tasked with covering Batum who's a much greater offensive threat.
And both Kidd-Gilchrist and Batum are solid defenders so Hayward will have to work hard to get past the two of them and put up a better offensive game than Batum.
Especially if Kemba does end up sitting this one out, Batum will shoulder a much bigger load and it will be critical that Hayward shut him down defensively and find a way to overcome a staunch Hornets defense to lead his team to victory.
Key Stat – Three-Point Percentage
The last time Utah and Charlotte faced off, the Jazz shot horribly from deep, converting on just 8-of-34 attempts to finish at 23.5 percent for the night. That poor shooting performance was a big reason why, despite leading for much of the game, the Jazz were unable to extend their lead and eventually faltered and fell to the Hornets in the final period.
But for the season, the Utah Jazz have been much more accurate and efficient than the Hornets from behind the arc overall. Utah ranks 11th in the league in three-point percentage at 36.2 percent while Charlotte comes in at 20th with a percentage of 35.3.
And the Hornets are arriving at their mediocre percentage by putting up the ninth-most three-point attempts in the league at 27.4 per game. With such a high volume of three-point shots and a less than desirable percentage, the Hornets have been far from efficient.
However, given the fact that they take so many threes per game, they also have the ability to catch fire and turn into quite the dangerous opponent from deep. Therefore it's vital that the Jazz stifle as much momentum as possible by keeping Charlotte in check from behind the perimeter.
The good news is that even in wins the Hornets' average three-point percentage is just 0.1 percentage point better than Utah's season average in both wins and losses, so while Charlotte can heat up from deep, overall it's been quite a struggle for them to convert from behind the arc.
Therefore, this could be an area where the Jazz should enjoy a significant advantage that could very well lead them to a sizable victory.
Key Performer – Rudy Gobert
Rudy Gobert was absolutely phenomenal in Wednesday's win over the Bucks as he finished the game with 26 points on 9-of-13 shooting and 15 rebounds. Since his All-Star snub, Gobert has been playing exceptionally well with a lot of energy and an apparent determination to prove his doubters wrong.
And given the Hornets' lack of formidable depth at the center position, Rudy should be able to have his way once again much like he did against Thon Maker and the Bucks.
Charlotte's Cody Zeller is a respectable player, but is no match for Rudy's strength, athleticism and length. The Hornets did just complete a trade sending Roy Hibbert and Spencer Hawes to Milwaukee in exchange for Mason Plumlee, but Gobert should enjoy a significant advantage over him as well.
Therefore, given Rudy Gobert's recent dominance and Charlotte's lack of talent at the center position as well as an undersized starting power forward in Marvin Williams, there's every reason to believe that the Stifle Tower will be able to overpower his opponents and turn in a big game against a struggling Eastern Conference foe.
Prediction – Jazz 109, Hornets 97
While the Milwaukee Bucks aren't necessarily anything to write home about this year, seeing the Jazz log a dominant win over over an improving opponent was a welcome sight. With the Bucks and Hornets being so near one another in the Eastern Conference standings, I expect Utah to be able to come away with a win in similar fashion.
Given how greatly the Jazz outmatch the Hornets in terms of post presence and overall depth, I expect Utah to cause some real match-up problems for Charlotte, particularly in the paint. If Utah can on top of that find their three-point stroke which was gravely missing the last time these two teams faced off, it should only help them further solidify a victory.
Especially if Kemba Walker is officially out due to illness, the Jazz should be able to log their second straight blowout win against a less than formidable opponent.
Considering how well the Jazz played last game, the stark advantage they will enjoy in the paint and the possibility that Walker may not play, I've decided to change my prediction somewhat from earlier in the week and project the Jazz as winners in more comfortable fashion than what I had originally presumed.
More from Purple and Blues
Logging a win tonight would propel the Jazz into sole possession of fourth place in the West (for the time being) and provide them with an important confidence boost as they'll prepare to head out on a three-game road trip next week against three teams that have been playing relatively well of late in the Hawks, Pelicans and Mavericks.
And considering how well Utah has played against teams with losing records this season, I fully expect them to be able to take care of business tonight, then be well-prepared for the tough tasks that face them ahead as they look to finish strong in the final weeks leading up to the All-Star break.
All stats courtesy of NBA.com
This article originally appeared on