Utah Jazz vs. Atlanta Hawks: Keys to the Game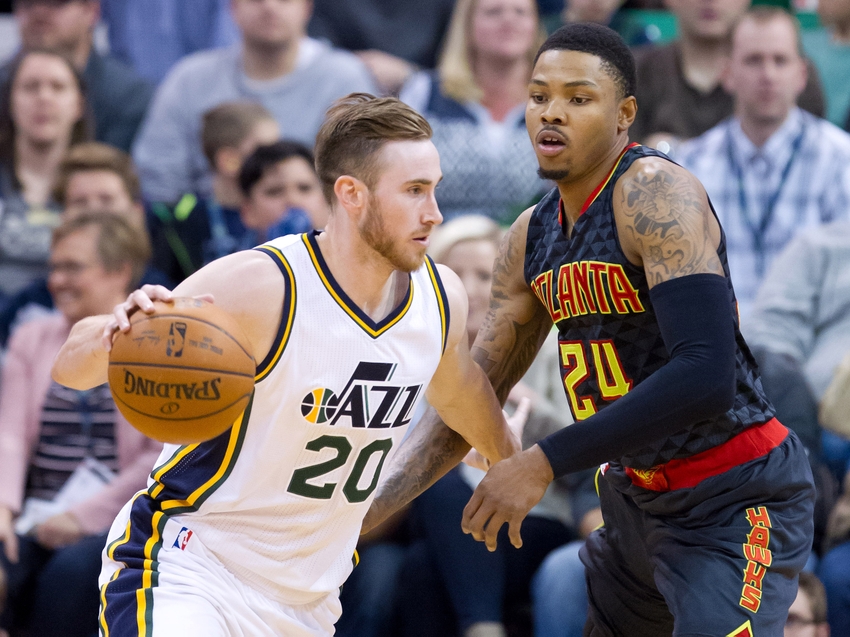 The Utah Jazz will try to prove that their recent woes during a four-game losing streak are long behind them as they face a tough opponent tonight in the Atlanta Hawks.
Tonight's match-up between the Utah Jazz and Atlanta Hawks features two teams that happen to be in relatively similar situations. Setting Atlanta's better 10-5 record to one side, both squads have had their fair shares of ups and downs this season.
The Jazz started off with an even mixture of wins and losses to start out the year at 3-3 before heading on their Eastern Conference road trip where Utah went on an impressive run, winning four out of five contests. Of course after that they hit a bit of a slide by losing four straight games, but are coming off a big win over the Denver Nuggets on Wednesday entering tonight's contest.
The Hawks on the other hand, started out the year at 3-2 before going on their big run that saw them win six straight. Then, much like the Jazz, the Hawks fell into a rut as they lost three straight games immediately after their hot streak. However, they also come into tonight's contest coming off a Wednesday win over the Indiana Pacers in which they appeared to right the ship.
So with both teams dealing with recent struggles yet also appearing to be back on track in their prior contest, this game could be a good one as both Utah and Atlanta will want to prove that they are back on the upwards trajectory and leaving the poor play of their mini-slumps in the rear-view mirror.
This game also always seems to hold special meaning for Jazz fans because this Hawks team features former Jazzmen and fan favorites Paul Millsap and Kyle Korver (as well as Kris Humphries, but I wouldn't go so far as to call him a former fan favorite).
Both of these guys were members of a Jazz squad that was able to make some noise in the playoffs, so they definitely hold a special place in the hearts of Jazz fans. Unfortunately, Millsap's warm reception into Utah won't stop him from playing the solid and steady brand of basketball that he has become known for.
He is having a phenomenal season thus far as the Hawks' leading scorer at 17 points per game while also pulling down an average of 8.1 boards. He's built a reputation as a tough and determined player that can burn you on both ends of the floor, so the Jazz will certainly have their work cut out for them if they hope to slow their former ally.
This game holds further significance as the Hawks were part of the deal that facilitated George Hill's arrival to Utah. In the three-team deal that also included the Indiana Pacers, the Jazz shipped their 12th pick in the NBA Draft, Taurean Prince, to the Hawks while Atlanta moved Jeff Teague to Indiana who shipped Hill out to the Jazz.
In a never-ending contest to see who got the better end of the bargain, it will be fun to see how Hill performs against a team that he saw a lot of in his days as a Pacer.
This contest is also interesting given Atlanta center Dwight Howard's recent comments about how he made his mother cry over the offseason by telling her that he had signed a contract with the Utah Jazz.
While her tears were likely out of sadness that he'd be staying out West and far from his home in Atlanta, I have a hard time believing there weren't a handful of Jazz faithful who felt a bit slighted by Howard's joke and his mother's ensuing tears. It wouldn't surprise me one bit of some of the hecklers at Vivint Arena made it a point of focus to  make life difficult for Howard in this game and bring a couple of tears to his own eyes.
But it'll take more than a few obnoxious hecklers to ensure a Jazz victory. If Utah hopes to stay on track and elevate their record above .500, these are some key areas in which they will have to outperform the Hawks.
Key Match-up – Rudy Gobert and Dwight Howard
I already mentioned a little bit of what Paul Millsap is capable of and truly he may be Atlanta's biggest threat in tonight's game. However, with Derrick Favors still ailing from a knee injury, the actual match-up that intrigues me the most is at the center position.
Howard has become a very polarizing player as his carefree demeanor and solid post play have won him the favor of several fans across the league but his questionable attitude has also left a bitter impression of him among each of his previous fan bases in Orlando, LA and Houston.
Nevertheless, with an impressive stat line of 14.8 points and 13.3 rebounds per game, Howard is a true force for this Hawks team and a player that absolutely cannot be ignored. He won't kill you with any kind of jump shot or mid-range game, but his improving post moves, offensive rebounding prowess and simple strength in the post make him a dangerous weapon.
While Rudy Gobert lacks the frame to be exactly the kind of player Howard is, Howard has many positive traits that it would be good to see Rudy develop. At 10.5 points and 10.6 rebounds on the year, Gobert is becoming a solid double-double threat as well, though not quite as formidable of one as Howard just yet.
We've seen Rudy have some awesome rebounding games and his offense does appear to be slowly but surely improving, so a stat line similar to Howard's 14 and 13 doesn't really seem out of the question as a legitimate target for Gobert down the road.
He is coming off a season-high 19 points in the win over Denver where he also grabbed 13 boards. If Gobert hopes to win this match-up and give Utah an edge in the paint (particularly with Favors unavailable to contain Millsap), he will have to have a similar night tonight while also utilizing his length and relative quickness to slow Howard.
Key Stat – Three-Point Percentage
Ironically, Utah and Atlanta find themselves right next to one another in terms of their league ranking in three-point percentage with the Jazz coming in at 20th, shooting 34.1 percent and the Hawks at 21st, shooting 33.9 percent.
Despite both being ranked in the bottom half of the league, both teams have prolific three-point shooters and often times that statistic has been a big factor in the outcomes of their games.
But while these two teams shoot around the same percentage from deep on average, Utah will have their work cut out for them if they hope to beat the Hawks in this category as Atlanta is currently the third best team at defending the three-point line in the league, allowing opponents to shoot just 32.8 percent from deep.
The Jazz, meanwhile, haven't been great at defending the three-ball as they come in 16th in the league, allowing opponents to shoot 34.9 percent.
If they hope to come away with a win over an Atlanta team that is sound on both defense and offense, they'll need to maintain their advantage in shooting the deep ball and find a way to contest the Hawks more effectively than they've done on average this season.
Key Performer – George Hill
George Hill was back in action for the first time in eight games in Wednesday's contest and he certainly made his presence known. Despite concerns about rust or possibly being affected by the injury, Hill cast all that aside and put up an impressive 22-point, 61.5 percent field goal shooting performance to lead Utah to the blowout win over Denver.
And George Hill is very familiar with this Atlanta Hawks team as they're a squad that he faced many times in both the regular season and playoffs during his time with the Indiana Pacers. Of course, Atlanta's point man is no longer Jeff Teague and instead Hill will be matched up against Dennis Schroder.
Schroder has had a solid start to the season in his first year as the Hawks' permanent starter at the point guard position, but George Hill has a significant advantage in terms of size, length and experience and given how Hill has played so far this year as a member of the Utah Jazz, I expect him to take full advantage.
Schroder is a crafty offensive player and not a bad defender by any means, but he does lack the defensive prowess to be able to slow a vet like George Hill. As Hill continues his comeback from the thumb sprain, look for him to be a leading force for the Jazz as he outmatches Atlanta's Dennis Schroder.
Prediction – Jazz 103, Hawks 100
I'm feeling rather torn about this one. In my piece previewing the week, the Jazz were coming off of four straight losses and George Hill's status was still up in the air so I actually picked Atlanta to win this game originally.
However, Utah looked like an all-new team in their energized win over the Nuggets on Wednesday, particularly with Hill back on the floor. Utah has the overall advantage in the wing match-ups over the Hawks, but especially without the assistance of Derrick Favors, may find themselves outmatched in the paint.
And while Atlanta had some struggles last week, they still come in with the second best record in the Eastern Conference at 10-5 and by no means will be an easy out. Nevertheless, with Hill back in action, the Jazz defending their home court and Atlanta being in the midst of a long, travel-heavy road trip I'm going to give Utah a slight edge in this one after all and pick them to win 103-100.
Atlanta is undoubtedly a better team than Denver, but Utah will have to take the positive aspects of that performance and apply them to tonight's contest if they hope to come away with a victory.
The Jazz have had some solid and memorable road wins already this season, but have yet to log a statement victory at home against an elite level team. A win against the Hawks tonight, given how well they've played to start the year, would definitely qualify as that first signature home win.
And as the Jazz look to prove that they've recovered from their slump and are a true playoff contender in an already tight Western Conference, it's the kind of win that they'll need to come away with.
All stats courtesy of NBA.com and ESPN.com
This article originally appeared on