Utah Jazz: Trey Lyles Shines in Second Half Against Atlanta Hawks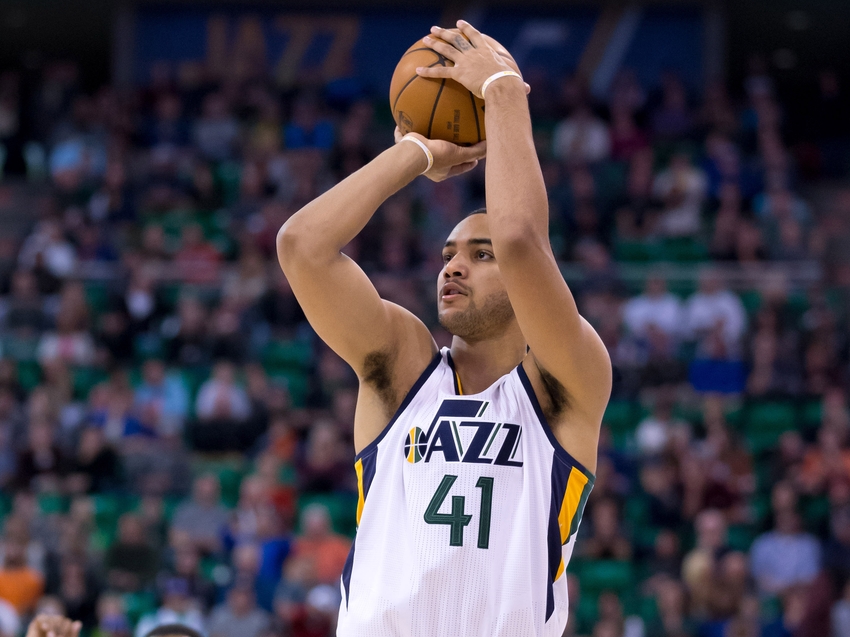 Despite a rough first half, Trey Lyles really picked it up in the second half against the Atlanta Hawks, helping the Utah Jazz get their ninth win of the season.
The Utah Jazz hosted the Atlanta Hawks on Friday and came away with a convincing 95-68 victory. Trey Lyles, who had started the previous three games, came off the bench while Boris Diaw started at power forward for the Jazz. Lyles made just 1-of-6 shots in the first half, and was really struggling to connect. However, he never lost confidence, and played through the frustration.
He checked in around the six-minute mark in the third quarter, but missed two more shots, putting him at 1-for-8. Then, after a George Hill miss, Lyles got an easy putback layup, which ended up getting the second year pro from Kentucky going. He finished the game with 13 points on 6-of-14 shooting, while adding 10 rebounds in 27 minutes of action. He made some highlights plays, including a big dunk over the top of Kris Humphries.
It was nice to see the young forward continue to play with confidence despite the 1-8 start. He's a player that is going to go through ups and downs, especially when his three-point shot isn't falling. With Derrick Favors still out and no time-table for his return, Lyles will have to continue to step up for this Jazz team.
On the season, the 21-year-old is averaging 8.8 PPG and 4.9 RPG. The team has wanted to see Lyles rebound the ball better, and he's responded, collecting 17 rebounds over his last two games. He's obviously got some weaknesses in his game, but he's still just 21. He's got plenty of time to develop, and the Jazz have to be happy with the progress he's made already during his career thus far.
More from Purple and Blues
Defense is where I believe Trey has to improve the most. Offensively, he's an extremely skilled big man who can do many different things on the court. We've seen him put the ball on the floor, drive to the basket, and put up a soft floater many times. I love his game, and think he can become a special player in this league one day.
This article originally appeared on