Utah Jazz: Trevor Booker Promises to Posterize the Stifle Tower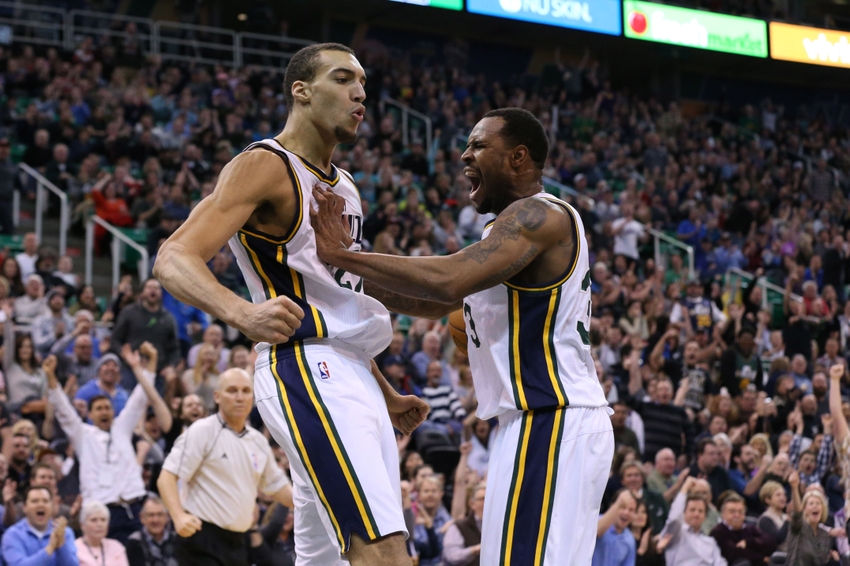 After news of Rudy Gobert's big-money extension with the Utah Jazz broke, former Jazzman Trevor Booker promised to congratulate him with a monster jam.
Make no mistake about it, the Utah Jazz are suddenly looking pretty darn good. But as impressive as big wins over the San Antonio Spurs and the Dallas Mavericks are, the real news making waves in Jazzland recently has been Rudy Gobert's multi-year contract extension with the club.
"Four more years!" is the phrase of the day, with nary a Richard Nixon to be found.
With fresh ink on the contract, Gobert will officially be manning the paint for the Jazz band through the 2020-21 season. In other words, a grand future of flying cars and the Larry O'Brien Trophy on display at Vivint Smart Home Arena has been secured.
Alright, so maybe we can't totally bank on that last statement, but there's no denying the fact that the extension agreement between Gobert and the Jazz is a win for both parties. NBA people from around the Twittersphere have come out in favor of the deal in hordes on social media.
However, one of Gobert's former teammates, Jazz cult hero turned Brooklyn Nets big man Trevor Booker had a unique response to the news.
Specifically, the Good Book is planning to posterize the Stifle Tower when the Jazz and the Nets meet on the court this season.
Congrats to the homie @rudygobert27 on the extension. Too bad money can't keep you from getting dunked on when we play.

— Trevor Booker (@35_Fitz) October 31, 2016
This isn't the first time Booker has issued such a warning to Gobert. After the Jazz center cracked wise on Booker's hairline on Twitter last month, the former Jazzman's response was "Shots fired…you will be dunked on this season."
While the social media jousting is all in good fun, Booker's declaration is not one to be taken lightly. The big man has built a reputation as one of the league's most ferocious dunkers throughout his career and had some doozies during his time with the Jazz.
So what's going to happen when the Nets' unstoppable force meets Utah's immovable object? Time will tell, but as much as I love Gobert, I'm putting my money on Booker to get at least one good throwdown in on the Stifle Tower.
Sorry, Rudy!
More from Purple and Blues
The Jazz will travel to Brooklyn to take on the Nets on January 2, with a return engagement in Salt Lake City scheduled for March 3.
This article originally appeared on