Utah Jazz Training Camp Battles: Back-Up Wing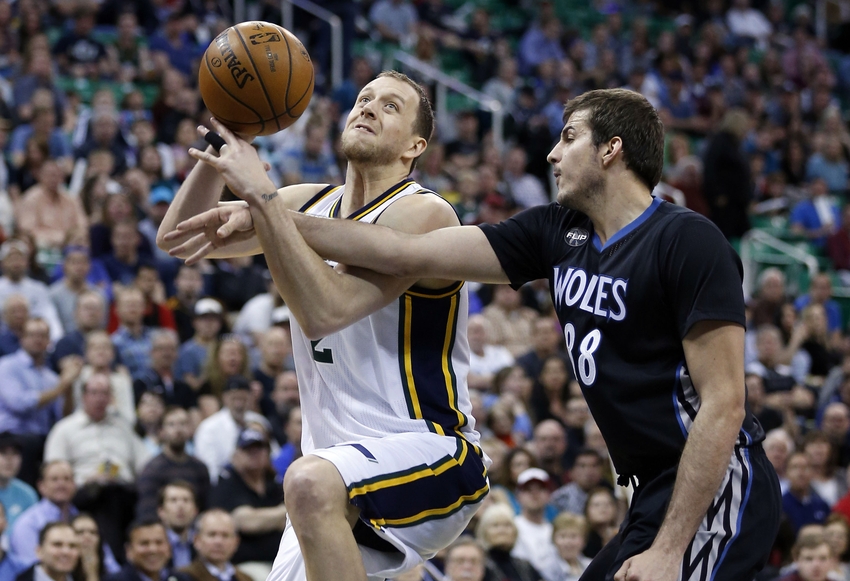 As the start of training camp draws nearer, the Utah Jazz will be in for some fun competition at the back-up wing positions.
After the solid addition of George Hill this offseason, the Utah Jazz's starting lineup is all but set. With Rodney Hood and Gordon Hayward coming off impressive years and Derrick Favors and Rudy Gobert hoping for healthy comebacks, the team's young, but formidable starting five should see even further improvement this season.
Especially with an experienced point guard now leading the charge.
However, with the start of training camp on the horizon, the battle for playing time in the second unit will soon be going in full force. One situation that will be particularly interesting to monitor will be the way in which Jazz coach Quin Snyder handles the reserve wing minutes.
While Hood and Hayward will likely see the larger share of playing time, Alec Burks, Joe Johnson and Joe Ingles will all be battling for meaningful time in the rotation as the reserves. While each of them has their merits, there are certain ways that would be ideal to see each player used.
Alec Burks
When healthy, Alec Burks is without a doubt the best choice as the first shooting guard off the bench. In fact, in his highs, Burks could even challenge Hood for the starting gig. However, during 2015 training camp and the early part of the 2015-16 season, Burks proved to be the most effective fit when coming off the bench in a Sixth Man type role.
Assuming Burks is playing at a high level, he still deserves "Sixth Man" type minutes and should be logging the most minutes of any non-starter. On nights when he has the hot hand, he could certainly even log more minutes than Hood and play along the other starters.
Burks is exceptional at creating his own shot and finishing around the basket, however he has yet to show the all-around versatility that the Jazz need out of him in order for him to be a key cog in their 10-man rotation.
In 31 games played in 2015-16, he did shoot a career high 40.5% from deep, but his overall field goal percentage has dropped considerably since the 45.7 percent that he shot in 2013-14 which was his best season and, not coincidentally, his healthiest.
Which truly is where the greatest problem has lied with Burks – in his inability to stay healthy. A lot of his inconsistencies and declining field goal percentage can be attributed to lack of time on the court. If he's able to play in 70 or more games this season, it will be a huge boost to his confidence, continuity and to the Jazz's bench.
However, if Burks struggles in any way or isn't healthy, the load will likely fall on Joe Ingles' shoulders to pick up the slack in the second unit, an assignment that he has grown very used to in recent years because of the team's injury struggles.
Joe Ingles
It's hard to say anything bad about Joe Ingles' contribution to the Utah Jazz over the past couple years. By no means is he a star player for Utah, but he has risen to the occasion and given his all whenever his number has been called.
Ingles has stepped up and played both the two and three spots to back up the injured Burks, Hayward and Hood, and despite his non-athletic style (he's called Slo-Mo Joe for a reason), he has been a dangerous deep ball threat (38.6 percent from three last season) and a hard-working defender while also serving as a positive locker room presence and glue guy.
While the Jazz should certainly have more depth on the wing than they have had in recent years, it's still nice to know that reliable Joe Ingles will be waiting on the sideline. Barring any unforeseen setbacks with the aforementioned players, Ingles will likely log anywhere between a DNP and about 10 minutes per night.
But if any of the wings are injured or struggling, he could easily come in as a formidable three-point shooter and log more meaningful minutes.
So while the initial outlook for Ingles is that he will see his playing time largely evaporate behind Hood and Burks in the two-spot and Hayward and Johnson in the three-spot, you can count on him being ready at any given moment to jump in and do whatever is needed of him.
However, there's a reason that the Jazz signed veteran Joe Johnson to come in ahead of Ingles on the depth chart and Iso Joe will very likely see more minutes than Slo-Mo Joe.
Joe Johnson
Although there are some legitimate concerns about Joe Johnson's age, the veteran experience that comes with it is also what makes him so appealing and valuable to the Jazz.
Also, despite being 35 years old, Johnson still proved that he could ball last year by putting up an impressive 13.4 points per game on 51.8 percent shooting from the field and 41.7 percent from deep, all while starting every game as a member of the Miami Heat.
These figures as well as Johnson's ability to create his own shot, hit clutch shots and be an all-around scorer, have him primed to be an incredible addition to the Jazz's bench. Johnson truly could be a starter on this and many other teams in the league and that kind of talent will work wonders for the Jazz's second unit.
While his age is enough of a concern to award him less minutes than Burks, Johnson should still shoulder a considerable load of the reserve minutes as a backup to Hayward. He logged an average of 33.4 minutes per game last season, showing he's certainly capable of playing a significant role.
Although Johnson is very able to play the two and, particularly in Miami, gained valuable experience sliding to the small-ball four position, the majority of his time should be spent as backup small forward.
While this would likely put him alongside Burks and Trey Lyles at the two and four spots, respectively, in certain situations the Jazz could utilize Johnson at the four and insert Ingles in as the back-up three for a ridiculous floor-stretching lineup.
Something along the lines of Exum/Hill at the one, Burks/Hood at the two, with Ingles, Johnson and Boris Diaw rounding out the final three spots would be a dangerous offensive lineup with five three-point shooters.
That likely wouldn't be used frequently, but the point is that Johnson's versatility and ability to play multiple positions will likely also earn him more reserve minutes than any other player besides Burks. As Iso Joe is inserted where he fits best given the specific game, situation and condition of teammates, he should see himself become a critical and highly used player on this Jazz team.
Versatile Point Guards
The final piece of the Jazz's roster that could potentially clutter up the depth chart and minutes for reserve wings is the versatility of Utah's point guards. While Hill will likely be the starter and Dante Exum should be the first point guard off the bench, the Jazz also have two former starters at the position in Shelvin Mack and Raul Neto.
In the right situations depending on the opponent, chemistry and who has the hot hand, one of these players could potentially slide to the two while the other plays the one. In Indiana, George Hill often played more of a two-guard position with the likes of Lance Stephenson or Monta Ellis taking charge of the ball handling.
If Exum shows significant improvement, he could very well earn additional playing time while George Hill fills in for some of the reserve shooting guard minutes. Similarly, Shelvin Mack logged a considerable amount of minutes at the two-guard position alongside Dennis Schroder during the 2014-15 season in Atlanta.
Therefore, it goes without saying that whether the Jazz use a healthy Burks, the savvy veteran newcomer Johnson, the "old reliable" Ingles, or one of their versatile point guards such as Hill or Mack, there will be plenty of depth at the wing positions this upcoming season.
Even though the likes of Ingles, Mack and Neto will more than likely see significantly less playing time than Burks and Johnson, having such reliable options ready and waiting to check in will be a vital luxury for the Jazz.
And with so many viable options fighting to prove their worth on the court, the training camp battle for the back-up wing positions should be a thrilling one to follow.
All stats courtesy of NBA.com/stats and basketball-reference.com
This article originally appeared on