Utah Jazz Training Camp Battles: Back-Up Bigs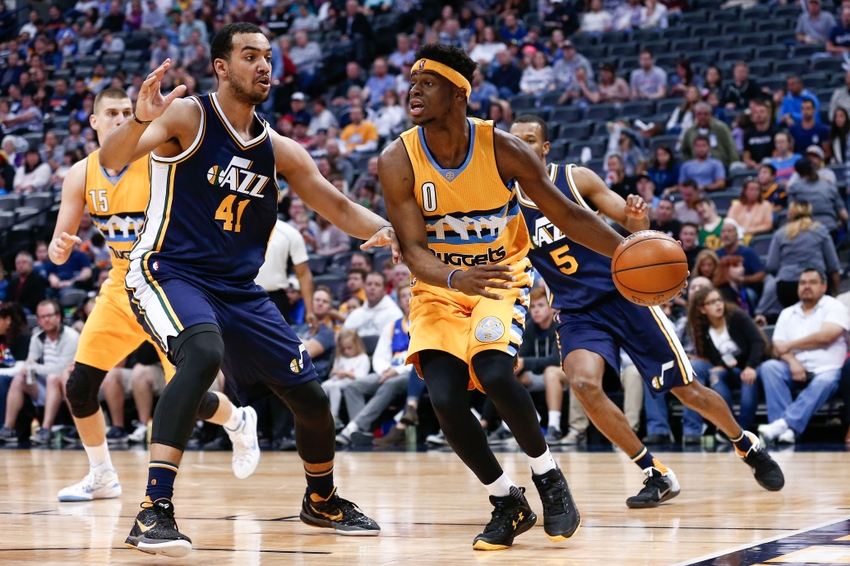 As Utah Jazz training camp nears, it will be a closely contested battle to see who ends up winning the largest role among the back-up bigs.
Though September is typically a rather slow month in terms of NBA news, as Purple and Blues' own Ryan Aston recently wrote, the wheels are starting to turn and things are beginning to pick up in the NBA world. One of the next steps in that slow but steady progression towards opening night is the start of training camps.
Earlier in the week, I discussed a position that is sure to be highly contested in the Utah Jazz's training camp – the back-up wing. While there's no denying the intriguing options that head coach Quin Snyder has at the wing, perhaps the even more difficult decision lies in sorting out the logjam among the back-up bigs.
While Derrick Favors and Rudy Gobert have undoubtedly solidified themselves as the Jazz's starters in the post, each of the players behind them on the depth chart have a lot to prove as they fight for meaningful time in the rotation. Here's a look at each reserve big and how their minutes and roles likely ought to shake out next season.
Trey Lyles
Second-year power forward Trey Lyles had a strong finish to the year last season and further proved his development with an exceptional showing during NBA Summer League. After averaging just shy of 13 points per game in the final month of the regular season, Lyles went on to be the Las Vegas Summer League's leading scorer at 29 points per game.
Though he is a very different player from Favors – less of a low-post bruiser and more of a versatile stretch-four – he still should log the most minutes at the back-up four spot. Not only does the young power forward need the experience, but his play during the summer showed that he is now a more reliable option with an improved three-point shooting ability and overall offensive arsenal.
These attributes will be vital to add an extra scoring punch to the second unit while also keeping opposing defenses off balance by throwing the versatile Lyles at them while Favors grabs some rest.
Aside from shouldering the major load of the reserve power forward minutes, Lyles will also have to assume some of Trevor Booker's former role which was to provide energy and a spark off the bench. Booker wasn't ever a star for the Jazz, but he knew his role and fulfilled it well. Lyles will have to find his own niche, but will need to have a similar impact on this Jazz team.
One way that he can improve this from the get-go is by continuing to be an aggressive rebounder. He was very solid on the boards during summer league play and if that trend continues, it will be an extremely helpful bonus for the Jazz.
Boris Diaw
The addition of Boris Diaw will likely turn out to be a very savvy move for the Jazz. He brings veteran and playoff experience as well as a high basketball IQ and solid locker room presence to a notoriously young team. His French roots will help him have great chemistry with Rudy Gobert and his similar body type and playing style should allow him to be a great mentor to Trey Lyles.
But his role on the court in terms of actual playing time is a little tricky to predict. Boris Diaw has been known to play both the power forward and the center position, depending on the style of lineup and the strategy of the opponent. The question is where exactly he will be most used and most effective for the Jazz.
While he's undoubtedly a more talented and versatile overall player than center Jeff Withey, he isn't nearly as formidable of a rim protector. In a stingy defense that relies heavily on defensive anchors such as Favors and Gobert, it's hard to see Diaw putting in a lot of time at the center position.
However, similarly to how Lyles and Booker shared minutes at back-up power forward last season, it's very likely that we could see something like that this year with Lyles and Diaw. Diaw has built a reputation as a formidable three-point shooter and crafty passer, so in certain situations Diaw could be the better fit against veteran squads.
Yet in other cases, Lyles' youth and athleticism could make him a tougher match-up. I suspect that while Lyles will likely see more minutes throughout the course of the season, Coach Snyder will insert Diaw when he sees fit and the veteran out of France could see more time than Lyles in certain situations. If the Jazz choose to go small, there is also the possibility that the two could log a few minutes on the court together as well.
Nevertheless, there's also the chance that one of these players over or underperforms. If Lyles' inexperience hinders him this season, Snyder may choose to hand over a larger role to Diaw. On the flip side, if Diaw's age and newness with the team becomes problematic, he may be used less consistently.
Either way, both players have shown a willingness to do whatever is best for the team, so while they may be locked in a tight competition for playing time as the season opener draws nearer, once the regular season is underway, you can count on both players settling into their required roles without complaint.
Joel Bolomboy
Despite a slow start in the Utah Summer League, Joel Bolomboy was impressive in his final games of the Las Vegas Summer League and proved that he can compete at the highest level. Jazz brass  recognized this and rewarded him with an impressively lucrative contract for a late second-round draft pick.
Though Bolomboy is certainly still young and will need a lot of work before he's fully NBA-ready, it's nice to know that the Jazz have some talent, athleticism and truly elite rebounding waiting on their depth chart. If the Jazz face any injuries or if other power forwards struggle, it's possible that Bolomboy's number could be called.
However, with the likes of Favors, Lyles and Diaw ahead of him, it isn't likely that Bolomboy logs a ton of minutes this season except for during  garbage time. There's also a good chance that Bolomboy will be left to develop with the Utah Jazz's D-League team the Salt Lake City Stars unless he is drastically needed.
But as he learns, develops and gains more confidence in his game, it's quite probable that Bolomboy will find a spot on this team sooner rather than later. His upside was on full display to wrap up the summer league and with the entire summer and all of training camp to work and improve, the young forward should look even better once the season gets underway.
Jeff Withey
Jeff Withey logged most of his playing time last season while Rudy Gobert was sidelined with injury. Though he didn't necessarily post any jaw-dropping performances, he was a lot more solid than he gets credit for.
In his ten games as a starter, Withey averaged 9.2 points, 7.5 rebounds and 2.2 blocks. In 41 games played last season, he posted a formidable defensive rating of 97.6. For a guy who's considered to be practically at the bottom of the depth chart, these numbers aren't bad by any means.
In fact, of the reserves, there's practically no doubting that Withey is the best rim protector. Nevertheless, to say that means that he will log significant minutes is a bit of a stretch. Despite being the only other true center on the roster besides Gobert, it's likely that Favors will spend a decent amount of time playing the five-spot alongside either Lyles or Diaw.
While Withey certainly has some positive attributes, his offensive abilities and athleticism just can't match up to that of Favors or Gobert and with two talented power forwards in Lyles and Diaw, it's likely that Coach Snyder will want to utilize them as much as possible rather than insert Withey as a consistent back-up center option.
However, if injuries or foul trouble strike or if the Jazz simply need more size and length against a certain opponent, having a reliable back-up such as Jeff Withey should pay high dividends.
So while the biggest battle for playing time will likely be between Trey Lyles and Boris Diaw, it will still be interesting to see how the second unit is rounded out by the likes of the high-potential Joel Bolomboy and the traditional center Jeff Withey.
While having such a number of skilled bigs vying for minutes off the bench can make for difficult decisions for Coach Snyder, it is certainly a good problem to have.
All stats courtesy of NBA.com/stats
This article originally appeared on