Utah Jazz Struggling, But Quin Snyder Has Been Through Worse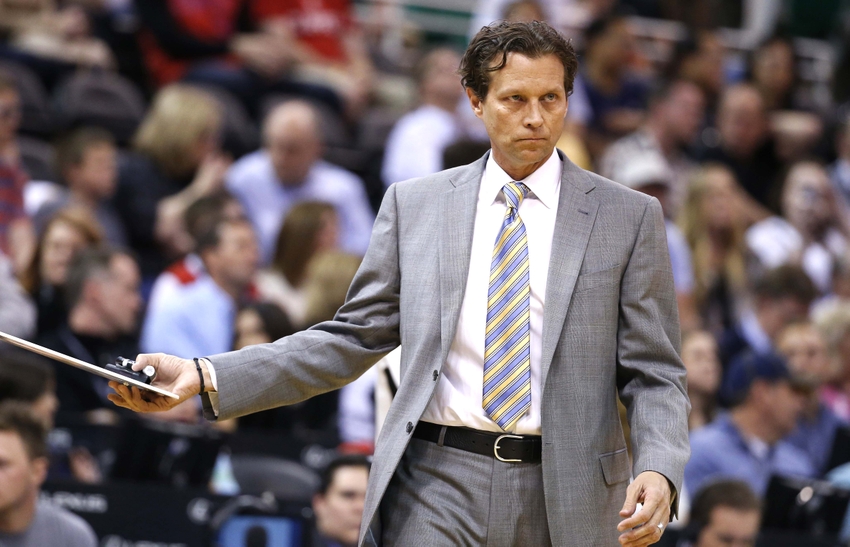 The Utah Jazz have struggled with injuries and offensive production. Pressure to deliver on massive preseason hype is building. Coach Quin Snyder knows the feeling of failure, but more importantly he knows what it takes to make it back.
Utah Jazz fans and players find themselves in a precarious position. The Utah "Internet Hipsters" had hype, they were picked by some to win 50 games this year than last year. They were picked as one of the winners of the offseason based on the General Managers Survey.
Expectations breed pressure and the Utah Jazz are in danger of letting the pressure of expectations overwhelm them as they struggle adjusting to injuries.
Perennially one of the youngest teams in the league, the young Jazz players are finally playing for something of consequence. Youth can be flustered with not getting what they want as fast as they expect it. They need an experienced leader with a broad perspective. Usually a third-year coach at the highest level of basketball doesn't fit that description, but Quin Snyder is exactly what this team needs.
As a two-time Washington State player of the yea, Snyder was destined for greatness. Exceptionally bright, Snyder found himself selected as captain of the Duke Blue Devils. He excelled on the court, playing in three Final Fours, and off the court as well — he was selected as an Academic All-American for his achievements in the classroom.
Following his graduation Snyder began his coaching career in the NBA with the Los Angeles Clippers before returning to Duke. While at Duke, Snyder earned an MBA, a law degree and a promotion to associate head coach under Mike Krzyzewski. At 31 years old, everything was coming up aces for the young basketball prodigy.
At 32 Quin Snyder took over a middling Missouri Tigers basketball program. He was voted Rookie Coach of the Year his first season. He led the team into the tournament his first four seasons, including a magical run to the Elite Eight as a Cinderella team and No. 12 seed.
This is the point in the movie where the protagonist delivers the "how could anything go wrong" speech. As the music turns ominous, Snyder's point guard Ricky Clemons pleaded guilty to an assault charge leading to an NCAA investigation for several unrelated "serious" violations. Following the sanctions, Snyder and the Tigers struggled to regain their success and stepped down/was fired after a couple poor seasons.
To be clear by serious, I mean the NCAA delivered three years of probation, loss of scholarship and a ban on off-campus recruiting for a year to the Tigers for phone contact and coaches providing meals to players. Snyder later confessed to having players over to his house for occasional meals and giving Clemons clothing.
If you squint hard enough you can see a parallels between Snyder's tale and the story of the Jazz season so far.
The team performed well, scoring a huge win against the Spurs in San Antonio, something any Utah Jazz team hadn't done for years. Then injuries to George Hill, Derrick Favors and others rear their ugly heads and Utah loses five of their next eight games.
Throw in some uncharacteristically poor play by several key players and questions are now being asked about whether we were wrong about this team from the start. What seemed like a direct path to success has been littered with setbacks.
"The challenges I've had, the adversity, make you better," – Quin Snyder
The lesson this team can learn from its head coach is this — the only way to succeed is to get back to work. And that extra work is what sets you apart from the competition.
Not able to imagine a life without basketball, Snyder took on a position that could only be described as a passion project. Back in 2007 if you asked any casual sports fan in Austin, Texas who the Toros were and I'd imagine you would be greeted by a shrug.
Picture the pomp and circumstance that comes along with Division I basketball and the exact opposite would accurately portray the feeble beginnings of the NBA D-League. Private charter flights were replaced by humbling greyhound buses and packed houses in famous arenas became half-empty JUCO gyms.
Still, Snyder made it work, won some games and after three successful years in Austin, Snyder reentered the NBA as a player development coach for the Philadelphia 76ers for the 2010 season. Snyder then made it back onto the bench in Los Angeles with Mike Brown and the Lakers for the lockout shortened 2011 season.
After a year-long excursion to Moscow, Snyder found himself as the top assistant coach for the Atlanta Hawks in 2014. That following offseason lead to Snyder receiving the dream job as Head coach of the Utah Jazz.
More from Purple and Blues
The point of this rambling post is this — it looked bleak for Snyder after Missouri. A bad set of circumstances led to personal humiliation and a missed opportunity. Snyder responded by going to work and gaining the skills he required to advance to his eventual goal. The Utah Jazz need someone at the helm who can help them avoid missing their window and achieving their goals as well.
As the season has progressed, the veteran leadership the team craves is making gloriously angry faces from the sideline. The young players undoubtedly feel the pressure of lofty expectations beginning to fall on their shoulders.
They need only to look to the man who has already proved his own doubters wrong to weather the storm.
This article originally appeared on