Utah Jazz Steal a Win From the Los Angeles Clippers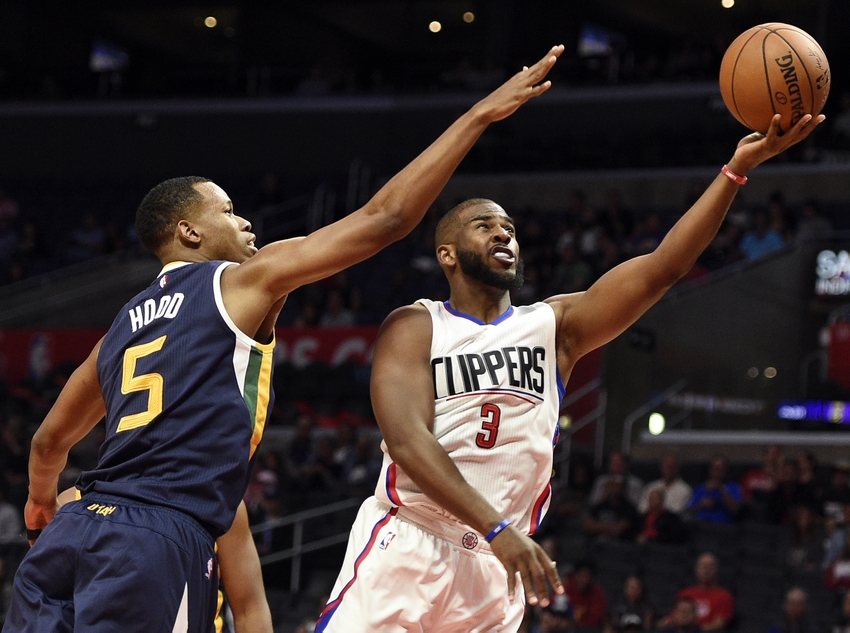 Facing an LA Clippers squad at full strength without Gordon Hayward and Derrick Favors, the Utah Jazz stole a preseason win at Staples Center.
The Utah Jazz and the Los Angeles Clippers went toe-to-toe at Staples Center on Monday night. And while the Jazz were playing without their two best players in Gordon Hayward and Derrick Favors, the team was able to match the Clips blow for blow in what was a physical preseason contest.
When it was all said and done, the ailing Jazz had stolen a 96-94 win from Chris Paul, Blake Griffin and a Lob City squad running at full strength.
The Jazz were on point in the first half, storming out of the gate, holding the Clippers to just 33 percent shooting and leading 46-39 at the break. However, the Clips would recover in the third, turning the tide and building an advantage of their own with CP3 leading the charge.
The shots Los Angeles missed in the first half were suddenly falling, but Utah held strong nonetheless.
Rodney Hood led the way for the Jazz with 17 points on 7-of-9 shooting. Meanwhile, George Hill had a sneaky hot line with 10 points, eight rebounds, four assists and three steals. Shelvin Mack added 12 points and Joe Johnson had his best game as a Jazzman, scoring nine.
However, it was a ragtag bench brigade consisting of Raul Neto, Dante Exum, Chris Johnson, Joe Ingles and Joel Bolomboy that sealed the win in crunch time. Even if it was just a little bit ugly.
They kept it competitive down the stretch against a Clips crew that was led by noted Jazz-killer Jamal Crawford. After capturing the lead in the final two minutes, the group continued to fight and even survived a scare in the closing seconds.
More from Purple and Blues
With the Jazz leading by three, Bolomboy was baited by Crawford into a foul on a three-point attempt with 30 seconds left. Incredibly, the career 86-percent foul shooter missed the first free throw. After making the next two, it was a one point game with 15.2 clicks remaining.
The ensuing possession by the Jazz was not a good one as Johnson threw the ball out of bounds, giving Crawford and his crew another shot at victory.
However, much as he had done since re-entering the game late in the fourth quarter, Exum stepped it up defensively and made a critical stop. With Crawford driving hard to the hoop, the lengthy Aussie maintained position, absorbed the contact and stole the basketball cleanly as he fell to the court.
The Jazz had the ball and the victory.
With the win, the Jazz improved their preseason record to 2-1. They play host to the Phoenix Suns in their first home game since last April on Wednesday at Vivint Arena.
This article originally appeared on