Utah Jazz Shuffle Their Coaching Deck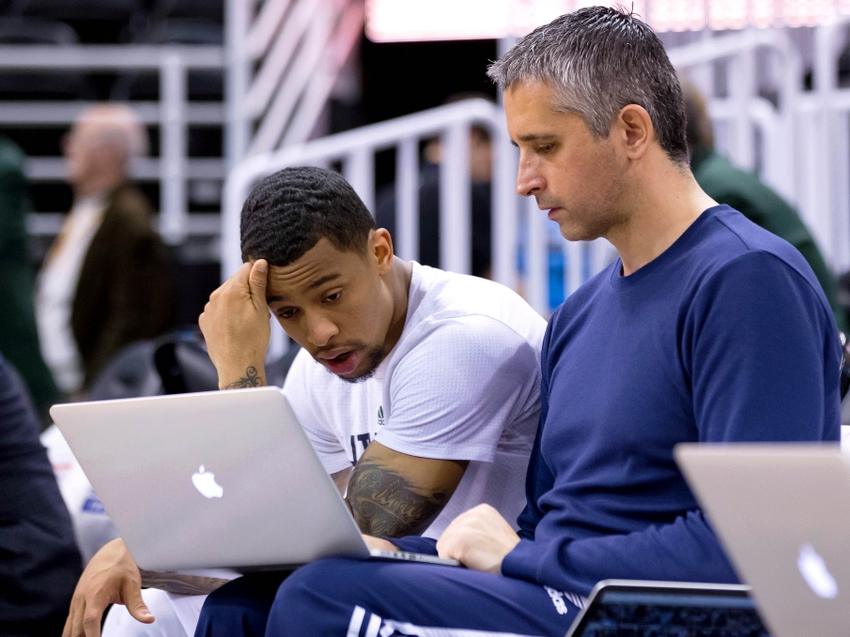 Quin Snyder and the Utah Jazz have finalized their coaching staff for the 2016-17 NBA season after promoting three assistants.
While the Utah Jazz will look to establish a player rotation during training camp and the preseason, the coaching staff is officially set for the 2016-17 campaign. In what was a slight shuffling of their coaching deck, the team announced three promotions and finalized the group that will work under head coach Quin Snyder.
Igor Kokoskov, who joined the Jazz last summer and was previously on Snyder's staff at Missouri, has been promoted and will move to the front of the bench. In addition to his role with the Jazz, Kokoskov has maintained a presence on the international scene. The Serbian native is currently the head coach of the Slovenian national team.
He previously had stints with the Cleveland Cavaliers, Detroit Pistons, Los Angeles Clippers, Orlando Magic and Phoenix Suns.
Other Jazz assistants receiving promotions were Zach Guthrie and Lamar Skeeter.
Guthrie, who served as manager of basketball strategy/technology last season, has been promoted to assistant coach/basketball strategy. Before joining up with the Jazz, he worked in advance scouting for the Orlando Magic. He was also a video coordinator for the San Antonio Spurs.
Meanwhile, Skeeter will transition from his role in player development/video analysis to that of a full-fledged assistant coach/player development. Skeeter previously worked with Snyder as a video intern for the Atlanta Hawks. He joined the Jazz in 2014.
More from Purple and Blues
In addition to Kokoskov, Guthrie and Skeeter, Johnnie Bryant, Alex Jensen, Antonio Lang, Jeff Watkinson and Mike Wells will also return to Snyder's staff.
One coach that won't be returning to the fold is Brad Jones. The nephew of former Jazz coach Jerry Sloan by marriage, Jones was one of the holdovers from Tyrone Corbin's coaching staff.
Whether Jones will transition to a different role within the Jazz organization or seek a new start elsewhere is currently unknown.
This article originally appeared on