Utah Jazz Show Just How Far They Still Have to Come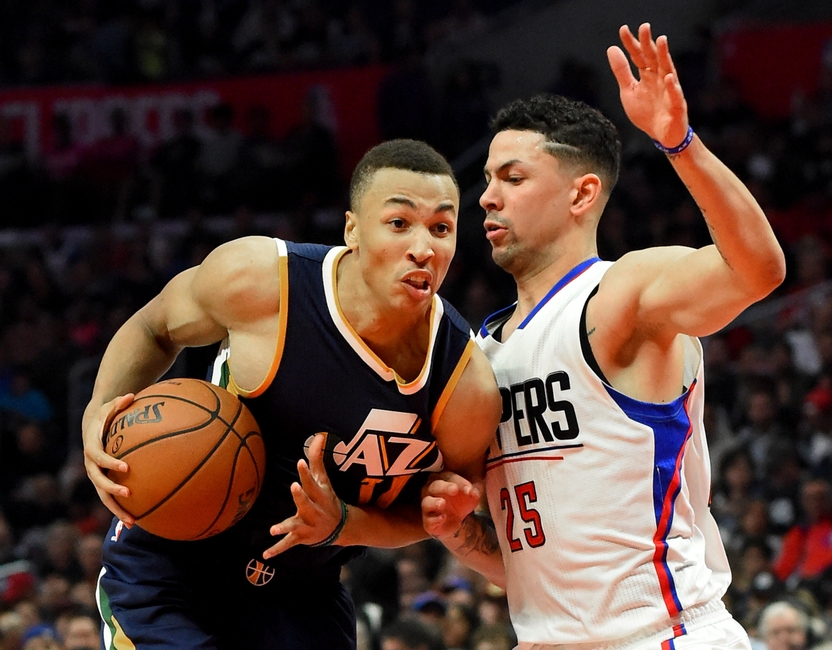 The Utah Jazz's disappointing loss to the Los Angeles Clippers on Sunday afternoon shows just how much work they still have left to do to become a legitimate threat in the Western Conference.
"It's still early." "They just need to get healthy." "There's a lot of new faces." "It was a tough match-up."
These are among the many excuses circulating to calm the very justifiable anxiety surrounding the Utah Jazz and their fans who may be feeling a little on edge after two losses and a closer than predicted win over a mediocre Lakers team in their first three contests of the 2016-17 season.
And while there's certainly some truth in each of these statements, there's no denying that following Sunday's 88-75 loss to the Clippers, the Utah Jazz have a lot of work to do to truly become a force in the Western Conference.
The game started out well with Utah battling back from a slight deficit to take a three-point lead into the second quarter. But that's about where the positives ended. It would have been one thing if this had been a closely contested bout, but the truth is that the Clippers made easy work of the visiting Jazz.
VS.
| | | | | | |
| --- | --- | --- | --- | --- | --- |
| | 1 | 2 | 3 | 4 | T |
| Clippers | 19 | 23 | 27 | 19 | 88 |
| Jazz | 22 | 13 | 21 | 19 | 75 |
Utah scored just 13 points in a dismal second quarter and struggled the rest of the game with turnovers and giving up offensive rebounds. Utah had 18 turnovers to LA's 13 and the Clippers finished with twice as many offensive boards, 14 to Utah's seven.
With formidable post presences such as Rudy Gobert and Derrick Favors, one wouldn't expect such a discrepancy in this area.
But more than anything it was the Jazz's lack of scoring power that cost them the game. Aside from shooting under 40 percent from the field and ending the game with a measly 75 points, the Jazz simply looked out of sync for the final three quarters.
Aside from George Hill, who had a solid 18-point outing on 61.5 percent shooting, the other players who have excelled on offense so far this year struggled mightily.
Johnson finished with just seven points on 3-of-9 shooting, Hood had five points shooting 2-of-10, Gobert finished under double figures for the first time this season with eight points and Favors scored five points on 1-of-8 shooting.
Dante Exum was the only other Jazzman who finished in double figures, logging 10 points, many of which came in the closing minutes. It's one thing when one guy has an off night, but with practically the entire Jazz team struggling, it was no wonder the game ended as it did.
There were a few bright points to the game. The defense overall was good, given that they held a prolific Clippers team to just 88 points.
In particular, Hill and the Jazz did an exceptional job of containing Chris Paul, something that I had considered a critical key to winning. He finished with just nine points on 3-of-8 shooting. Utah also finally managed to have a decent showing defending the perimeter as the Clippers shot just 6-of-27 (22.2 percent) from deep.
However, beyond that the Clippers proved to totally outmatch the Jazz. Utah has now lost 16 of their last 17 contests against LA and showed once again that they don't quite have what it takes to compete with the elite teams of the conference.
Of course, the story in Sunday's game could have been different with a healthy Gordon Hayward and Alec Burks as well as a fully recovered Favors. Also, the Jazz will have plenty of opportunity to test their mettle against top teams throughout the year, including twice during the upcoming week as they take on the San Antonio Spurs on both Tuesday on the road and Friday at home. So it's definitely possible that they turn it around.
However, to finally prove they can compete with the top teams in the conference, they'll have to show a marked improvement from last season as they went 1-2 against the Clippers in 2015-16 and 0-4 against each of the top three teams in the conference, the Warriors, Spurs and Thunder.
Hopefully when the Jazz take on San Antonio on Tuesday, they can begin clicking better offensively. Maybe the loss to the Clippers was an anomaly and we will slowly begin to see improvements each game as this team moves towards becoming the threat in the West that they were projected to be this offseason.
More from Purple and Blues
Because we certainly haven't seen that team yet. And whether it takes health, time, experience or something else entirely, hopefully Utah can quickly make the proper adjustments to get the ship righted soon.
If not, they may be looking at having to climb out of a big hole to start out the season.
All stats courtesy of NBA.com
This article originally appeared on