Utah Jazz's Promising Depth Being Buried By Injuries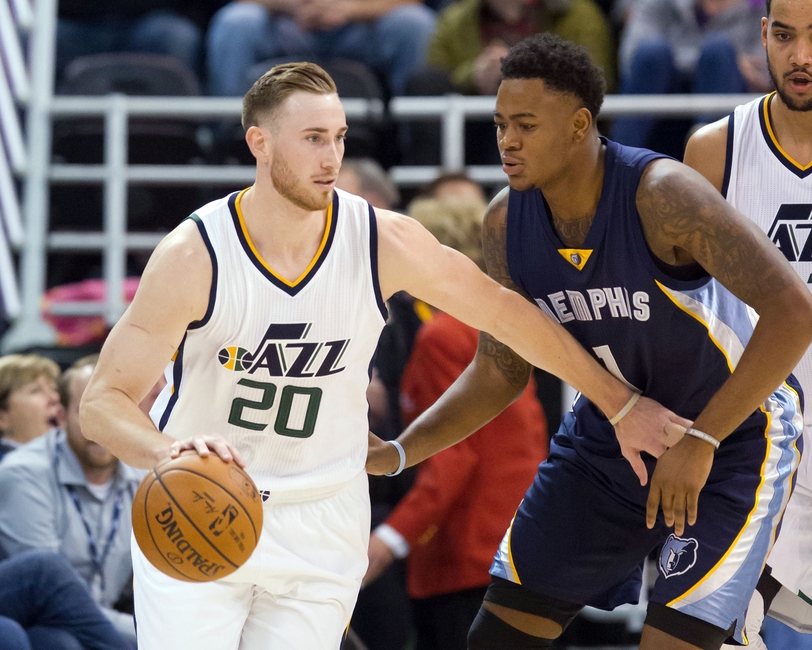 Despite being able to weather the storm for much of the early part of the season, the Utah Jazz's injury woes and resultant lack of depth finally caught up to them in Monday's loss to the Memphis Grizzlies.
Coming into the 2016-17 NBA season, the Jazz received high praise for their offseason moves and the seemingly incredible depth they were building. CBSSports went so far as to slate the Jazz as having the top bench in the league, above the likes of the Warriors, Raptors, Celtics and Spurs.
While that may still very well be the case, the trouble with defending that argument is the Jazz have had yet to be able to utilize what was supposed to be their nearly unstoppable reserve group.
With George Hill, Rodney Hood, Gordon Hayward, Derrick Favors and Rudy Gobert locked in as starters, the Jazz's plan was to roll out an almost equally competitive bench unit made up of Dante Exum, Alec Burks, Joe Johnson, Trey Lyles and Boris Diaw.
Unfortunately, that bench lineup has yet to come to fruition. Not only has Alec Burks failed to appear in a single game so far this season, but Jazz newcomer Boris Diaw has also been plagued with injuries.
Then out of the starters, all of them except for Rudy Gobert have missed time due to injury. This has caused the likes of Joe Johnson, Dante Exum, Shelvin Mack and Joe Ingles to step into the starting lineup on various occasions, further derailing the composition of Utah's projected stellar bench.
Among those ten players that were supposed to make up Utah's first and second unit, there have already been 33 missed games combined this season. Of course Burks' 12-game absence makes up for a big chunk of that, but Hayward's six missed games and Hill's five absences have been particularly tough for the Jazz as well.
The Jazz started out the year 1-2 with Hayward sidelined, then in the very game that he returned, Hill sprained his thumb and has since been out of the rotation, meaning Utah's two leading scorers have logged just one game together – a win over the New York Knicks.
Despite the onslaught of injuries, the Jazz fared relatively well on their eastern road trip as they finished 4-1 with their sole loss coming to the Charlotte Hornets (a game which also could have had a drastically different outcome if Hill had been available).
With a number of convincing performances over that stretch, it appeared that perhaps even with several injuries, the Jazz could still potentially have sufficient depth to weather the storm and find success with the likes of Joe Ingles and Shelvin Mack stepping up to make a big impact.
However, in Monday's loss to the Grizzlies, Utah's injury woes finally caught up to them.
Despite being a back-and-forth affair which saw six lead changes and nine ties, it was one of those strange games where you just felt like the Jazz would never be able to pull ahead by a large margin. Their biggest lead of the game was by just two points and they ultimately fell down the stretch, losing 102-96.
In Utah's defense, they were coming off a grueling stretch and as Quin Snyder mentioned during pre-game, despite being on their home court, this game almost had the feel of a sixth game in the road trip as the tired Jazz were playing their ninth game in 14 days and their sixth in nine days.
Their fatigue was evident as they were outrebounded by a horrendous 44 to 29 margin including 14 to 6 on the offensive boards. I had pinned rebounding as the key stat that the Jazz needed to win coming into the game and that most certainly did not happen.
Nevertheless, despite Utah's fatigue and tough schedule up to this point, they still only lost by six points and had several chances to build a lead had a few shots gone their way or a few of Memphis' opportunities fallen short.
A healthy Hood (who was dealing with illness) and Hill who are averaging a combined 37.8 points per game could have made all the difference.
So while we know all too well that the Jazz can't win them all, it's also been frustrating to see them drop winnable games to the likes of the Hornets and Grizzlies. Yet I suppose on the other end of the spectrum, it's also somewhat reassuring knowing that even with all the injury woes, Utah still holds a 7-5 record.
Had Hood been in the mix on Monday and Hill available for last week's game against Charlotte, I truly believe that record would have jumped to 9-3. Beyond that, if Utah had been able to bring in a fully healthy roster for the entirety of the season so far, there's no telling just how good their record would be.
And that is the hope that Jazz fans have to continue to hold onto. The injury bug was harsh on Utah last season and so far it seems like it's continuing the same trend. Nevertheless, while the bench play hasn't been as spectacular as many hoped it would be, that's clearly because it hasn't even featured the right combination of players that it was intended to.
While it will definitely take more patience (especially in Burks' case), the Utah Jazz still should be able to get to that point soon. Hood is likely to return Thursday against the Bulls. Hill's status has been questionable for each of the games he's missed and with two days off until Utah's next contest, he could very well be returning in that game as well.
Once those two are back and as Hayward and Favors continue their return to full health, we'll inch ever closer to the Jazz team we expected to see in 2016-17. Until then, they'll just have to keep grinding and doing everything they can to keep their heads above water by compiling more games in the win column rather than losses.
Because as long as they can keep themselves in a good position through this difficult time of the early season, they will be in a great spot to make a big run once they're healthy and able to run out a stout starting lineup and unleash that scary bench that was projected to be the best in the league.
And as soon as they reach that point, the rest of the league had better watch out.
All stats courtesy of NBA.com
This article originally appeared on