Utah Jazz Reportedly Looking to Extend George Hill Before Derrick Favors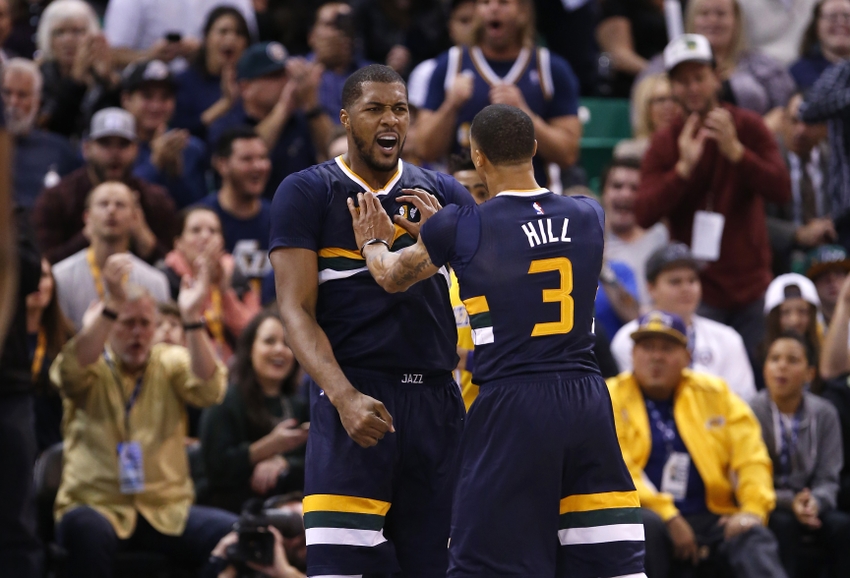 George Hill and Derrick Favors are both eligible for long-term extensions with the Utah Jazz this season and the team has reportedly made Hill the priority.
Aside from their injury problems, the Utah Jazz are in a pretty solid place personnel-wise. Gordon Hayward is a budding All-Star who many believe will sign a long-term deal with the Jazz following the season. Rudy Gobert is an elite defender and has already been locked up with a multi-year extension.
Meanwhile, Rodney Hood, Dante Exum and Trey Lyles are still on rookie-scale contracts.
The only real variables (if you believe Hayward's re-signing is a near-lock) are Derrick Favors and George Hill, each of whom are eligible to work out long-term extensions this season. While the prevailing theory has been that Favors' new deal is the team's top priority, a recent report seems to indicate otherwise.
According to Marc Stein of ESPN, the word on the street suggests that Hill — not Favors — is the player sitting atop Jazz GM Dennis Lindsey's to-do list.
Says Stein —
According to the latest rumbles in circulation on the matter, Hill has emerged as Utah's priority here. …

Utah is also known to be fond of Hill's leadership qualities as a playoff-tested veteran on a squad not exactly teeming with postseason experience, which is among the reasons that the Jazz were drawn to Hill as a trade target in the offseason in the first place.
Favors has long been considered an integral piece to the Jazz core and is coming off a season in which he averaged 16.4 points, 8.1 rebounds and 1.5 blocks per game. However, he also lost 20 games to injury last year and is expected to miss the next several games as he continues to struggle with knee issues.
Meanwhile, Hill recently captured Western Conference Player of the Week honors. Through seven games with the Jazz, he's averaging 20.4 points, 5.0 assists and one steal per game while shooting better than 43 percent from three-point range.
More from Purple and Blues
Whether or not Hill is the top extension priority for the Jazz — and with Exum still early in his development, it would stand to reason — it's probably safe to say that Favors remains a cornerstone piece to Utah's future.
Nevertheless, given Lyles' presence on the roster, the ability of both Hayward and Joe Johnson to slide to the four spot and Favors' physical concerns, Stein's report certainly has an air of truth.
This article originally appeared on