Utah Jazz Player Ratings in NBA 2K17 Revealed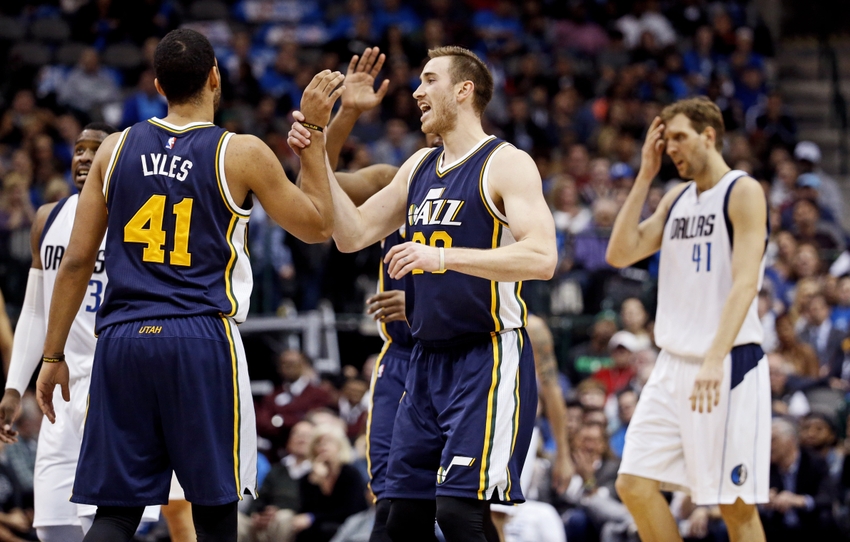 NBA 2K17 hits store shelves next month. How did Utah Jazz players like Gordon Hayward and Trey Lyles fare in the game's player ratings?
"And now for something completely different," as John Cleese once said.
Normally, we focus on the on-court performance of the Utah Jazz and the team's players here at Purple & Blues, with detours into things like trades, free agency and community outreach. However, with NBA 2K17 set to release worldwide on September 20, the time is nigh to take things into the virtual realm.
More specifically, it's time to discuss the game's player ratings after the in-game numbers for several Jazzmen were revealed this week.
For non-gamers, it's probably a "What's the big deal?" situation. But for people in the know, people with strong views on how the Jazz roster stacks up with the rest of the league and even the players themselves, these ratings are a lightning rod for controversy.
So what's the verdict on Jazz ratings in NBA 2K17?
Pretty solid, if you ask me. Although there are definitely a couple of head-scratchers that bear mentioning.
Rudy Gobert revealed his rating on Twitter last week, thanks to a screenshot from 2K Sports' Ronnie Singh. The Stifle Tower came in at 81 in the game, making him one of the higher-rated centers in the game.
He did come in four points lower than Miami Heat center Hassan Whiteside, which is a point of contention for some Jazz fans. However, that was to be expected after Gobert's 2015-16 campaign was mired somewhat by injuries and Whiteside had a career year.
Jazz point guard Shelvin Mack also received a screener from Singh, revealing a 74 rating. It's a number that seems pretty reasonable for one of the best third point guards in the league.
Next up is Trey Lyles, and this is one that I take umbrage with for a couple of reasons.
Firstly–and this has less to do with ratings and more the accuracy of his in-game likeness–but Lyles' in-game representation is looking a little thick to me. Like he's been on the Wienerschnitzel Diet this offseason or something.
In other words, I'm seeing a young Sean May–
Jazz fans on Twitter have noted some other Lyles lookalikes, including former Jazz center Felton Spencer and actor Donald Faison–
More from Purple and Blues
Secondly, 72 seems a little low for a player who was one of the better rookies from last year's ridiculously talented draft class and just dominated summer league.
The fact that his rating came in two clicks lower than Mack's in and of itself seems a little strange. Of course, we'll have to wait to see how Lyles was graded in individual skill categories to make better sense of the number.
Speaking of which, a leaked screenshot making the rounds on Twitter reveals more Jazz player ratings, with grades for some of those skill categories. Check it out–
According to the leaked screen, which appears legit despite coming from unofficial sources, Derrick Favors is Utah's highest-rated player in 2K17 with an overall rating of 85. He is followed closely Gordon Hayward at 84, Gobert at 81 and Rodney Hood at 80.
There's a lot to digest, so here are some quick observations–
Not really a gripe, but I was somewhat surprised to Favors rated higher than Hayward, who is arguably the team's most important player and one of the five best players at his position league-wide. Of course, if you really dig into NBA big man, Faves probably comes out better than you'd expect.
Speaking of Hayward, his inside defense grade is a paltry D+, while his perimeter defense only garnered a C. In other words, Hayward is rated as a below-average defender in the game, which is flat wrong. There's a reason he consistently guards opponents' most dynamic scorers.
Hayward's C+ three-point shooting grade seems on the low side as well. George Hill received a C in the same category, which is really strange given the fact that he took more than four threes per game last season and hit them at a 40 percent clip. Curiously, Alec Burks has the highest three-point grade of those pictured with a B+.
Gobert's B+ grade for interior defense is straight-up whack, as is the C given to Hill for his perimeter defense. Dante Exum's B- grade in the same category is low as well.
I actually expected Exum to fall farther than he did in the ratings after some dicey shooting/scoring numbers two years ago and missing all of last season.
Finally, don't sweat these ratings. They're the opinion of the game developers, who do a decent job of rating players overall, but miss out on a lot of the nuances of individual players and teams. It's just a video game and the ratings will be updated. you can also just change them, which is probably the first thing most of us do.
This article originally appeared on