Utah Jazz: Phil Johnson Inducted to USU Hall of Fame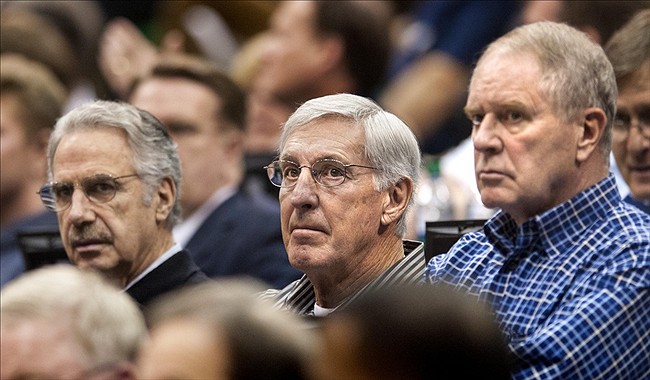 Former longtime Utah Jazz assistant coach Phil Johnson was inducted to his alma mater's athletic Hall of Fame on Friday.
Over the course of an NBA coaching career that spanned four decades plus, Phil Johnson was one of the best in the Association at what he did. As Utah Jazz coach Jerry Sloan's second-in-command, league GMs voted him the NBA's top assistant coach on four separate occasions. Just this year, he received a lifetime achievement award for his work as an assistant.
He was even named NBA Coach of the Year once in 1975 after he led a Kansas City Kings team that won just 33 games the season before to a playoff berth.
This weekend, Johnson was honored once again. Only this time, it had nothing to do with the Jazz or the NBA.
Utah State University held a ceremony on Friday to induct eight individuals to its Aggies Athletics Hall of Fame as the class of 2016. Johnson, who spent three years at USU as a player, followed by a season as a graduate assistant for the school's freshman team, was among those inducted.
Although he's no stranger to receiving awards, Johnson, who will turn 75 years old this week, told the Logan Herald Journal that his USU HOF induction was "one of the best awards I've ever received."
"They say fame is fleeting," Johnson said. "But in this case, fame is forever."
As a player, Johnson helped the Aggies reach the NCAA Tournament in 1962 and 1963.  He averaged 12.3 points and 7.1 rebounds and was team captain during his senior season.
He also spent two seasons with the track team as a high jumper.
More from Purple and Blues
Johnson was previously inducted into the Weber State University Sports Hall of Fame in 1992. He also received induction into the Utah Sports Hall of Fame in 2011.
Deanna Earsley-Bowers, Tom Forzani, Jim Helton, Jim Hough, Dave Manning, Steve Mothersell and Rod Tueller were also inducted to the USU HOF to round out the class of 2016.
This article originally appeared on