Utah Jazz Notes: Rudy Gobert, Hassan Whiteside Rekindle Rivalry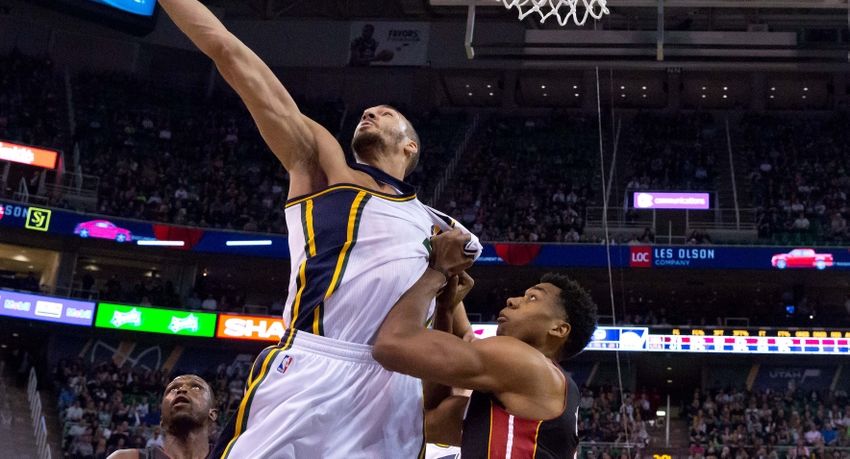 Utah Jazz news, including the team's road bout with the Miami Heat (Rudy Gobert vs. Hassan Whiteside!), George Hill helping out and the Salt Lake City Stars season opener.
The weekend is upon us and so too is the culmination of the Utah Jazz's current five-game road trip. Gordon Hayward and Co. have done well for themselves during the Eastern Conference swing, winning three out of four games on the trip and improving their record to 6-4 overall on the season.
Utah will close out the stretch in South Beach on Saturday night against the 2-5 Miami Heat. Banged up and worn out though they may be, it's a chance for Coach Quin Snyder's squad to finish 4-1 on a difficult trip.
George Hill is set to miss his fourth straight game with a sprained thumb, which will definitely continue to hurt the team. However, big man Boris Diaw has been upgraded to questionable and could make his return in Miami.
Whether or not Diaw returns, the biggest story surrounding the contest remains the match-up at the center spot. Rudy Gobert and Hassan Whiteside continue to jockey for position among the league's elite big men.
It's a rivalry that's always a hot topic for discussion; we've gone so far as to break down their respective NBA 2K ratings. Gobert even ruffled some feathers when he allegedly took some veiled shots at the Heat center over Twitter in early 2016.
Through seven games, it's hard to deny that Whiteside has been one of the league's best players. With Dwyane Wade and Chris Bosh no longer in the picture, Whiteside has led the way averaging just under 18 points, a league-leading 14.7 rebounds and 2.6 blocks per game.
Meanwhile, Gobert is putting up a line of 9.7 points, 10.6 rebounds and 2.3 blocks per contest.
In terms of net rating, the Jazz are outscoring opponents by 10 points per 100 possessions with Gobert on the floor. The Heat are two points better by the same measure when Whiteside plays.
However, defensive differential percentage hedges toward Whiteside. Opponents are 21.6 percent less effective from within six feet of the basket (and 17.8 percent overall) with Whiteside defending. When guarded by Gobert, they are just under 18 percent less effective from the field in the same range (nine percent overall).
Solid numbers all around, but Whiteside is probably the frontrunner in this year's race. In any event, it will undoubtedly be a stiff battle between the two when the teams meet at American Airlines Arena on Saturday.
Personal pride aside, the Heat are looking to avoid a four-game losing streak while the Jazz aim to head home on a high note. Tip-off is scheduled for 6 PM MT.
George Hill Lending a Helping Holiday Hand
George Hill has been unable to go for the Jazz in recent days, but he continues to work hard — and not just on the court. The point guard and his team are partnering with CenturyLink to provide food and toys for those in need during the upcoming holiday season.
Throughout the month of November, CenturyLink will collect boxed/canned food on behalf of the Utah Food Bank. In December, toys will be collected to benefit Utah Toys for Tots. Collection locations will rotate daily.
"We are excited to be working with the Jazz and George Hill on the CenturyLink Hearts & Hoops program," said Jeremy Ferkin, CenturyLink's vice president of operations for Utah and Nevada. "It's a great way for Jazz fans to rally together and make a difference in the community by helping those in need."
This month's collection schedule breaks down as follows —
LOCATIONS
DATES
The Gateway

18 N Rio Grande St., Salt Lake City

Nov. 11-12
Vivint Smart Home Arena

301 S Temple, Salt Lake City

Nov. 14
City Creek Center

50 Main St., Salt Lake City

Nov. 17
The Gallivan Center

50 E 200 South, Salt Lake City

Nov. 18-19, 25-26
To help reward those who are dedicated to making a difference in the community, CenturyLink will select one sweepstakes entrant at the end of each month as part of the CenturyLink Hearts & Hoops Sweepstakes.
Winners will receive a VIP Jazz experience that includes two lower level tickets, one parking pass, Champions Club passes and two Jazz jerseys. Official rules, information and December dates are available at utahjazz.com/heartsandhoops.
Stay tuned to Purple & Blues in the coming days for more on Hill and his new initiative.
More from Purple and Blues
Salt Lake City Stars Tip-Off Inaugural Season
Finally, while the Utah Jazz look to capture a win in Miami, their D-League affiliate squad, the Salt Lake City Stars, will tip-off their season in Sioux Falls, South Dakota against the Skyforce.
The game will be streamed for free on Facebook. Tip-off is set for 6 PM MT.
This article originally appeared on