Utah Jazz Notes: Rudy Gobert, Guns & EuroBasket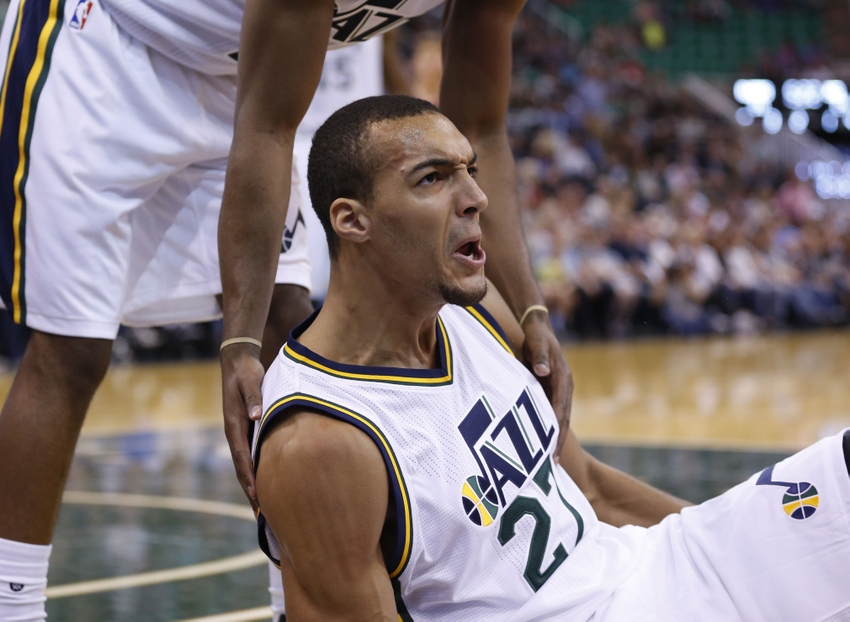 Welcome to the Gun Show, with Utah Jazz big men Rudy Gobert and Jeff Withey. Also — an update on former Jazzmen at EuroBasket qualifiers.
After the Utah Jazz missed the playoffs by just one game last year, a lot of the talk surrounding the team has been focused on how things have changed over the summer. The prevailing belief is that those changes will yield a better result — and a postseason return — in the season ahead.
While the biggest changes came via the addition of proven veterans George Hill, Joe Johnson and Boris Diaw, internal changes could play an equally large role in Utah's transition to fringe playoff squad to a club fighting for a top four seed in the Western Conference.
Dante Exum and Alec Burks will be back on the floor after being felled by injuries last season. Derrick Favors is apparently looking to extend his range, potentially out the three-point line.
Meanwhile, Rudy Gobert suddenly has the meanest-looking set of guns on the team–
His Olympic performance may have left something to be desired for some fans, but Gobert is undoubtedly looking better than ever physically as Jazz players return to Salt Lake City in order to prepare for the upcoming campaign.
Added bulk and increased strength should go a long way in keeping Gobert on the floor, corralling boards and intimidating the opposition down low.
Of course, he's not the only Jazzman with guns. Check out this picture of Jeff Withey showing off his–
Clearly one ought not mess with Jazz big men.
More from Purple and Blues
EuroBasket Qualification Update
Former Jazz centers Tibor Pleiss and Kyrylo Fesenko have each been in uniform for their national teams recently, looking to secure spots in the FIBA EuroBasket 2017 championship. However, both of their teams suffered setbacks in their most recent games on Wednesday.
Pleiss and the Germans fell to the Netherland 75-71 for their first tournament loss. The recently traded big man was ineffective in the game, scoring just two points on 0-of-4 shooting in 14 minutes of play.
Fesenko's Ukrainian squad similarly lost their first game in qualification, dropping a seven-point decision to Slovenia. Fesenko, however, had a strong performance in defeat, scoring 10 points, grabbing seven rebounds and blocking two shots.
Both teams will be back in action on Saturday.
This article originally appeared on