Utah Jazz Notes: Players Returning to SLC, EuroBasket Qualifiers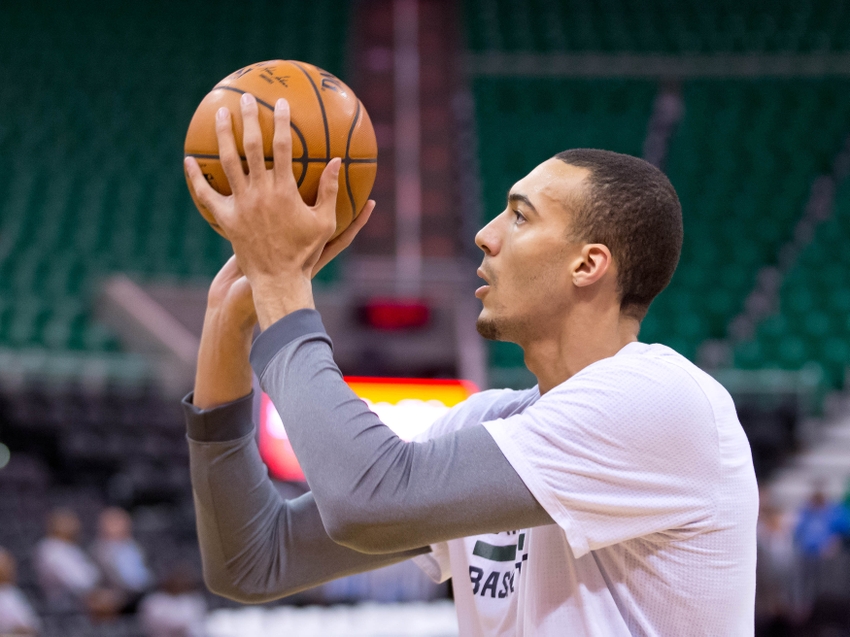 Utah Jazz news quick hits, including players returning to Salt Lake City, former Jazzmen at EuroBasket qualifiers and the team's Top 10 plays from last season.
September is upon us and several weeks remain until the Utah Jazz return to the hardwood for their first preseason game. However, preparation for the upcoming season has already begun for Jazz players. Some have even found their way back to Utah and will regroup for workouts and open gym in the weeks ahead.
Gordon Hayward and Derrick Favors have already been around, with the duo participating in community outreach efforts like the Be Well Utah wellness fair and the renovation of Heritage School this past week. However, other Jazz players are expected to file back into the state sooner rather than later.
According to KSL.com's Andy Larsen, Boris Diaw, Rudy Gobert and Raul Neto will all be back in town this week–
In fact, Gobert tweeted on Tuesday that he's already arrived in Utah and that he's chomping at the bit to get back to work–
We may still be a ways out from live action on the court, but the long road to the 2016-17 NBA season is nearing its end.
Former Jazzmen at EuroBasket Qualifiers
Qualifying games for EuroBasket 2017 began on Wednesday, with 27 teams vying to fill 11 of the tournament's 20 spots. The 40th edition of the EuroBasket championship is set to take place in Helsinki, Tel Aviv, Cluj-Napoca and Istanbul next summer.
Although no current Jazz players are participating in qualification, two notable former Jazzmen are looking to help their native countries secure spots in the 2017 championship. Namely big men Kyrylo Fesenko and the recently-traded Tibor Pleiss.
Fesenko, who played for the Jazz from 2007 to 2011, was a beast on Day 1 for Ukraine. The 29-year-old made 6-of-7 shots, scoring 15 points, grabbing 10 boards and dishing out three assists to help Ukraine beat former Jazz summer leaguer Dee Bost and Bulgaria, 79-69.
Meanwhile, Pleiss scored 10 points, grabbed 11 rebounds and had two steals in just 12 minutes of play as Germany trounced Denmark, 101-74.
EuroBasket qualification is also of the utmost importance to Jazz legend Andrei Kirilenko, who was re-elected as President of Russian basketball last week. Russia began their road back to European prominence by beating Bosnia and Herzegovina, 83-54.
Top 10 Plays of 2015-16
Finally, courtesy of the NBA's Twitter account, here are the Top 10 Utah Jazz plays from the 2015-16 season to get you hype for next season.
Enjoy–
October can't get here soon enough.
This article originally appeared on