Utah Jazz Lose Heart Breaker to Miami Heat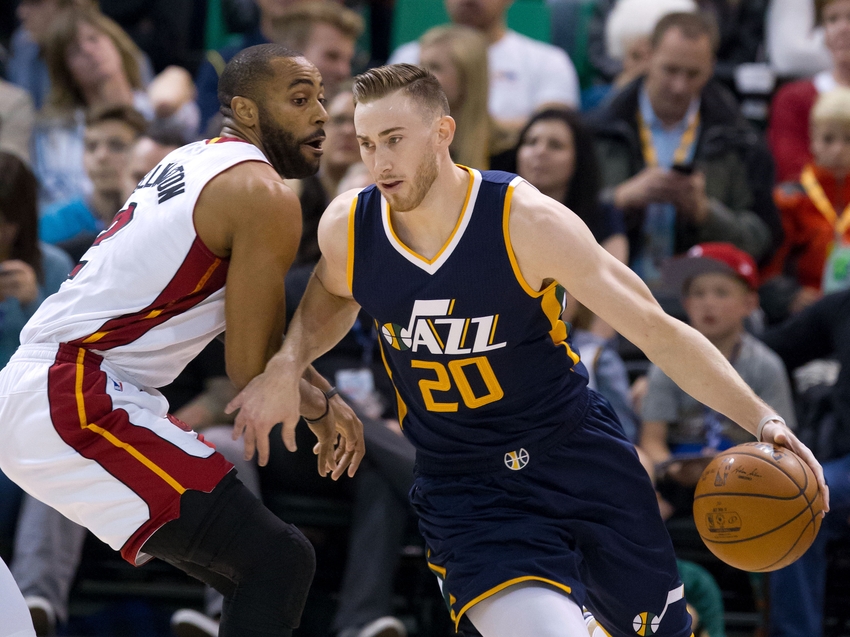 The Utah Jazz fought hard in the fourth quarter, but fell to the Miami Heat 111-110 on Thursday night.
It was a struggle defensively for the Utah Jazz all night long in Thursday's contest against the Miami Heat, but they were able to make a run in the fourth quarter and gave themselves a shot to win the game.
However, Gordon Hayward missed the potential game-winner, then Rudy Gobert had an offensive rebound and putback, but it went in too late as the Jazz ultimately fell to Miami 111-110. It was a tough loss for the Jazz, especially considering that it was a game many expected them to win.
They were, however, playing without George Hill and Rodney Hood which somewhat justifies their struggles. Hill is dealing with a toe injury, and Hood is recovering from the hamstring injury he suffered on Tuesday against the Rockets.
Utah certainly missed both of them tonight, but they did get production from others, including Joe Ingles, who finished with 15 points in 22 minutes. Shelvin Mack also played well as he had 11 points, five rebounds and five assists. We also saw Raul Neto get some playing time tonight in which he hit a big three pointer in the fourth quarter.
But it was Gordon Hayward who was the star for the Utah Jazz once again. Despite missing the potential game winning shot, he converted on many other big plays down the stretch. He finished with 32 points and seven assists in 40 minutes of action. Utah also benefited from great production from Joe Johnson (18 points) and Trey Lyles (14 points).
The matchup between Rudy Gobert and Hassan Whiteside was fun to watch. Rudy did a great job on Whiteside, holding him to nine points on 4-of-11 shooting while Gobert had six points on 3-of-4 shooting, 10 rebounds and three blocks. It's always fun watching those two go head-to-head, and I look forward to watching their rivalry continue in the future.
And while losing the game was of course disappointing, one extremely bright point was Utah's three-point shooting. They hit 17-of-30 from three tonight, tying the franchise record for threes made in a game. Offensively, Utah looked solid for most of the night. Unfortunately, the defensive end was a different story. They are usually an upper-tier defensive team, but for some reason just didn't bring it tonight.
More from Purple and Blues
The Utah Jazz fell to 11-9 with the loss, and will take on the Denver Nuggets on Saturday in a game that will be featured on NBA TV. With the win, the Miami Heat moved to 7-12 and will be back in action against the Blazers on Saturday.
This article originally appeared on