Utah Jazz Looking For a Double Dose of Rodney Hood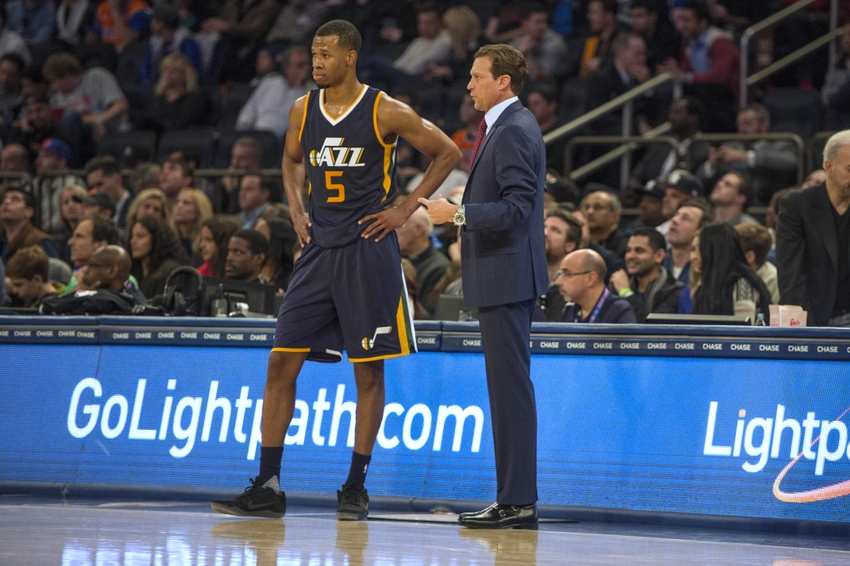 Rodney Hood is having a breakout year for the Utah Jazz and showing the world why he deserves to be mentioned in the All-Star conversation.
In this past stretch of games, Rodney Hood has been playing extremely well; shooting the ball with a lot of confidence and playing outstanding defense both on and off the ball. What has also stood out to me is his unbelievable ability to rebound the basketball. Granted, he's only averaging 4.4 boards per game, but those aren't coming very easy and he is fighting off much bigger opponents to come up with them.
Since November 1, Hood has simply been shooting the lights out; averaging 19.2 PPG on just 13.5 attempts, as well as shooting a scintillating 51 percent from behind the arc. When a player is on fire from the field and scoring an efficient 1.42 points per field goal attempt, you NEED to get him more than 13.5 shots. That points per shot number has him in elite company with the likes of Stephen Curry, James Harden, Kevin Durant, Russell Westbrook and Anthony Davis.
Although he is currently doing most of his damage when playing alongside the second unit, it makes sense for Hood to be the primary isolation guy in late shot clock situations. Especially when Gordon Hayward and George Hill are so talented at playing off the ball.
One thing we haven't seen much of from Hood this season is his post-up game. Standing six-foot-eight with a respectable vertical, it is far too easy for him to rise up and bury the jump shot over the defender. This is something we may see on Saturday night against the six-foot-four Dion Waiters in Miami.
Looking further down the road, Hood could possibly have his eyes set on his first of many All-Star appearances (yes, he is that good). The shooting guard spot may be the easiest position for a fringe player to sneak into with James Harden being the only 'elite' Western Conference player at that position.
Klay Thompson will be likely to miss out due to Curry, Draymond Green and Kevin Durant being near certainties, and it's doubtful that the Warriors' win-loss record will be good enough at the time to grant them four All-Stars. However, if you look at the five major stats (points, rebounds, assists, blocks and steals), there is absolutely nothing to suggest that Thompson should have even been close to getting an All-Star appearance last season. His personal stat-line paled in comparison to many other guards that missed the All-Star game, and the Jazz's own Hayward has every right to feel snubbed.
Other shooting guards out West that will also be hunting for there first All-Star appearance are Devin Booker of the Phoenix Suns and C.J. McCollum of the Portland Trail Blazers. You may be thinking "Devin Booker? Are you kidding me?" However, his stat-line is almost identical to Thompson's from last season.
So, the question remains, can Hood play well enough this season to find himself in an All-Star jersey? Personally, I don't think so, not yet anyway. There's no question in my mind that he is an All-Star caliber player, but sharing the court all season with Hill, Hayward, Derrick Favors and Rudy Gobert will make it very hard to put the spotlight on him enough to achieve that goal.
As for now, he just needs to keep focusing on the most important thing of all, helping his team get wins. And if he continues the tear that he is currently on, his points per game average could sky-rocket over the course of the next few weeks.
Statistics courtesy of ESPN
More from Purple and Blues
This article originally appeared on