Utah Jazz: Is a George Hill Return Imminent?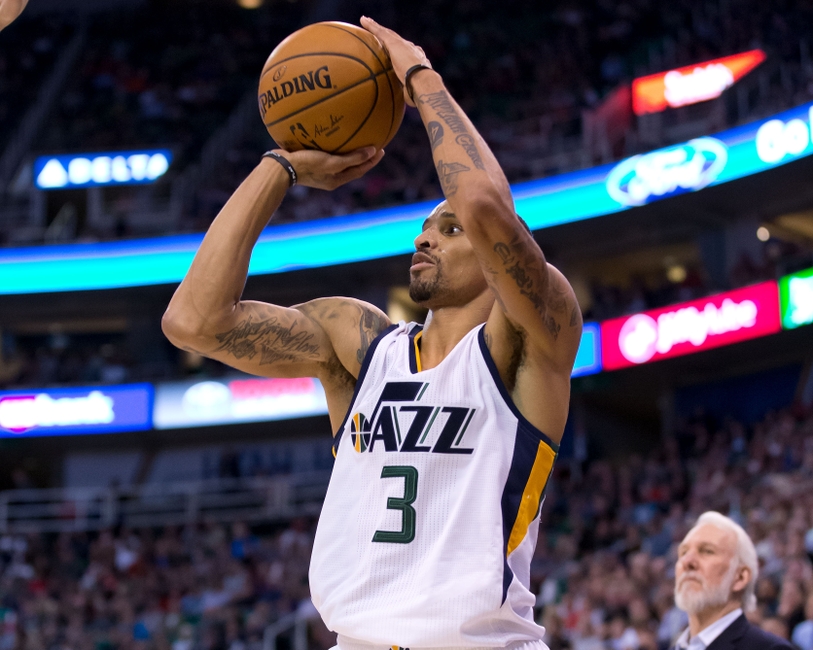 After a long absence of more than two weeks, there are some positive signs that George Hill could soon be making his return to the court.
It's no secret that the Utah Jazz have struggled over the course of their last four games as each one ended up in a tough loss for the blue, green and gold. And while they did play well on their five-game road trip despite being without George Hill for the final four contests, ever since Utah's veteran point guard went down with a sprained thumb, he has been severely missed.
Point guard play was a blatant weakness facing the Jazz last season and the acquisition of Hill was expected to provide an enormous boost in this area. And through his first seven games, Hill certainly did not disappoint as he put up a team-leading 20.4 points and nearly five assists while shooting a solid 54.1 percent from the field and 43.2 percent from deep.
And even in the games that Utah won while Hill was sidelined, their offense didn't have the same flow, efficiency or focus. In the four most recent losses, the Jazz have looked even more lost on offense, making it all the more clear just how drastically they need their new point man back.
I must admit, it has been surprising to me just how long George Hill has been out and have expected to hear of his return for quite a few days now. Nevertheless, he has now logged DNPs in eight straight contests. However, while one might think that a sprained thumb wouldn't take that long to heal, some cases reportedly require between four to six weeks to fully recover.
And according to head coach Quin Snyder, the injury has indeed been extremely hindering and Hill has been absolutely justified in sitting out and giving himself time to heal and allow for a full recovery:
"It's a little bit of everything. It's gripping, catching. He's not able to shoot. Those ligaments have to heal and become less painful or he's just not able to be effective."
So, frustrating though it may be to see the Jazz suffer through Hill's absence, there's no doubt that Utah is doing the right thing to ensure that this doesn't become a lingering issue and that Hill is absolutely able to contribute at the high level he was previously before making his return.
And though I've been hopeful over the past few games and perhaps even sounded a few speculative false alarms regarding Hill's return, there are now some positive signs that his return to action could finally be imminent.
George Hill participated in practice on Tuesday where he was seen dribbling, passing and shooting with his injured right hand.
And Hill is currently listed as questionable for Wednesday's home contest against the Nuggets, a status he has had prior to several consecutive games now. However, the fact that he hasn't already been simply ruled out for Wednesday's game is also a bit of a reassuring sign.
With the Jazz only playing in two contests this week, Hill should have ample time to rest and recover his thumb. Judging by the fact that he participated in Tuesday's practice and looking at how smoothly he handled the ball, it would be hard to believe that Hill would be sitting out much longer, especially given the Jazz's recent struggles.
Of course, we won't know for sure until tomorrow, but the fact that he's listed as questionable means that he could very well be active depending on how he feels during shootaround and leading up to the game.
Nevertheless, considering that he did not participate in full contact drills in Tuesday's practice and given Snyder's description of just how hindering the injury had been to this point, I wouldn't be surprised if we still didn't see Hill suit up for the rest of the week.
But, while I know I've been wrong on a couple occasions, after seeing the practice footage, I feel confident that at the very least Hill will be back in action for Monday's contest against the Timberwolves.
They could certainly also use him against an up-tempo Nuggets team and an elite Hawks team this week, but regardless of when he finally returns, Hill's presence will no doubt provide a much needed boost to the offense, an elite perimeter defensive force and an experienced, calming presence at the point that this team has so desperately needed over the past two weeks.
This article originally appeared on