Utah Jazz Impress in Convincing Win over Dallas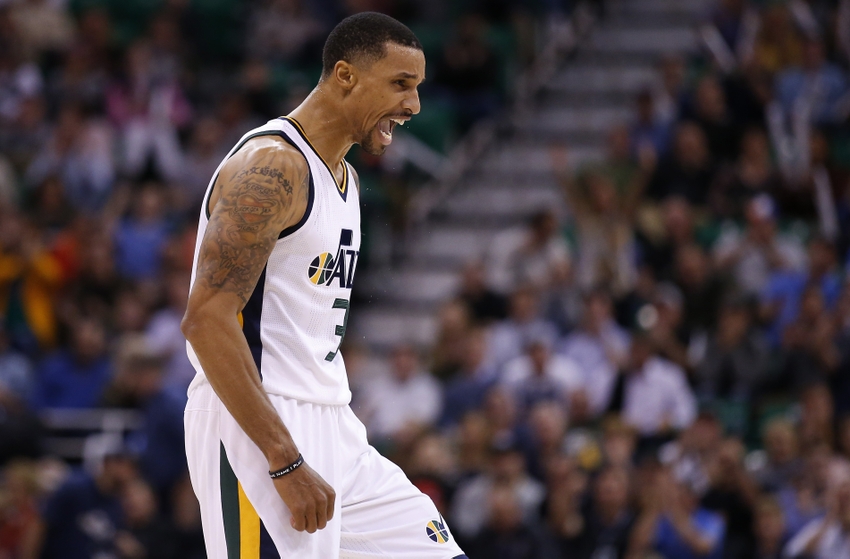 In the second game in as many nights, the Utah Jazz looked impressive as they took care of business and came away with a convincing victory, this time in a 97-81 win over the Dallas Mavericks.
It was just under a week ago that the Utah Jazz took on the Los Angeles Lakers within the friendly confines of Vivint Smart Home Arena and narrowly escaped with a hard-fought 96-89 win. While it was good to see the Jazz get their first win of the season, it was a victory that I had described as unconvincing.
Now just three games later, playing on the second night of a back-to-back no less, the Utah Jazz posted a 97-81 win over the Dallas Mavericks that was about as convincing as they come. What's more impressive is that this win came on the heels of an equally, if not more convincing, 106-91 win over the Spurs the night prior.
And with two victories such as these, the Jazz are slowly but surely convincing fans, the league and myself that they're on the right track to becoming the real deal this year.
My early skepticism wasn't so much out of disbelief in the Jazz, but rather out of a disbelief that they would truly be able to gel this quickly, especially with all the injuries. With that being said, the year is still young, but in Utah's two victories in as many nights, they have shown marked improvement and have the appearance of meshing much faster than many may have imagined.
Despite Dallas' deceiving 0-4 record, this was an excellent win for Utah for a handful of reasons. First of all, they came out with more energy than the Mavs despite playing on the second night of a back to back whilst Dallas had two days of rest to prepare. Also, Utah was able to once again successfully defend their home court, which will be a key contributor to their success this season.
But the most reassuring sign for me was the fact that although Dallas appeared to be gearing up for a run in the fourth quarter, Utah quickly shut them down and closed out the game in determined fashion. After facing so many disappointing losses in the final quarter last season, it has been great to see the Jazz take care of business in the fourth in all three of their wins this year.
The game got off to an ugly start as neither team could buy a bucket. Utah shot exceptionally poor as they converted on a dismal 25 percent of their shots in the first quarter. Nevertheless, thanks largely to a relentless effort on the boards and on the defensive end, the Jazz were still able to take a one-point lead into the second quarter.
And from there, their shooting woes quickly turned around. Despite the slow start, Utah shot 50 percent in the second quarter and finished a solid 45.5 percent from the field for the game. The Jazz were led in scoring by the dynamic guard duo of George Hill and Rodney Hood.
Hood put in 22 points on 9-of-16 shooting while Hill led all players in scoring with 25 points on 9-of-15  shooting which also included an impeccable 4-of-6 from deep. On the flip side, the Mavs star Dirk Nowitzki, who was playing in his first game back after missing the previous two, struggled mightily finishing with just nine points on 4-of-14 shooting.
And the Jazz's offense just kept clicking on all cylinders throughout the game, especially in the third quarter as they built up a 20-point lead about midway through the period.
Unfortunately, however, Utah was hit with a small slump immediately following their red hot streak in which the Mavs pulled within seven points to end the third and eventually got as close as within three points in the fourth quarter.
But while last year's Jazz team very well may have crumbled in the face of such a stirring comeback bid by the opponent, this year's squad responded resoundingly and silenced the Mavs almost immediately.
On the backs of their vets George Hill and Joe Johnson, who ended the game with a solid 13-point showing of his own, the Jazz put in an incredible 31-point fourth quarter to run away with a 16-point victory.
And while the Jazz were playing in the second game of a back-to-back, they looked extremely energized. Throughout the contest, it was the Mavs, not the Jazz who looked like the more dogged and fatigued team. Aside from the brief run that Dallas put together to close out the third quarter, they looked outmatched by the Jazz in every aspect.
So now the Jazz are sitting at 3-2 and are slowly but surely beginning to show just why they were so hyped this offseason. But while it was too early to hit the panic button following their disheartening loss to the Clippers that dropped them to 1-2, the season is similarly too young for Jazz fans to read too much into these back-to-back wins.
While they're definitely a good sign, there's still a lot of season left and plenty of kinks to work out for the Jazz. Although Rudy Gobert's 12-point, 12-rebound double-double and incredible defense were instrumental to the Jazz win, there are some things he needs to improve.
On a number of occasions he struggled to catch and handle the ball in the post when otherwise he could have earned easy points for the Jazz. He also got into early foul trouble and reverted to his poor free throw shooting ways with a 6-of-14 night from the charity stripe.
It's hard to knock on Rudy when he brings such an important element to this Jazz team, but in order for him and his teammates to elevate their game to another level entirely, those are some aspects that he will need to clean up moving forward.
Furthermore, the Jazz didn't enjoy the hearty bench production that they got in their win over the Spurs on Tuesday. Aside from Exum, who finished with 10 points on 4-of-6 shooting, the Jazz bench put in just seven points on a combined 2-of-16 shooting.
While Mack and Lyles finished the win against the Spurs with 14 and 15 points, respectively, Trey was held scoreless against the Mavs and Mack put in just four points. Not to mention, the reserves as a whole were largely responsible for allowing Dallas to get back into the game in the third quarter.
While each of the starters finished with a high plus-minus (Joe Johnson led the way at +26), the only bench player to finish positive was Joe Ingles at +8. The bench will need to get a whole lot more consistent if Utah hopes to be able to earn a second win against the Spurs in their bout this Friday and if they hope to remain competitive against top teams throughout the season.
This will obviously be helped drastically once Gordon Hayward, Derrick Favors and Boris Diaw all are healthy.
So with an impressive and convincing win over the Dallas Mavericks in the books, the Utah Jazz will enjoy one day of rest before taking on the San Antonio Spurs once again. However, this time it will be on Utah's homecourt where they will look to remain undefeated before heading out on a long five-game road trip out east.
If Utah can continue their smothering defense, receive a consistent lift from their bench and continue their hot streak from deep (they've shot over 48 percent in their past two contests), then there's no reason why they can't post yet another convincing win over the Spurs this Friday and many more such victories throughout the course of the 2016-17 season.
All stats courtesy of NBA.com
This article originally appeared on