Utah Jazz: Giannis Inks Big Extension; Is Gobert Next?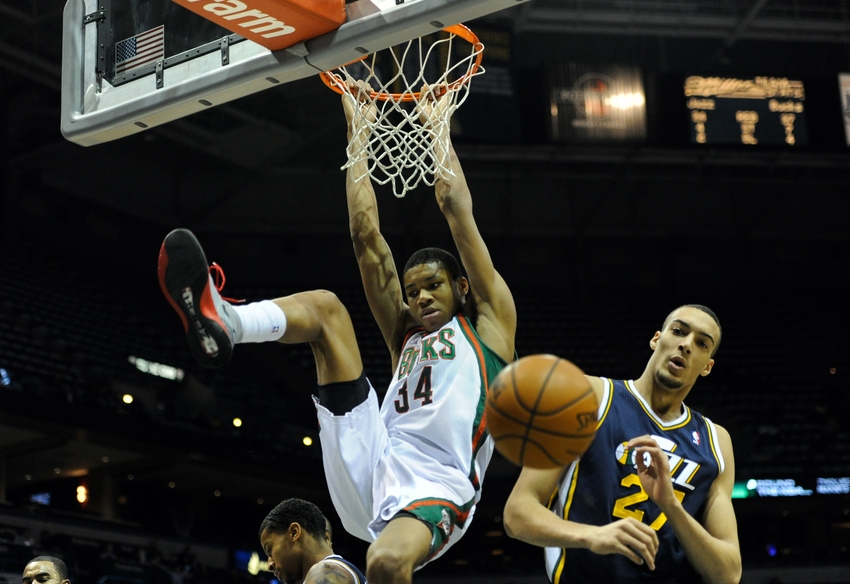 The Milwaukee Bucks just signed Giannis Antetokounmpo to a big extension. Can the Utah Jazz do the same with Rudy Gobert?
The 2013 NBA Draft was definitely a weird one. Anthony Bennett was shockingly made the No. 1 overall pick by the Cleveland Cavaliers, Trey Burke was a highly sought-after point guard and future stars Giannis Antetokounmpo and Rudy Gobert were mid- and late first round afterthoughts.
If GMs could hop into their DeLoreans and do the thing over, Gobert and Antetokounmpo would undoubtedly be the first and second overall selections in the draft.
Although the duo didn't enter the league with the level of hype you'd expect for players of their caliber, they're certainly getting it now. Not only that, but the two of them are about to get paid as a result.
This summer, members of the 2013 draft class became eligible to sign extensions with their current clubs. Giannis already got his — according to reports on Monday, the "Greek Freak" and the Milwaukee Bucks came to terms on a four-year, $100 million contract.
In doing so, the market may have been set for the Utah Jazz and Gobert. However, coming to an agreement on extension could be problematic on both sides.
For the Jazz, the whole idea of extending Gobert at this juncture (besides locking him in long-term) would be to save some money on the deal. Antetokounmpo's extension falls short of max money, and ultimately saves the Bucks several million dollars over the course of the contract.
Although the Jazz look good financially today, things will get problematic in short order in the years to come when several of their key players will be looking for new contracts. If they're able to find ways to save money, they'll do absolutely look to do it.
Of course, given his performance thus far and his status as one of the league's elite defensive players, Gobert may be expecting (and would have no problem getting) a max deal.
He may not like it — Kawhi Leonard was less than impressed when the San Antonio Spurs opted not to extend him initially — but if top dollar is what he's looking for, he'll eventually have to force the team's hand in restricted free agency.
There's also the matter of cap flexibility to consider.
By not extending Gobert, there will be a brief window as he enters restricted free agency where his cap hold will be based on his rookie-scale salary. In other words, instead of having an amount in excess of $26 million dollars on the books at that time, his cap number would be less than $4 million until he signs a new contract.
This would give the Jazz extra space to maneuver with their roster before such a deal is signed. In Leonard's case, the Spurs were able to acquire LaMarcus Aldridge while his cap hold was low.
More from Purple and Blues
Of course, if Gobert is willing to do as Antetokounmpo has done and take a lower salary, the Jazz may be willing to forego that window of flexibility to lock him up long-term and save money while doing it.
It's a tricky situation, and I would be surprised if they can work something out at this point, but the bar has been set in any event.
This article originally appeared on