Utah Jazz: George Hill Out vs Heat, Rodney Hood Questionable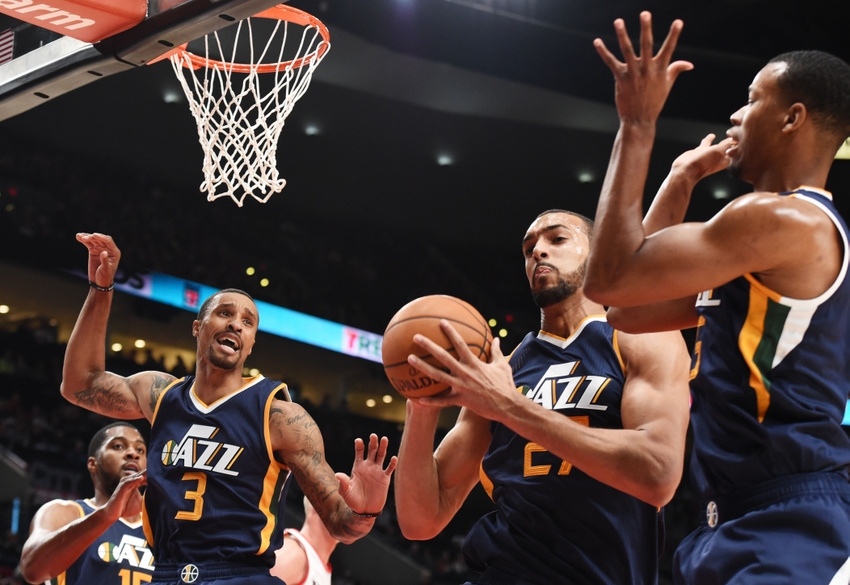 The Utah Jazz continue to get ravaged by injuries. When they return to the court to take on the Miami Heat, they'll have to do so without George Hill. Rodney Hood is also questionable.
The Utah Jazz are rolling right now. After putting the hurt down on James Harden and the Houston Rockets, the team has won four straight games. However, prior to the current streak, the Jazz were in the grips of a four-game skid. While the team had issues on both sides of the ball during that stretch, the No. 1 culprit was injuries.
Unfortunately, that injury bug continues to bite hard. When the Jazz return to the hardwood on Thursday night to take on the Miami Heat, they'll have to do so without key contributors once again.
Namely George Hill and, potentially, Rodney Hood as well. In other words, there's a good chance Utah is heading into the game sans their starting back court.
Hill, who just returned to the fold just over a week ago after missing eight straight contests with an injured thumb, has already been ruled out for the Heat game. The point guard was reportedly spotted wearing a protective boot during shootaround Thursday morning.
According to Jazz coach Quin Snyder, Hill injured his toe late in the win over Houston. The point guard now joins Derrick Favors and Alec Burks in the "No timetable has been set for their return" club.
If there's a silver lining here, it's that Dante Exum will likely get the start in Hill's absence. Exum has yet to play more than eight minutes in a game since Hill's previous return and received a DNP-CD in Monday's win over the Minnesota Timberwolves.
Any court time he can get is a good thing, even if it comes via injury.
As for Hood, the guard may be available to play, but is currently listed as questionable. He injured his hamstring early in the second half of that same Rockets game.
According to Tony Jones of The Salt Lake Tribune, Hood had an MRI on Wednesday that revealed no damage. Nevertheless, his status for the Heat game will likely remain up in the air until closer to tip-off.
More from Purple and Blues
It's yet another tough break for the team, just as they were starting to roll once again. But what can one say about it at this point?
Another one (or two) bites the dust?
One thing is certain — the injury bug has a massive set of chompers and apparently likes its meat Jazzy.
This article originally appeared on