Utah Jazz: George Hill Experiencing A Career Renaissance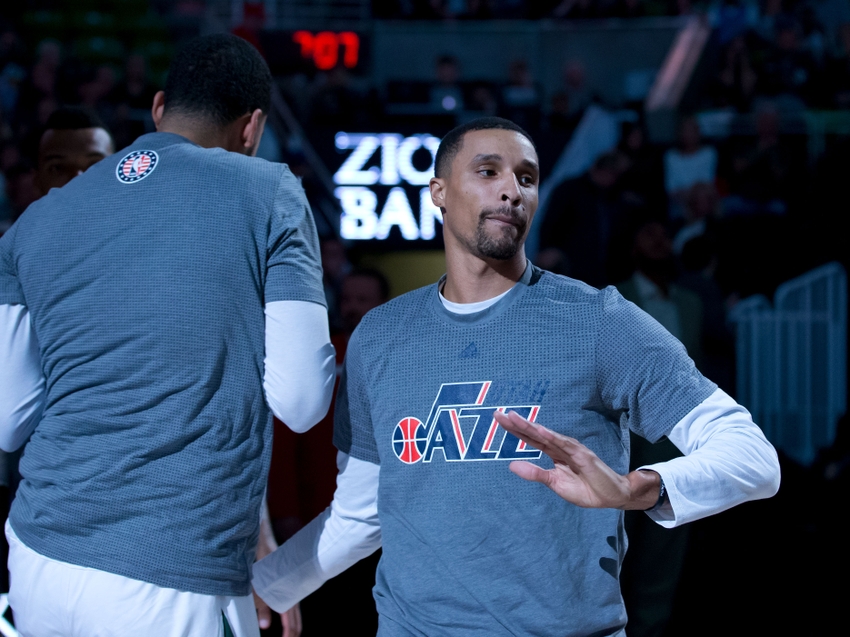 Utah Jazz point guard George Hill is experiencing a career renaissance in his ninth NBA season. He's loved his experience enough to sign a contract extension.
---
The trade that set the 2016 NBA offseason in motion was one that many underestimated at the time of conception. Though there weren't any superstars involved, it was something of a blockbuster deal based on how much it could help the parties involved.
Though Jeff Teague being traded to the Indiana Pacers made waves, it was George Hill being dealt to the Utah Jazz that appears to be paying the most dividends.
Hill has gotten off to a scorching hot start for the 4-3 Utah Jazz. With Gordon Hayward missing each of the first six games, Hill took it upon himself to step up with the leading scorer sidelined by an injury.
Though it's too early to determine that Hill will maintain this pace, he's experiencing the beginning of a career renaissance in Utah.
Through seven games played, Hill is averaging 20.4 points, 5.0 assists, 2.9 rebounds, 1.0 steal, and 2.3 3-point field goals made in 33.9 minutes per game. He's doing so on an obscenely efficient slash line of .541/.432/.875.
Hill has scored at least 20 points in four of those seven games, including the 23-point and nine-assist performance he put forth against the New York Knicks on November 6.
For those doubting his immediate value, Utah is 4-0 when Hill scores at least 20 points and 0-3 when he fails to. In the games he's failed to reach 20 points scored, he's tallied marks of 13, 18, and 19 points.
Those games were played against some of the fiercest competition the NBA has to offer.
Hill posted 19 points, six assists, and two steals against Damian Lillard and the Portland Trail Blazers. He then posted 18 points and two steals on 8-of-13 shooting against Chris Paul and the Los Angeles Clippers.
Hill's lone underwhelming performance saw him score 13 points and sink three 3-point field goals against the San Antonio Spurs.
As the video displays, Hill posted 22 points and seven assists on 9-of-13 shooting against the Spurs just three days earlier.
Hill has stepped up for a team that's been in dire need of a point guard since Deron Williams left in 2011. Dante Exum was drafted to fill that role in 2014, but his 2014-15 struggles and 2015-16 injury opened the door for Hill to thrive in Utah during his contract year.
According to Jody Genessy of Deseret News, Hill would, "Love," to sign a contract extension with the Jazz before he becomes a free agent in 2017.
"I actually didn't know I was up for an extension," Hill said. "I'm going to leave that to the front office guys. If they want me here, I would love to be here. I'll let them take care of that. I'm here to play basketball and to try to win games."
Hill is currently in the final season of a five-year, $40 million contract.
Hill entered the 2016-17 NBA regular season with career averages of 11.3 points, 3.3 assists, 3.2 rebounds, and 1.2 3-point field goals made in 28.8 minutes. He averaged 16.1 points in 2014-15, 14.2 points in 2012-13, and 12.1 points in 2015-16.
Beyond the numbers is the fact that Hill is an unflappable and poised leader who defends at a high level and has played 75 postseason games.
Having made two Eastern Conference Finals appearances, George Hill's experience and leadership are enabling both he and the Utah Jazz to turn things around.
This article originally appeared on