Utah Jazz: George Hill, Dante Exum in Point Guard Battle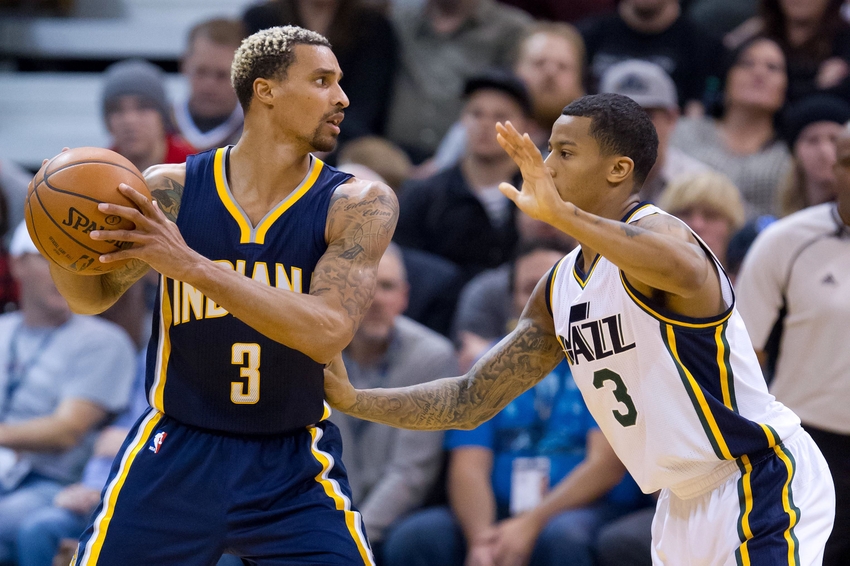 Two additions to the Utah Jazz this season in George Hill and the returning Dante Exum will be doing battle for the starting spot at point guard.
Following a busy offseason that landed the Utah Jazz three quality veterans, point guard George Hill looks set to be the biggest difference maker of the bunch. Hill fills a hole at the point guard position that ultimately saw Utah miss out on the playoffs last season.
With Dante Exum on the shelf and Trey Burke's wild inconsistency, Shelvin Mack and rookie Raul Neto had responsibilities that were incredibly tough to handle. If Hill had have been on the roster last season, making the postseason would have become a near certainty for the Jazz.
But with Hill in the fold and Exum on the mend, who will be the one to take them there in 2016-17?
Before his ACL tear, Exum was establishing himself as a starter and the point guard of the future for the Jazz. However, the devastating knee injury derailed his second season before it even started, stopping a potential breakout year in its tracks.
Exum should finally return to action in Utah's first preseason game against the Portland Trail Blazers on October 3. Still, after playing little to no competitive basketball for an extended period of time, it could take him 15 to 20 or more games to get back into the swing of things.
As such, Hill will undoubtedly start during the opening portion of the season, but the question remains — can Exum take back his starting role when he returns to full health?
The young Australian guard showed signs of being a pesky defender as he impressed late in the 2014-15 season. Given his extraordinary length and basketball IQ, he could eventually become an elite defender if his lateral quickness can return to pre-injury form.
The major thing that is limiting Exum's potential at this point is his ability to put the ball in the basket. He's an underrated playmaker that could cause havoc in pick and rolls with Favors and Gobert, as well as Trey Lyles in the pick-and-pop game. Nevertheless, in Jazz coach Quin Snyder's offense, it's a liability to have a player that can't knock down open shots at the end of the shot clock.
This is something that Exum struggled with in his rookie season; he shot just 31 percent from behind the arc, and only 24.2 percent of his drives resulted in the Jazz scoring points.
We know that Exum could be a defender that point guards will dread facing, but if he can learn how to hurt them at the offensive end, the Jazz will have another strong asset in their young core.
We also know what to expect with Hill. He's a knock-down shooter that can create shots for teammates from multiple positions and limit the scoring power of quality opponents. For a player who has started every game when healthy over the past four years, assuming a backup role could prove difficult.
But if Exum is able to reclaim his starting spot, Hill is a seasoned veteran; cool, collected and willing to play in a complementary capacity. He would likely adapt to his new role relatively quickly.
More from Purple and Blues
Either way, Exum and Hill are a great point guard duo that gives Snyder the ability to mix and match lineups against different opponents. Furthermore, the minutes distribution will never get skewed to the point that it minimizes their impact and there may even be times where they are sharing the court.
If you were Coach Quin, and you had Exum and Hill both healthy and ready to go in a big game, who would you choose? Leave your opinion in the comments section below.
Statistics courtesy of Basketball Reference and NBA
This article originally appeared on