Utah Jazz: George Hill a Game Time Decision for Tonight's Contest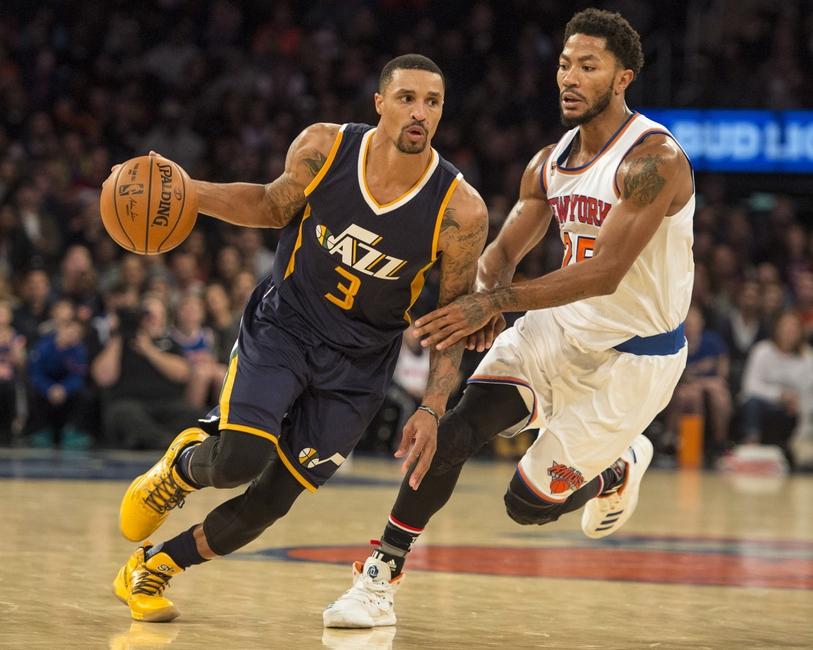 After a seemingly long wait, the Utah Jazz's George Hill is set to likely make his return in tonight's contest against the Denver Nuggets.
Has it really only been two and a half weeks since George Hill last played a game for the Utah Jazz? After muddling through the last four games, it feels more like it's been about two and a half months.
Nevertheless, the seemingly long wait may finally reach an end in the Utah Jazz's contest tonight against the Denver Nuggets. After shootaround this morning, it was reported that based on how George Hill was feeling there as well as in last night's practice, he will likely take the floor tonight.
Nevertheless, it's best if fans continue to exercise caution as his official status is still somewhat up in the air. Rather than announce that Hill will definitely play tonight, he has officially been proclaimed a game-time decision.
Correction:

George Hill (sprained right thumb) is a GAME TIME DECISION for tonight.#DENatUTA

— Utah Jazz (@utahjazz) November 23, 2016
As I mentioned yesterday, his performance at Tuesday's practice is a reassuring sign that he is indeed ready to take the court, but Hill himself mentioned that the thumb was still bothering him somewhat:
"It's starting to get a lot better, where [the pain] is not as sharp as it has been. [It's] still a little sore. I'm taking it one day a time, trying to figure it out. Yesterday I tried to walk through a little bit, still had a little pain when the ball hit it, things like that, when I'm dribbling."
But before anyone gets too alarmed about the Jazz potentially rushing Hill back (as some have been concerned has been the case with Gordon Hayward who continues to deal with finger pain), Quin Snyder made it abundantly clear that they've been cautious and waited extra time before bringing Hill back to make sure that he's in good shape.
"We're going to make sure he's in good shape. That's why we've waited this long." – Quin Snyder on Hill injury
Assuming Hill does take the court tonight, his return could not have come at a better time. Utah is currently in the midst of a four-game losing streak that has seen their offense go stagnant on several occasions.
Through his first seven games with the club, Hill was logging an average of 20.4 points per game on an impressive 54.1 percent shooting from the field and 43.2 percent from behind the arc.
An insertion of stats such as that will undoubtedly provide a huge lift to the offense, while taking some of the pressure and ball-handling off of Gordon Hayward. In the lone game that the two players played in together, both finished with upwards of 20 points (23 for Hill and 28 for Hayward), so it will be exciting to see them co-exist successfully on the floor once again.
More from Purple and Blues
It's been a tough ride in George Hill's absence, Jazz fans, but hang in there. If all the evidence lines up, it's looking like a near certainty that he'll be back in action tonight.
And hopefully his return will bring the energy and passion that were noticeably absent last week back into this Jazz squad.
All stats courtesy of NBA.com
This article originally appeared on