Utah Jazz: Does Dante Exum Deserve a Larger Role Than Shelvin Mack?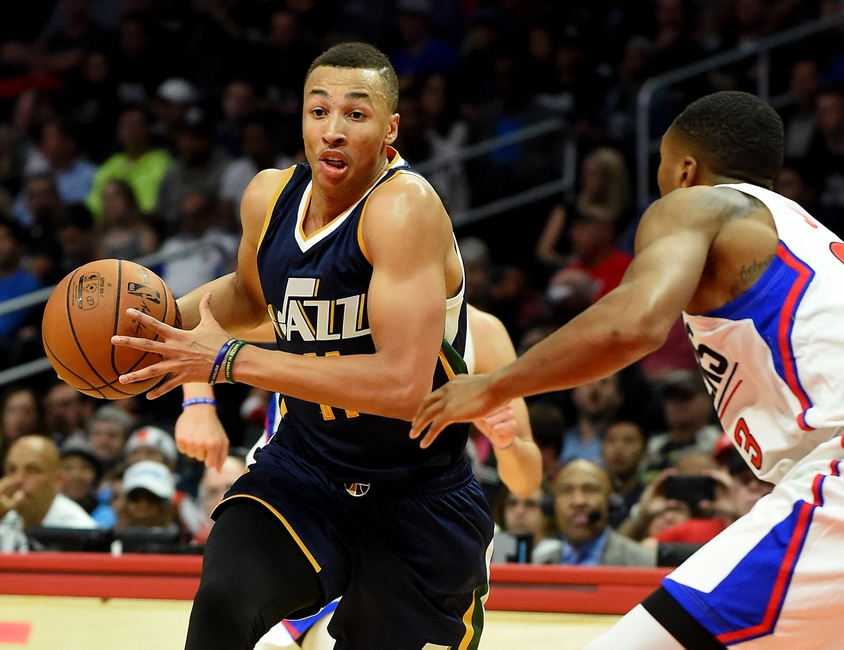 With George Hill missing the Utah Jazz's last two games and Dante Exum showing noticeable improvement throughout the season, it's hard not to wonder if Exum deserves a larger role than current backup point guard Shelvin Mack.
Although the majority of Utah Jazz fans were excited about the acquisition of point guard George Hill over the offseason, there were some that voiced the concern that perhaps the addition of a seasoned point guard such as Hill would stunt Dante Exum's growth.
The other side of the argument was that by inserting an experienced vet such as Hill, Exum would be allowed a lower pressure return to action. With Hill there to serve as a mentor and alleviate some of Exum's potential stress of having to come off a devastating injury to lead the team at the point, perhaps Dante would make a smoother recovery.
While the latter has largely been the case so far, with Hill being one of Utah's best players this year and Dante having had time to work his way back little by little, the high usage of Shelvin Mack has been a bit of a surprise to me. In viewing the Jazz's preseason depth chart, many felt it would be hard to find minutes for the sixth-year pro out of Butler.
In Mack's defense, I will say that I thought he put up an impressive preseason and I even wrote earlier in the year that I thought he was making a strong case for deserving playing time, particularly with Alec Burks sidelined and Exum able to play the two.
While that Burks injury has been a large factor that has provided Mack with an increased opportunity, I'll admit that I still wasn't expecting to see Mack take on a seemingly larger role, as he has thus far, than the Jazz's young potential star, Dante Exum.
While they've logged nearly an identical number of minutes – Mack averages 19.1 and Exum averages 19.0 on the year – it's Mack who is typically the first guard off the bench and who got the nod as starting point guard with George Hill sidelined.
Sure, part of this is simply due to his veteran experience and the fact that he logged more games with the team last year and as such has more familiarity with the squad, but a recent Purple and Blues piece by Ryan Aston about Dante's slow and steady improvement got me thinking.
Does Exum already deserve at this point to have a larger role than Shelvin Mack?
There's no doubting that Exum has the higher ceiling. That's why he was drafted fifth overall in the 2014 NBA draft while Shelvin Mack was a third-string point guard who was traded to the Jazz for a second-round draft pick. Dante is already a better defender and boasts a length and athleticism to which Mack just can't compare.
Statistically speaking it's rather interesting to compare the two players so far in this young season. In a lot of ways their stats line up, such as in the minutes per game that I already mentioned, but there are also some key differences.
Although they're scoring averages are quite similar with Mack averaging 6.7 points and Exum averaging 6.3, the most notable discrepancies come in terms of their efficiency.
Dante is currently shooting 50 percent from the field while Mack's average is 39.7 percent on close to double the attempts. In terms of three-point attempts, they average nearly the same amount per game with Mack coming in at 2.1 and Exum at 1.9. However, Exum has thus far converted at a 41.2 percent clip while Mack has shot just 31.6 percent from deep.
Diving a little deeper into their shooting percentages becomes all the more intriguing. From 8 to 16 feet from the basket, Mack shoots a formidable 57.1 percent, while Exum has only attempted one shot in that range, which he missed. This isn't too surprising as a reliable mid-range jump shot is a part of his game that Dante is still looking to develop.
From 20 to 24 feet (a corner three is 22 feet from the basket and a three from the top of the key is 23.75 feet) Mack has been abysmal, converting on just 1 of 10 attempts. However in deep threes (25-29 feet), he's been solid hitting 55.6 percent (5-of-9). While Exum has been better from 20 to 24 feet, shooting 38.5 percent, he hasn't been as hot as Mack from 25-29 feet, going just 40 percent (2-of-5).
Around the basket, however, Exum has been far superior, shooting 63.2 percent compared to Mack's 40.9.
So what does this all mean? Essentially it showcases that both players have very unique skill sets on offense and the eye test truly does match the stats. Exum is overall the more efficient player, largely because he is an incredible finisher and also posts less attempts. Mack, meanwhile, has a solid mid-range floater, but has been less than consistent finishing at the rim.
His success from deep three-point range is a bit of a mystery and I believe more coincidence than anything.
Exum also averages more free throw attempts than Mack, something he has been working hard to improve, and shoots at a much higher clip at the charity stripe – 83.3 percent compared to Mack's 66.7. Exum's finishing ability has been part of the reason he's been able to log those attempts. While he goes up strong to the basket, Mack tends to try to lean to one side to avoid contact and use the backboard, an attempt which often ends unsuccessfully.
Finally, while Mack averages almost one assist per game more than Exum, he also averages nearly twice as many turnovers. Part of this could be due to the fact that Mack has largely played the one alongside Exum at the two, but also it can be credited to the fact that Exum simply is the more efficient player of the two.
And that efficiency alone is a big reason why I believe that Exum truly does deserve a more expanded role than he's received so far this year and certainly a larger role than Shelvin Mack.
I understand wanting to work Exum back in slowly, but as was particularly evident in the Jazz's fourth quarter collapse in Wednesday's heartbreaking loss to the Charlotte Hornets, Mack just isn't the defender that Exum is, doesn't provide the offensive boost or finishing prowess and isn't sufficiently reliable in terms of efficiency.
And while Mack is no doubt the more experienced of the two and could be argued to be the better player currently, as Exum continues to improve and reach his potential, he deserves an expanded role to prove that he's capable of becoming the player that he was hyped up to be.
For these reasons, while the best case scenario is that George Hill simply makes a full recovery and is back in the starting lineup soon, I hope that if Hill is sidelined for more games that we see Exum take over the starting point guard position. Yes, he can play the two and has done so well this year, but the one-spot is his natural position and where I believe he'll truly be most effective.
In the loss to Charlotte, despite coming off the bench, Exum logged the exact same number of minutes as Mack as the former's defensive effort on Kemba Walker alone made it hard to take him off the floor.
This seems to indicate that Coach Snyder's trust in Exum is growing as is the young guard's confidence. As this trend continues and as Dante continues to surpass his pre-injury level of play and get more comfortable with his game, don't be surprised to see him slowly take on a larger role and log more meaningful minutes than Mack.
More from Purple and Blues
And once Alec Burks finally returns to form (assuming that ever does happen) it's logical to expect that Dante will finally slide into that permanent back-up point guard spot alongside Alec Burks and Joe Johnson to form an extremely dangerous and effective trio of wings in the second unit.
While I appreciate all that Shelvin Mack has done and will continue to do for this team, I'm anxious for the moment when Exum is finally ready and the coaching staff allows him to spread his wings and take sole command of a larger role.
All stats courtesy of NBA.com
This article originally appeared on