Utah Jazz Crumble in the Clutch Against Charlotte Hornets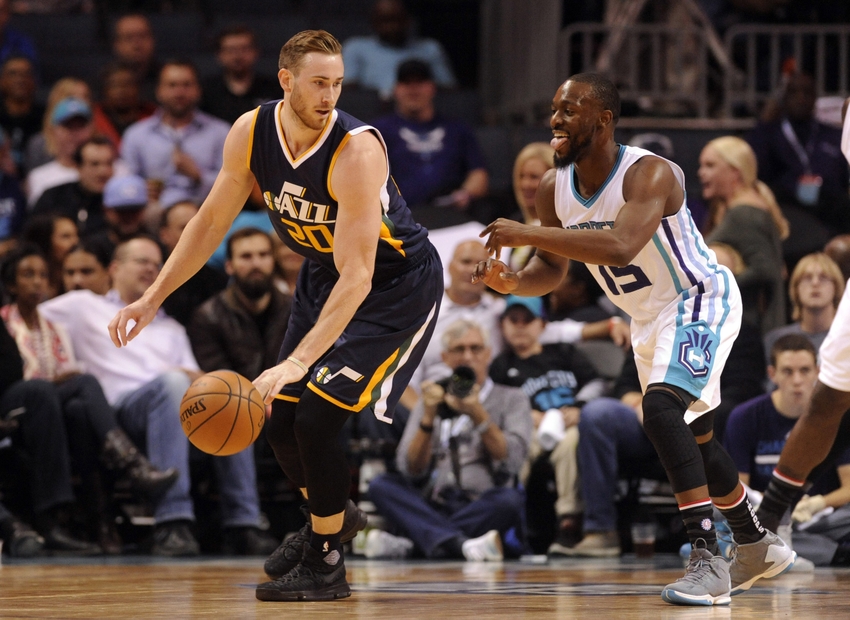 Despite another strong start, Gordon Hayward and the Utah Jazz faltered in the final moments against Kemba Walker and the Charlotte Hornets.
VS.
| | | | | | |
| --- | --- | --- | --- | --- | --- |
| | 1 | 2 | 3 | 4 | T |
| Hornets | 24 | 27 | 25 | 28 | 104 |
| Jazz | 32 | 26 | 20 | 20 | 98 |
In the first two games of the team's current road swing, the Utah Jazz found a nice recipe for success. Build a nice lead early and never let up. After strong starts against the New York Knicks and Philadelphia 76ers, the Jazz were able play loose and dole out losses.
Game three came on Wednesday night against Kemba Walker and the Charlotte Hornets. And much as they did in the previous two contests, they came out scoring in bunches. Unfortunately, Charlotte's vaunted defense grew more and more stifling as the game progressed, while a worn-out Jazz squad lost steam down the stretch.
So, despite some strong individual efforts, the Jazz dropped to 2-1 on the current swing (5-4 overall) with a 104-98 loss.
Although they dropped 58 first-half points and led for much of the game, the Jazz were beaten up by Hornets big men throughout. Marvin Williams, Cody Zeller, Frank Kaminsky, and Spencer Hawes combined to score 55 points on 63 percent shooting.
More from Purple and Blues
Williams in particular killed his former team. In 30 minutes of play, he scored 19 points, hitting five three-pointers and grabbing eight rebounds.
Meanwhile, Walker came on in the clutch despite a slow start and strong defensive pressure from Dante Exum. He finished with 21 points, six assists, five rebounds and four steals. His play in the game's waning moments was key in capturing the victory for the Hornets.
The Jazz had opportunities to build their leads and take control throughout the game, but failed to convert on a litany of good looks. It was especially rough from behind the arc; Utah hit on just 8-of-34 shots from three-point range.
They also missed the calming presence of starting point guard George Hill, who sat for the second straight game with a thumb injury. Shelvin Mack was just 3-of-11 from the field starting in his place.
Still, the Big Three of the Jazz all registered strong performances. Gordon Hayward led the team once again, dropping 29 points, seven rebounds and four assists. Rodney Hood also played well, scoring 20 points and hitting four threes. Derrick Favors added a 16-point, 10-rebound double-double.
They just weren't able to get it done in the fourth quarter.
With the win, the Hornets improved to a franchise-best 6-1 to start the season. The Jazz, meanwhile, will be back in action on Friday against the Orlando Magic.
This article originally appeared on